The Constitution of India recognizes Panchayats as 'Institutions of self government'. Currently, there are nearly 2.63 lakh Panchayats & about 31.47 lakh elected representatives (ERs) of PRIs of which 14.54 lakh (about 46.20%) are women. The Constitution empowers the States to devolve powers to the Panchayats to discharge their functions as institutions for local self-governance. Under the 15th Finance Commission for the period 2021-26, Rs. 2,36,805 Crore has been recommended for rural local bodies (RLBs)/ panchayats.
Background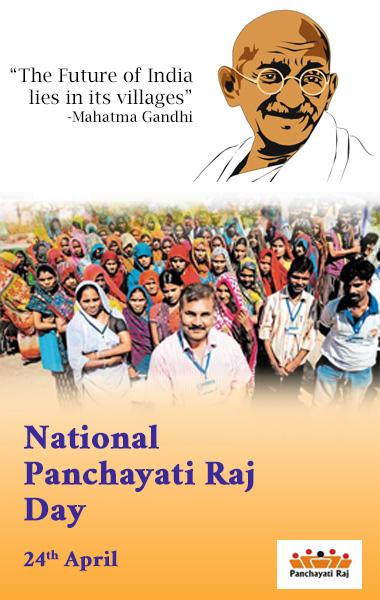 Though the Panchayati Raj Institutions have been in existence for a long time, it has been observed that these institutions have not been able to acquire the status and dignity of viable and responsive people's bodies due to a number of reasons including absence of regular elections, prolonged super sessions, insufficient representation of weaker sections like Scheduled Castes, Scheduled Tribes and women, inadequate devolution of powers and lack of financial resources.
The Constitution (73rd Amendment) Act, 1992 that came into force with effect from 24th April, 1993 has vested constitutional status on Panchayati Raj institutions. This date thus marks a defining moment in the history of decentralization of political power to the grassroots level. The impact of the 73rd Amendment in rural India is very visible as it has changed power equations irreversibly.
Accordingly, the Government of India decided in consultation with the States to celebrate 24th April as National Panchayati Raj Day. The commemoration is being anchored by the Ministry of Panchayati Raj.
The National Panchayati Raj Day (NPRD) is being celebrated on 24 April since 2010.
National Panchayati Raj Day 2023
Theme : Panchayaton ke Sankalpon ki Siddhi ka Utsav (पंचायतों के संकल्पों की सिद्धि का उत्सव)
The Ministry of Panchayati Raj will be celebrating National Panchayat Awards Week during 17th – 21st April, 2023 as part of Azadi Ka Amrit Mahotsav (AKAM) 2.0 in the run-up to the National Panchayati Raj Day (24th April, 2023). To celebrate this monumental occasion in the right spirit and in line with the AKAM 2.0 directives of adopting "whole-of-society" and "whole-of-government" approach as well as enhancing the outreach of AKAM 2.0 to touch the lives of every Indian, the Ministry of Panchayati Raj has conceptualized a series of Thematic Conferences for the National Panchayat Awards Week on the theme "Panchayaton ke Sankalpon ki Siddhi ka Utsav" (पंचायतों के संकल्पों की सिद्धि का उत्सव) where the representatives of high performing Panchayati Raj Institutions (PRIs) will not only receive their coveted Awards but will also deliberate and discuss their achievements in the presence of other stakeholders that can set examples for others to follow.
National Panchayat Awards
Ministry of Panchayati Raj (MoPR), Government of India has been incentivizing the best performing Panchayats recommended by the State Governments/UT Administrations since 2011-12. During the National Panchayat Raj Day event, the following awards are being given to the best performing Panchayats.
Deen Dayal Upadhyay Panchayat Sashaktikaran Puraskar (DDUPSP) - is given to best performing Panchayats (District, Intermediate and Gram Panchayat) across the States/UTs in recognition of the good work that is done by PRIs at each level for improving delivery of services and public goods.
Nine thematic categories for GPs are Sanitation, Civic Services (Drinking Water, Street Light, infrastructure), Natural Resource Management, Marginalized section (Women, SC/ST, Disabled, Senior Citizen), Social Sector performance, Disaster Management, Community Based Organizations/Individuals taking voluntary actions to support GPs, Innovation in Revenue Generation and e-Governance.
Nanaji Deshmukh Rashtriya Gaurav Gram Sabha Puraskar (NDRGGSP) is given to Gram Panchayats/Village Councils for their outstanding contribution to the socio-economic development by involving Gram Sabhas.
Gram Panchayat Development Plan (GPDP) Award: is given to Gram Panchayat/ Village Council which has developed its GPDP according to the State/UT specific guidelines prepared in line with the model guidelines issued by MoPR.
Child-friendly Gram Panchayat Award is given to best performing Gram Panchayat/Village Council for adopting child-friendly practices.
To know more about the National Panchayat Awards, click here.
Revamped NPA 2023
National Panchayat Award themes
Based on the "Localization of Sustainable Development Goals", the following nine themes are being followed.
Poverty free and enhanced livelihoods Panchayat
Healthy Panchayat
Child friendly Panchayat
Water sufficient Panchayat
Clean and Green Panchayat
Self-sufficient infrastructure in Panchayat
Socially secured Panchayat
Panchayat with good governance
Women-friendly Panchayat (earlier termed Engendered development in Panchayat
Categories of Awards
Under the revamped system, the Awards will be given to Gram, Block and District Panchayats in two categories namely,
Deen Dayal Upadhyay Panchayat Satat Vikas Puraskar (for individual theme-wise performance) and
Nanaji Deshmukh Sarvottam Panchayat Satat Vikas Puraskar (for aggregate performance under all the themes).
Apart from this, some special categories of awards will be given to Gram Panchayats (GPs) namely,
Gram Urja Swaraj Vishesh Panchayat Puraskar for adoption and usage of renewable sources of energy;
Carbon Neutral Vishesh Panchayat Puraskar for exemplary work towards achieving Net-Zero carbon emissions;
Nanaji Deshmukh Sarvottam Panchayat Satat Vikas Puraskar for GPs which qualify and get shortlisted for National Panchayat Awards during the subsequent years also;
Panchayat Kshamta Nirmaan Sarvottam Sansthan Puraskar for Institutions which have provided institutional support to GPs in achieving LSDGs and
Best Participating State/UT/District/Block Panchayat.
Towards the endeavour of a successful implementation of the revamped National Panchayat Awards, MoPR is collaborating with nodal Central Ministries/Departments namely, Rural Development, Health & Family Welfare, Women & Child Development, Drinking Water & Sanitation, Social Justice & Empowerment and Water Resources, River Development and Ganga Rejuvenation. These nodal Ministries would be leading the Thematic Selection Committees for selection of National Level Awards on the concerned themes and the other line Ministries/Departments would be the members of these Committees.
To access the revamped NPA guidelines, click here.
Source : Ministry of Panchayati Raj
Related resources