Rashtriya Gram Swaraj Abhiyan
Rashtriya Gram Swaraj Abhiyan (RGSA) was launched on 24th April 2018 as an umbrella scheme of the Ministry of Panchayati Raj, Govt. of India. It is a unique scheme proposed to develop and strengthen the Panchayati Raj System across India in the rural areas.
Objectives of RGSA
Develop governance capabilities of PRIs to deliver on the SDGs.
Enhance capabilities of Panchayats for inclusive local governance with focus on optimum utilization of available resources and convergence with other schemes to address issues of national importance.
Enhance capabilities of Panchayats to raise their own sources of revenue.
Strengthen Gram Sabhas to function effectively as the basic forum of people's participation, transparency and accountability within the Panchayat system.
Promote devolution of powers and responsibilities to Panchayats according to the spirit of the Constitution and PESA Act 1996.
Develop a network of institutions of excellence to support capacity building and handholding for PRIs.
Strengthen institutions for capacity enhancement of PRIs at various levels and enable them to achieve adequate quality standards in infrastructure, facilities, human resources and outcome based training.
Promote e-governance and other technology driven solutions to enable good governance in Panchayats for administrative efficiency and improved service delivery.
Recognize and incentivize PRIs based on performance
Coverage
RGSA will extend to all States and Union Territories (UTs) of the country. For the purpose of these guidelines, wherever 'Panchayats' are mentioned, these will include institutions of rural local government in non-Part IX areas.
Focus areas of RGSA
To ensure:

Basic orientation training for the Elected Representatives (ERs) of Panchayats, within 6 months of their election.
Refresher trainings to be ensured within 2 years.
Capacity Building of ERs with Priority to Aspirational Districts and Mission Antyodaya clusters.
Strengthening of the Panchayat – SHG partnership

To bridge gaps in:

Capacity Building and Training (CB&T),
Gram Panchayat infrastructure,
Use of IT for distance learning & for e-Enablement of Panchayats,
Institutional support for innovations,
Gap filling support of economic development & income enhancement.
Technical support including Human Resource (HR) based on identified gaps.
To provide handholding support by Academic Institutions/ Institutions of excellence to GPs for Gram Panchayat Development Plan (GPDP) formulation.
To promote provision of adequate manpower at GP level & to provide support for technical manpower.
To support greater e-enablement of Panchayats for e-governance to enhance efficiency and transparency with thrust on Panchayat Enterprise Suite (PES) Applications developed by the Ministry.
To facilitate Electronic Fund Transfer (EFT), Public Finance Management System (PFMS), use and Geotagging of assets in Gram Panchayats.
Actvities to by supported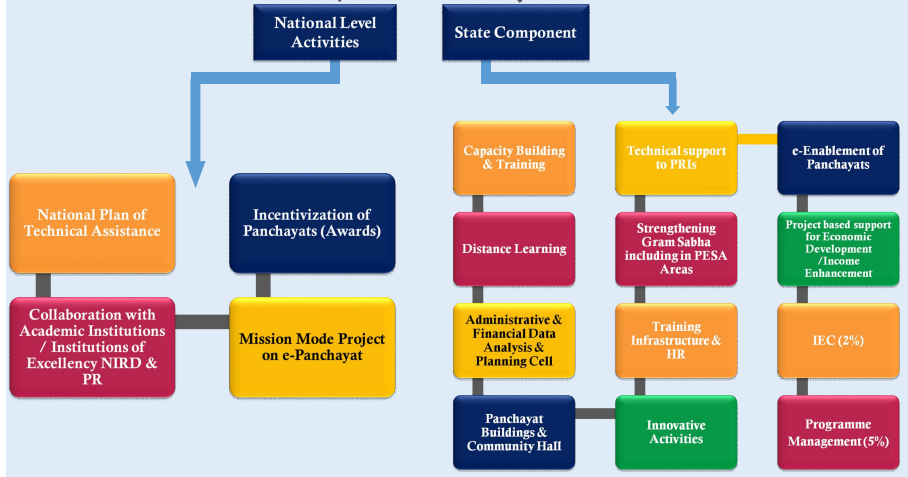 Expected outcomes of RGSA:
Enhanced capabilities of Panchayats for good governance and attainment of SDGs through participatory local planning, democratic decisionmaking, transparency and accountability.
Increased use of e-governance and technology driven solutions at the Panchayat level to attain administrative efficiency, improved service delivery & greater accountability.
Building Institutional structure for capacity building at the National, State & District levels with adequate infrastructure, facilities and human resources.
To access the complete scheme guidelines and the progress made, click here.
Source : Ministry of Panchayati Raj
Last Modified : 9/15/2022
© C–DAC.All content appearing on the vikaspedia portal is through collaborative effort of vikaspedia and its partners.We encourage you to use and share the content in a respectful and fair manner. Please leave all source links intact and adhere to applicable copyright and intellectual property guidelines and laws.