Mahamaya Dham
Mahamaya Dham of Bogribari, about 30-35 KM. east from Dhubri town is next to Kamakhya Dham (Guwahati) and Madan-Mohan (Cooch Behar) in its attraction to
the pilgrims and tourists. Originaly the famous mother Goddess Mahamaya of Parvatjowar was worshipped by the local people like Kacharies, Koches and Nath etc. It was the presiding deity of the Jaminder of Parvatjowar. Latter the goddess received wide acceptance and these days, all Hindus of Assam worship mother Mahamaya.
Rangamati Mosque
The very famous Rangamati Mosque was built during 17th century by Hussain Shah, the Governor of Bengal. This Mosque belongs to pre-Mughal period which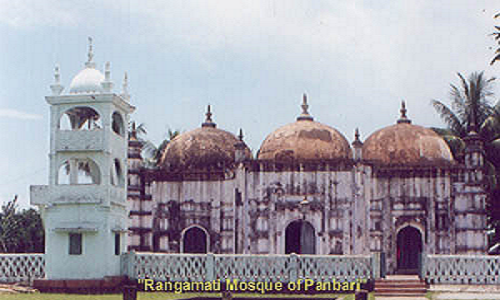 can be recognised from its typical architectural design. It is about 25 Kms. away from Dhubri Town. It may be mentioned that Rangamati area was once a very prosperous during the reign of the Koch rulers. It was also frontier post of the Koch rulers. During Mughal regime Rangamati was a great fort of the invading Mughal Army. This unique Mosque was used as a prayer place by the Mohmmedan Soldiers. There is also a Idgah and a Deep Well which were also constructed during the same period.
Gurudwara Sri Guru Tegbahadur Sahibji
In the heart of the Dhubri Town and on the bank of the river mighty Brahmaputra, this famous Gurudwara is situated. Sikh Guru Nanaka visited this place in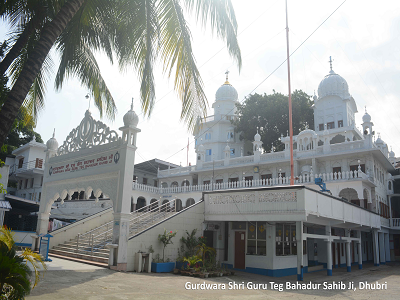 1505 A.D. & met Mahapurush Sri Sri Sankardeva during Nanaka's way from Dhaka to Assam. Thereafter the 9th Guru Tegbahadur came to this place and established this Gurudwara during 17th century. Sikh devotees from all over India and abroad assembled in this Gurudwara every year in the month of December to mark the Martydom of Sri Guru Tegbahadur with due solemnity and ceremony. Sikh devotees called this festival as Sahidee-Guru-Parav.
Panchpeer Dargaha
It is Mazar Sharif of five Sufi Saints who accompanied Raja Ram Singh during his time of invasion to Assam. This Dargaha is the best example of religious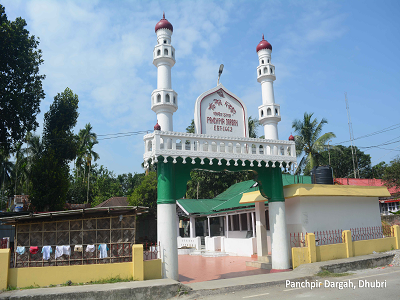 harmony where all section of people irrespective of their religion pay visit with great respect.
Chakrasila Wildlife Sanctuary
In the year 1994, Chakrasila Hill Reserve Forest was declared as Chakrasila Hill Wildlife Sanctuary by the Govt. of India covering an area of 4558.7 hectares of
land. This Sanctuary falls under Dhubri and Kokrajhar districts. The distribution of varities of plant species in Chakrasila provides diverse niches for many Wild Life. The Significant Golden Langur exists in Chakrasila Wildlife Sanctuary in addition to other mammals like Leopard, Leopard cat, Porcupine, Pangoline, Flying Squirrel, Civet Cat etc. Adjutants Stork, Indian Owl, Myna, Parrakit, Dove, Hornbil, Jungle Fowl, Kingfisher, Harren, Darter, Snipe, Teal etc. are the birds commonly found. Python, Monitor, Crait, Cobra, Turtle, Tead and frog are some reptiles and amphibian that are also found.
Source :https://dhubri.gov.in/frontimpotentdata/important-places-to-visit