On 26 November 2007, the United Nations General Assembly declared that, starting from 2008, 20 February will be celebrated annually as the World Day of Social Justice.
Social Justice
Poverty and inequalities within and among countries are on the rise in many parts of the world. The economic and social crises of recent years have been exacerbated by the consequences of the COVID-19 pandemic, natural disasters due to accelerating climate change, geopolitical tensions and armed conflicts. Beyond the human tragedies associated with them and their impact on the world of work, these crises have highlighted the interlinkages and dependencies of economies and societies around the world and shown the crucial need for concerted action to respond to them, at global, regional and national levels.
Social justice makes societies and economies function better and reduces poverty, inequalities and social tensions.
Need for Social justice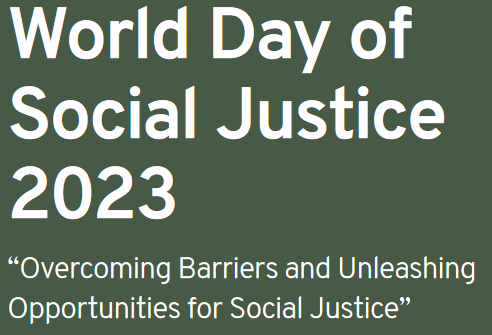 The United Nations General Assembly recognizes that social development and social justice are indispensable for the achievement and maintenance of peace and security within and among nations and that, in turn, social development and social justice cannot be attained in the absence of peace and security, or in the absence of respect for all human rights and fundamental freedoms.
It further recognizes that globalization and interdependence are opening new opportunities through trade, investment and capital flows and advances in technology, including information technology, for the growth of the world economy and the development and improvement of living standards around the world, while at the same time there remain serious challenges, including serious financial crises, insecurity, poverty, exclusion and inequality within and among societies, and considerable obstacles to further integration and full participation in the global economy for developing countries, as well as some countries with economies in transition.
2023 Theme: Overcoming Barriers and Unleashing Opportunities for Social Justice
This year's theme focuses to strengthen global solidarity and to re-build trust in government by "Overcoming Barriers and Unleashing Opportunities for Social Justice". Therefore, the 2023 World Day of Social Justice provides an opportunity to foster dialogue with Member States, youth, social partners, civil society, UN organisations and other stakeholders on actions needed to strengthen the social contract that has been fractured by rising inequalities, conflicts and weakened institutions that are meant to protect the rights of workers. Despite these multiple crises, there are many opportunities to build a coalition for social justice and to unleash greater investments in decent jobs, with a particular focus on the green, digital and care economy, and on young people.
Source : UN
Related resources