About National Consumer Helpline (NCH)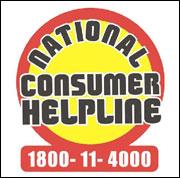 NCH is an initiative of the Union Ministry of Consumer Affairs, Food & Public Distribution
It works with the mission to provide telephonic advice, information and guidance to empower Indian consumers and persuade businesses to reorient their policy and management systems to address consumer concerns and grievances adopting world class standards. NCH operates under the Centre for Consumer Studies at Indian Institute of Public Administration (IIPA).
National Toll free helpline number for consumers
NCH recognizes the need of consumers for a Telephone Helpline to deal with a multitude of problems arising in their day-to-day dealings with business and service providers. It provides a National Toll Free Number 1800-11-4000 OR 1915. The Helpline is available on all days Except National Holidays between 09:30 AM To 05:30 PM.
A consumer can call this number to seek information, advice or guidance for his queries and complaints.
Sectors covered
Service sectors like LPG, Electricity, Telecom, Banking, Insurance, Credit cards, Automobiles, Postal, Courier, water, Transport, Education and Medical etc.
Products like Domestic Home Appliances in the range of ACs, Geysers, Fans, pressure cookers, Gas burner, Food Products, drinking water, Sindhur, etc.
Approach of NCH in helping consumers
NCH advises consumers on dealing with problems related to defective products, deficiency in services and unfair trade practices. The Helpline follows a three-tier approach.
First the consumer is informed of his rights in a particular consumer problem and who s/he should approach in the concerned company or the organization.
If the problem remains unresolved s/he would be directed to take up the matter with industry level bodies or chambers of commerce, industry regulators (as they exist in sectors like insurance and banking) or Govt. officials who are in charge of the relevant industrial sector.
As a last resort, the consumers will be advised to take their case to consumer courts under the Consumers Protection Act. This helpline is designed to promote avenues of out of court settlement of consumer disputes and resultantly helps to reduce the burden on consumer courts.
Convergence model of grievance redressal
Under the convergence model, which is an out of court dispute redressal mechanism, NCH partners with companies who have a proactive approach to efficient consumer complaint resolution. It shares with them the data of the complainants along with the complaints received at NCH related to their company, to facilitate free, fair and fast redressal through participative cooperation.
Under Convergence process companies are expected to resolve/close the complaints by stating "a gist of the resolution" in the remarks column which is accessible to both - the consumer and NCH. Website Complaints are those which are directly assigned by consumer to that company and CRM complaints are those which are received at the toll free helpline and uploaded by NCH in a predefined frequency.
Thus, NCH acts as a bridge in building symbiotic synergies between consumers and service providers maintaining the confidentiality of consumer complaints within the specific company.
Interested companies who would like to participate in the Convergence model, click here
Register your complaint and track its status
You can register your grievance in the following ways.
You can call to register your grievance 1800-11-4000 or 1915. Timing: All Days Except National Holidays (09:30 AM To 05:30 PM)
You can SMS or Whatsapp on this Number 8130009809.
Register online
Register your grievance through National Consumer Helpline App
Register your grievance through Consumer App
Register your grievance through UMANG App
Functions of NCH
National Consumer Helpline supports consumers by:
Guiding consumers in finding solutions to problems related to Products & Services.
Providing information related to Companies and Regulatory Authorities.
Facilitating consumers in filing complaints against defaulting Service Providers.
Empowering consumers to use available Consumer Grievances Redressal Mechanisms, Educating Consumers about their Rights and Responsibilities.
Developing the awareness among Consumers about their Rights and Responsibilities.
Sector-wise FAQs for consumers
Source: Department of Consumer Affairs