Adversity can sometimes prove to be a blessing in disguise. The Khanpur village in Dilwan block, Kapurthala district of Punjab has a population of about 1150 people mostly belonging to Schedule Cast Community. The Baptist Charitable Society had promoted the Sahara SHG, a group made up of economically deprived women. Therefore, the women got together to form the SHG with a monthly saving of Rs. 100 only and showed enough grit and determination to take up some income generating activity to augment the family income.
Activity
The group is manufacturing washing items like detergent powder, lissapole (liquid soap), floor cleaner, car wash, dish washer etc.
Nature of Intervention
The NGO Baptist Charitable Society mobilised 11 members of the group and provided training in manufacture of various washing items. The products are being marketed under the brand name of Sahara and being sold in the surrounding areas & local fairs.
The Punjab Gramin Bank extended a loan of Rs.0.20 lakh to the group which they utilised to procure raw material from Amritsar. The repayment of loan is regular.
In coordination with district administration, the group has been provided with a stall at Apni Mandi.
The Impact
The group is participating in Apni Mandi and earning a handsome profit. Within a short span,the group has made a turnover of more than Rs.0.75 lakh. The group members approached NABARD for sanction of Rural Mart to have their own marketing outlet. NABARD approached the district administration for a marketing space for the group.
A Rural Mart in village Hussainpur, opposite main gate of the Rail Coach Factory has been sanctioned and the group is in the process of setting up the same. Soon the group will provide its services to more than 7000 employees of the Rail Coach Factory.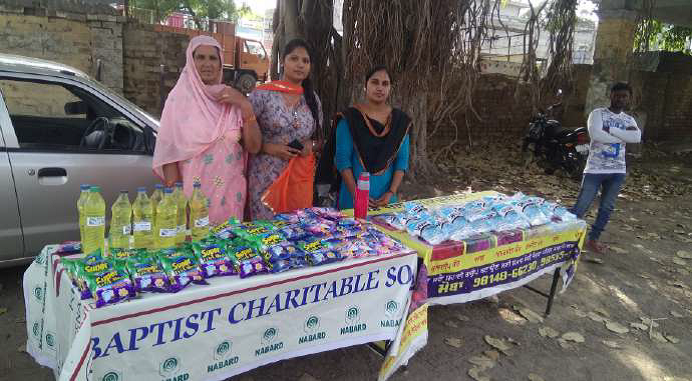 Critical Determinants
Selection of appropriate activity
Good coordination between promoting agency, NABARD and district administration
Timely bank loan
Assured marketing platform
Source : Creating Livelihoods, Changing Lives