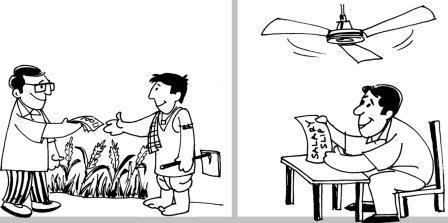 Ganesh has completed his HSC exams. Now he is keen to begin work and contribute to the family income. His father and chacha (father's brother) are labourers. They undertake agricultural work during the cropping season. During the rest of the year, they get employment from builders in the neighbouring town.
Ganesh completed his education from the local school and is not interested in studying further. His maternal uncle - Gopal, who stays in a town nearby, has promised Ganesh a job in a bank in his town. He works as a driver for a bank official and has requested his employer, Mr. Shinde, to give Ganesh a job in the bank.
Mr. Shinde is the manager of a mid-sized commercial bank. He meets Ganesh, on his driver's request, and takes a liking to him. He offers Ganesh the job of a peon at the bank, with a basic salary of Rs.3,500. He explains that there are many other benefits that Ganesh will receive, such as HRA, travel allowance, medical reimbursement and health insurance for himself and his family. Every year he will also be eligible for leave during the year – casual leave, sick leave, privilege leave. If he stays with the bank for over 5 years, he will receive gratuity when he leaves. Best of all, if he works with the bank until retirement, he will receive a pension for life.
Ganesh is a simple boy. He leaves for home all confused. In the bus on the way home, he does some quick calculations. "If I get a monthly salary of Rs.3,500, that will amount to a yearly pay of Rs.3,500 x 12, which is Rs.42,000." It sounds nice to him. It will be the first time that he will be working. He is eager to reach home and share the news with his family.
Employee Wages
When Ganesh tells his parents and uncle about his job offer, they congratulate him. They are proud that he has a chance to enter a bank and work in the town. However, when they hear his salary, they are a little disappointed.
"Why so little beta? We always believed that office goers would earn much more than we did…"said his uncle.
"That's right," explained his father. "In agriculture, the rates are not very high…we receive an average of Rs.10,000 for the season (consisting of three months). But the benefit is that as a good will gesture, our zameendar gives us one year's supply of grains for the family. That is the tradition for generations now. So we do not even think of leaving that work."
"But then why don't you consider joining as a full time construction worker? We earn Rs.250 per day, at least. That works out to Rs.7,500 per month, if we work for 30 days. That is almost twice as much as they are offering you at the bank!" exclaims his uncle.
"I could talk to our site engineer and request him to give you work. A young fellow like you will be able to earn a good amount of money in construction," said Ganesh's father.
"But if he joins the bank, he will have a chance to get promotions, my brother told me…" interrupted Ganesh's mother meekly. "In the construction business, he will have a hard life…"
"No, mother," replied Ganesh's father. "There is scope for enterprising boys in construction too. I have known of people who start their own business once they understand the business. Then they hire men and take on small contracts. After a few years, when their contacts and skill improves, they take up bigger contracts…and life becomes good!"
"Whatever you say, father," replied Ganesh's mother.
"The only reason why we have not been able to progress is due to the fact that we do not wish to let go of our agricultural work. We have a duty to the zameendar. He helps us in times of need. Do you remember the time when Ganesh fell very ill and had to be taken to the big hospital in the town?"
"Yes I do. It was zameendar sahib who took us there and brought us back and paid all the bills. We will always be grateful…" she agreed.
Ganesh is keen to work in the bank. But he realises that he must listen to his parents too. All he wants to do is try to earn as much as possible and contribute to the family income.
Employee Benefits
That week end is Raksha bandhan. Ganesh's mother is all excited as her brother is coming over to tie rakhi and will stay for lunch. Ganesh's father will be home too. He is not sure whether his advice to his son – regarding joining the construction line - is correct. He decides to clarify with his brother-in-law what Ganesh's future opportunities at the bank will be.
Gopal, Ganesh's uncle comes over at 11 am. He sits down with Ganesh's mother and completes the traditional rituals of tying a rakhee and exchanging mithai and gifts. Then they all sit down to talk.
"So, when is Ganesh planning to join the bank?"asks Gopal.
"That's what I wanted to talk to you about…"replied Ganesh's father. " They have offered him a pay package of Rs.3,500 and some benefits. But I feel he can earn much more as a construction worker…"
"If they told him that his basic salary is Rs.3,500, along with benefits, it will amount to a lot more! Let me explain to you how…"
Gopal, being a bank employee himself, explains each part of the typical salary structure…
Basic salary
This is the basic amount of money on which other parts of the salary get calculated. Let us use Ganesh's basic of Rs.3,500 for this illustration.
House Rent Allowance (HRA)
HRA is paid as a percentage of the basic salary. For instance, if the bank offers a 40% HRA, it means that Ganesh will get Rs.1400 every month, in addition to his basic salary. Companies usually make a distinction between Basic and HRA because HRA can be tax free.
Travel allowance
This could also be a percentage of the basic salary but it could also be a fixed amount. Companies specify different amounts of travel allowance for different categories of employees. In Ganesh's case, let us assume that he receives a travel allowance of Rs.1,000. This amount is assumed to be used only for coming to work and going home. As a peon, he will be reimbursed for work related travel expenses.
Medical allowance
A certain amount will be payable to Ganesh every year, against medical bills that he provides. This amount is tax free if bills are provided. Even if he does not provide bills, it will be paid out to him. Let us assume that this amount is Rs.10,000 per year.
Provident Fund
Every month, 12% of Ganesh's basic pay will be deducted and save for him in a PF account. His employer, the bank, will put an equal amount into the account. So, if Rs.350 is taken from his salary and put into his PF account, the bank will put an additional Rs.350. This amount will earn interest over the years.
Annual increment
Every year, the bank gives their employees an increase in their salary that is linked to the rise in prices. This is called the annual increment in salary. If the employee has performed well, he is likely to receive an increment that is higher than the average.
Gopal explained that there are many additional benefits which are not visible but make life a lot easier.
Paid holidays
The bank works only 6 days in a week. In addition, Ganesh will get a holiday on all bank holidays…which amount to around two weeks in the year. He will also get casual leave, sick leave and privilege leave, during which he will receive his whole pay. All this will certainly amount to more than one month off during the year.
Medical Insurance
Most large companies take group insurance for employees and their immediate family (parents, spouse and children).  This means that if you or your family are hospitalised, you can recover all or part of the expenses through your company, depending on the illness.
He also explains that there are long term benefits of working with a formal company...
Gratuity
After working for a company for 5 years, when you leave, you will be paid a lump sum amount which equals 20% of your annual salary for each year that you have worked with it.
Pension
In most cases, if you have worked for at least 15 years, when you reach the retirement age (which is 58 or 60), you receive an monthly pension as per the rates prevailing then and your designation when you left or retired.
Medical Insurance for life
Some companies offer their employees and their dependents medical insurance even after they retire. This is a great economic support as medical costs are quite high and rising. It is also unfortunate that most people face more illness in their old age than before.
After hearing Gopal's explanation of how a salary is structured, both Ganesh's father and his brother are convinced that Ganesh should work in the bank. Gopal and Ganesh's mother are happy with the decision and Ganesh just cannot wait to begin work!
Source: Portal Content Team