World Toilet Day celebrates toilets and raises awareness of the 4.2 billion people living without access to safely managed sanitation. World Toilet Day is about inspiring action to tackle the global sanitation crisis.
By 2030, the Sustainable Development Goals, specifically SDG #6, aim to reach everyone with sanitation, and halve the proportion of untreated wastewater and increase recycling and safe reuse.
In 2013, the United Nations General Assembly officially designated November 19 as World Toilet Day. It was first established in 2001 by the World Toilet Organization.
Theme for 2022 : Groundwater and sanitation – making the invisible visible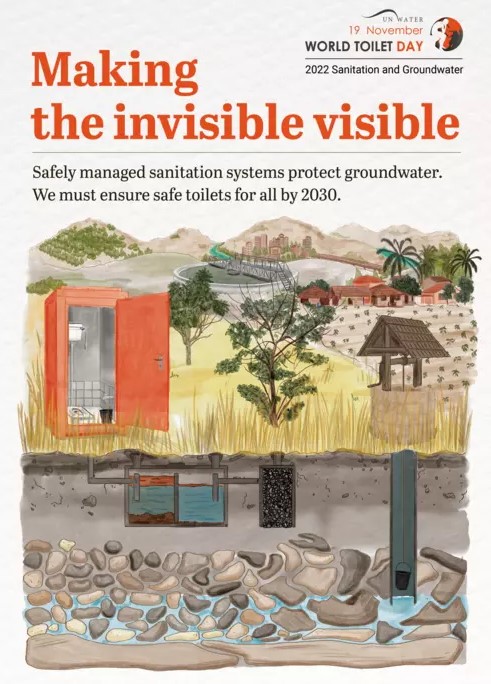 World Toilet Day 2022 focuses on the impact of the sanitation crisis on groundwater.
The 2022 campaign 'Making the invisible visible' explores how inadequate sanitation systems spread human waste into rivers, lakes and soil, polluting underground water resources.
However, this problem seems to be invisible. Invisible because it happens underground. Invisible because it happens in the poorest and most marginalized communities.
Groundwater is the world's most abundant source of freshwater. It supports drinking water supplies, sanitation systems, farming, industry and ecosystems. As climate change worsens and populations grow, groundwater is vital for human survival.
The central message of World Toilet Day 2022 is that safely managed sanitation protects groundwater from human waste pollution. Currently, the world is seriously off track to meet the promise of Sustainable Development Goal (SDG) 6.2: to ensure safe toilets for all by 2030.
The campaign urges governments to work on average four times faster to ensure SDG 6.2 is achieved on time. Policymakers are also called upon to fully recognize the connection between sanitation and groundwater in their plans to safeguard this vital water resource.
Facts to know
3.6 billion people live without access to a safe toilet.
Groundwater accounts for approximately 99 per cent of all liquid freshwater on Earth.
Groundwater provides half of all water withdrawn for domestic use, including the drinking water for the vast majority of the rural population.
Globally, at least 2 billion people use a drinking water source contaminated with faeces
Every day, over 800 children under age five years old die from diarrhoea linked to unsafe water, sanitation and poor hygiene
Key messages
Safe sanitation protects groundwater. Toilets that are properly sited and connected to safely managed sanitation systems, collect, treat and dispose of human waste, and help prevent human waste from spreading into groundwater.
Sanitation must withstand climate change. Toilets and sanitation systems must be built or adapted to cope with extreme weather events, so that services always function and groundwater is protected.
Sanitation action is urgent. We are seriously off track to ensure safe toilets for all by 2030. With only eight years left, the world needs to work four times faster to meet our promise.
The global sanitation crisis is reflected in the following facts, according to reports from the World Health Organization (WHO) and the United Nations Children's Fund (UNICEF):
Over half of the global population or 4.2 billion people lack safe sanitation.
40% – or three billion people – of the global population live without basic handwashing facilities with soap and water available at home.
2 in 5 schools around the world lacked basic handwashing facilities prior to the COVID-19 pandemic.
Around 297,000 children under five – more than 800 every day – die annually from diarrhoeal diseases due to poor hygiene, poor sanitation or unsafe drinking water.
Globally, 80% of the wastewater generated by society flows back into the ecosystem without being treated or reused.
By 2050, up to 5.7 billion people could be living in areas where water is scarce for at least one month a year, creating unprecedented competition for water.
By 2050, the number of people at risk of floods will increase from its current level of 1.2 billion to 1.6 billion.
Extreme weather – expected to increase in frequency and intensity because of climate change – has caused more than 90% of major disasters over the last decade.
Source : UN
Related resources