In 2013, the United Nations General Assembly officially designated November 19 as World Toilet Day. It was first established in 2001 by the World Toilet Organization.
World Toilet Day celebrates toilets and raises awareness of the 4.2 billion people living without access to safely managed sanitation. World Toilet Day is about inspiring action to tackle the global sanitation crisis.
By 2030, the Sustainable Development Goals, specifically SDG #6, aim to reach everyone with sanitation, and halve the proportion of untreated wastewater and increase recycling and safe reuse.
Theme for 2023 : Accelerating Change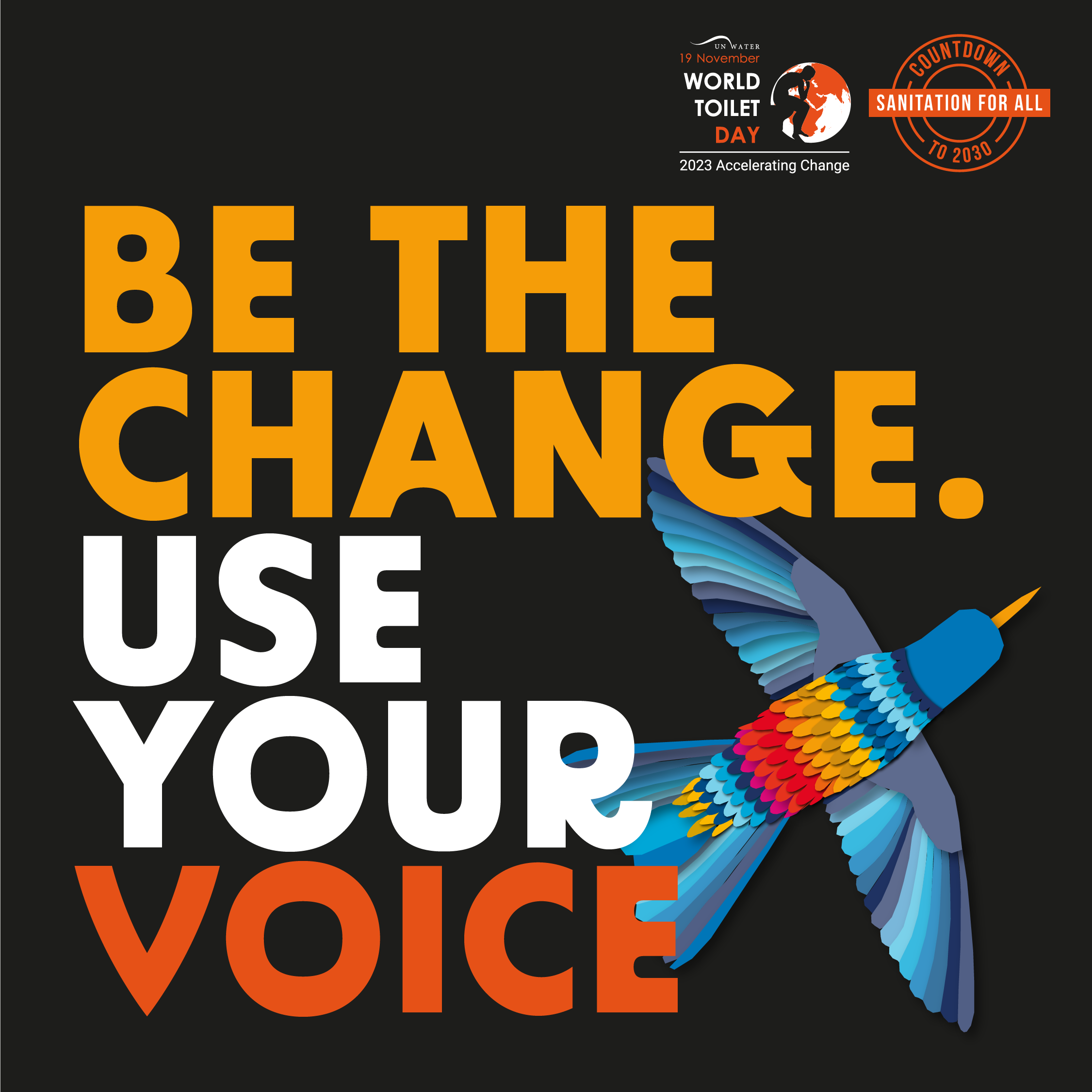 This year's theme is 'Accelerating Change', using the hummingbird to inspire people to take personal action to help improve toilets and sanitation systems.
In the ancient story, a hummingbird does what she can to fight a great fire – carrying droplets of water in her beak. Her actions – even though small – are helping solve a big problem.
Toilets are a foundation stone of public health and play a critical role in protecting the environment.
To leave so many people behind without safe toilets puts in jeopardy the entire 2030 Agenda, with the poorest people, particularly women and girls, paying the highest price in terms of poor health, missed education, loss of productivity and general insecurity.
The World Toilet Day 2023 campaign asks people to 'be like a hummingbird' – to take simple actions to help accelerate change.
Facts to know
3.5 billion people still living without safe toilets
419 million people still practise 'open defecation'.
In these situations, diseases spread, killing 1,000 children under-five every single day.
2 billion people - a quarter of the world's population - lack basic handwashing facilities at home to wash their hands with soap and water.
It poses a threat to nature and everyone's health, particularly women, girls, and other vulnerable groups.
Unsafe water, sanitation, and hygiene are responsible for the deaths of around 1,000 children under five every day.
At the current rate, 3 billion people will still be living without safe toilets, 2 billion will be without safe drinking water and 1.4 billion will lack basic hygiene facilities by 2030.
Key messages
With just seven years left, the world has to work, on average, five times faster to meet the sanitation target of SDG 6 – safe toilets and water for all by 2030 – on time.
Sanitation and drinking water are human rights, and access to these services is critical to people's health and the integrity of the environment.
Over 7,000 people have already committed to take water and sanitation-related actions to help accelerate change towards SDG 6.
The global sanitation crisis is reflected in the following facts, according to reports from the World Health Organization (WHO) and the United Nations Children's Fund (UNICEF):
Over half of the global population or 4.2 billion people lack safe sanitation.
40% – or three billion people – of the global population live without basic handwashing facilities with soap and water available at home.
2 in 5 schools around the world lacked basic handwashing facilities prior to the COVID-19 pandemic.
Around 297,000 children under five – more than 800 every day – die annually from diarrhoeal diseases due to poor hygiene, poor sanitation or unsafe drinking water.
Globally, 80% of the wastewater generated by society flows back into the ecosystem without being treated or reused.
By 2050, up to 5.7 billion people could be living in areas where water is scarce for at least one month a year, creating unprecedented competition for water.
By 2050, the number of people at risk of floods will increase from its current level of 1.2 billion to 1.6 billion.
Extreme weather – expected to increase in frequency and intensity because of climate change – has caused more than 90% of major disasters over the last decade.
Source : UN
Related resources