Why Wear a Mask?
Masks lower the chances of coronavirus entering the respiratory system through droplets still in the air from an infected person. Reducing the chances of inhaling the virus by wearing a protective mask that is cleaned thoroughly using a combination of approaches that use Heat, UV light, water, soap and alcohol, will be vital to stopping its spread.
Key Differences between Disposable and Homemade Cotton Masks
Properties
Disposable (Surgical masks)
Homemade (Cotton Mask)

Use

Single use
Multiple use

Effectiveness

against Virus

Particles

~ 97 %
~ 70%
Washing and Cleaning
Should NEVER be washed as it damages filtration and protection ability
Can be reused easily following prescribed procedures
Availability
Medical store stocks of such masks are likely to be depleted
Can be easily made at home with available cotton materials
Disposal
Must be disposed after one use in a closed bag with household waste to prevent virus from travel
Can be easily cleaned after use with ingredients available at home
Materials for household masks
1. Cotton cloth
Scientists have tested different household materials for homemade masks. To measure their effectiveness in stopping viruses, they bombarded 0.02 micron particles (5 times smaller than the coronavirus) on to these different materials. They found that adoublelayerof100%cotton cloth is the most effective at capturing small particles, is breathable and this is also easy to use for making a mask at home.
A double layer of 100% cotton cloth is about 70% as effective as a surgical mask at capturing small particles (up to five times smaller than coronavirus).
This material is breathable
It is easy to find around the house
These masks can be easily reused
Any used cotton cloth including old cotton vest or t-shirt can be used to make this mask. Remember the colour of the mask does NOT matter. You must ensure that the fabric is washed well in boiling water for 5 minutes and dried well, before you make the mask. Adding salt to this water is recommended.
2. Four pieces of cloth strips
3. Scissors
4. Sewing Machine
How to make
Cutting Fabric – Cut cloth for the mask at the following sizes as required: Adult: 9 inch x 7 inch ; Child: 7 inch x 5 inch
Cutting Strips – Cut 4 strips for tying and piping. Two pieces at 1.5"x 5" and Two pieces at 1.5"x 40"
Process to make the mask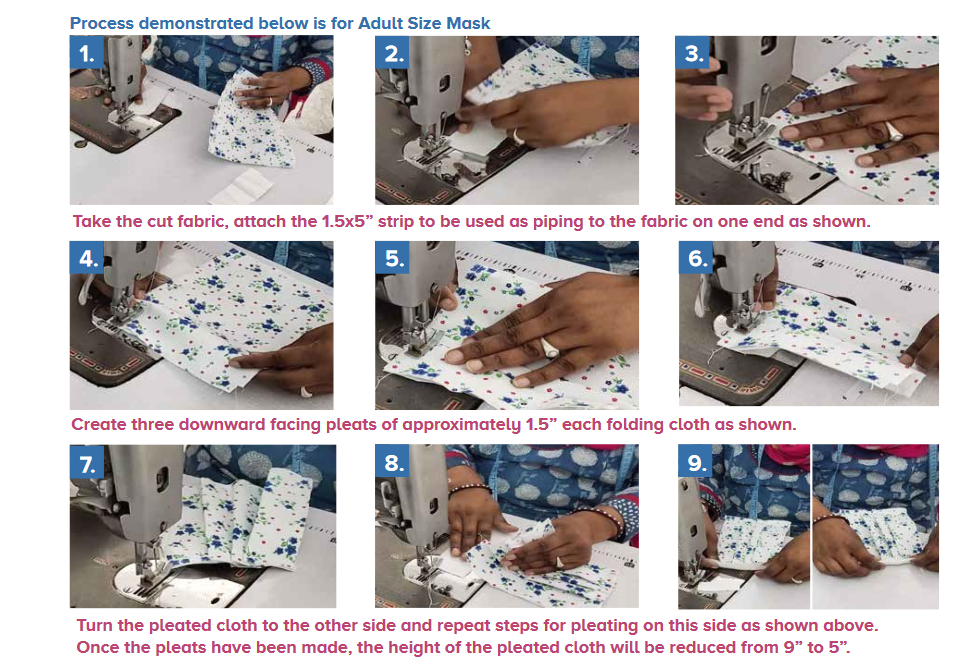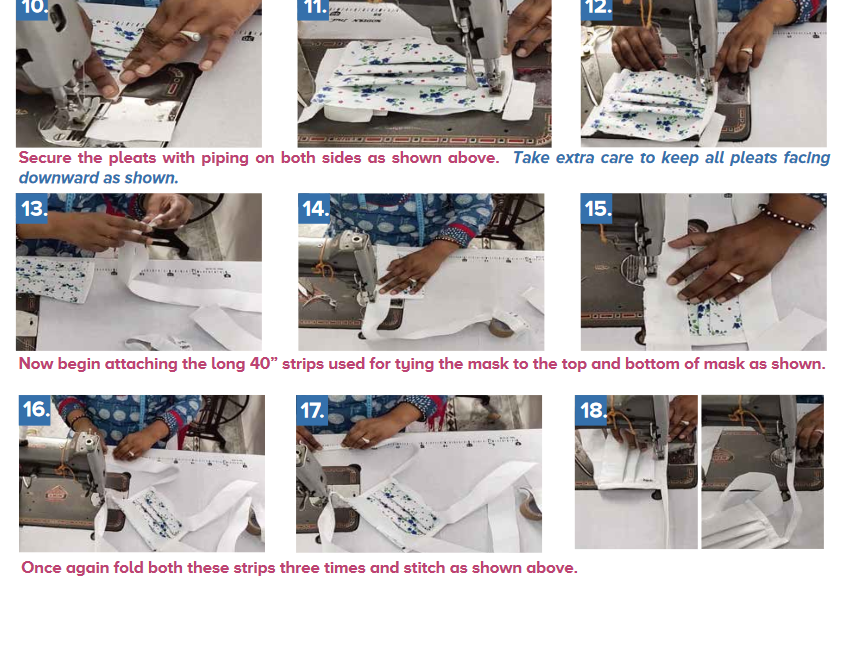 Process to make a mask, if you do not have a sewing machine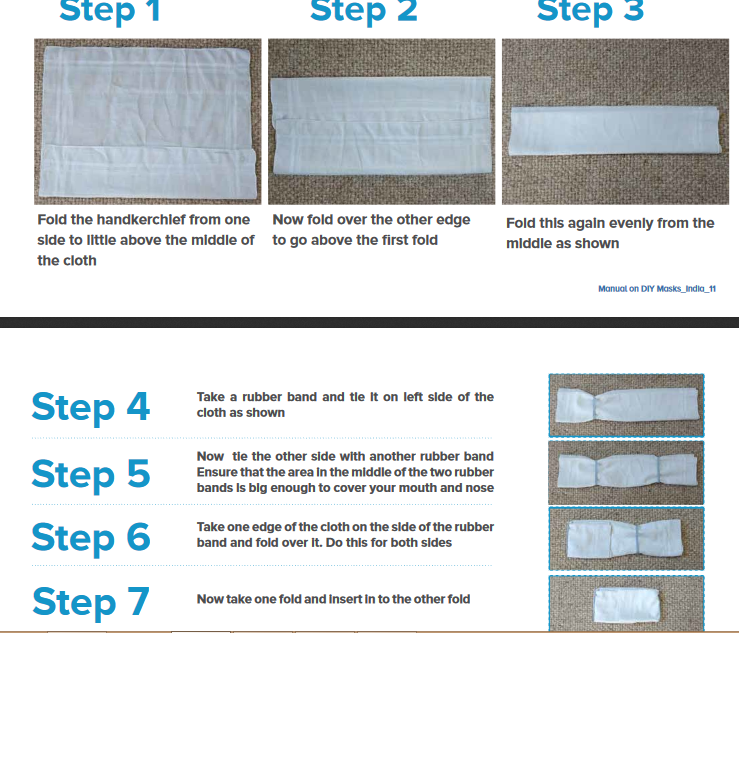 Important precautions
Before using the handmade mask remember:
Thoroughly wash and clean the mask before wearing it.
Wash your hands thoroughly before wearing the mask.
As soon as the mask becomes damp or humid, switch to another mask and clean the used mask.
Never reuse a mask after single use without cleaning it.
When using the masks
Ensure that the mask fits around your mouth and nose and there is no gap between your face and the mask. When wearing the mask, the side facing you should show pleats facing downwards.
You must never reverse the mask for reuse. Always thoroughly wash mask after every use following process shown further.
When removing the mask:
Do not touch the front or any other surface of the mask, remove it only with strings behind
For string mask, always untie the string below and then the string above
After removal, immediately clean your hands with 70% alcohol-based hand sanitizer or with soap and water for 40 seconds
Drop it directly into a soap solution or boiling water to which salt has been added.
How to Clean and Sanitize your Homemade Mask Everyday
Do not attempt to clean and boil disposable masks. They have material that cannot withstand washing.
Thoroughly wash the mask in soap and warm water and leave it to dry in hot sun for at least 5 hours.
If you do not have access to the sun, Place the mask in water in a pressure cooker andpressure boil it for at least 10 minutes and leave it to dry. Adding salt to the water is recommended. In the absence of a pressure cooker, you may boil the cloth mask in hot water for 15 minutes.
If you do not have access to a pressure cooker/boiling water, 3. Wash and clean with soap and apply heat on the mask for up to five minutes. (You may use an iron).
How to Store your Clean Mask
It is recommended that you make two masks so you can wear one, while the other is washed and dried.
Take any plastic bag at home. Clean it thoroughly with soap and water. Let it dry well on both sides.
Keep your extra clean mask in this clean bag. Keep it sealed well. Now you can rotate your masks for daily use
Source : A manual on homemade masks. Issued by the Office of the Principal Scientific Advisor to the Government of India