Problem Statement
Palliative care is required for patients in terminal stages of cancer, neurological and cardio-respiratory diseases. According to India, Health of Nations, State report 2017, in Manipur, the leading causes of mortality are cardiovascular diseases (28.7%) and cancer (12%) and therefore there is high unmet need for palliative care services in the state.
Programme Description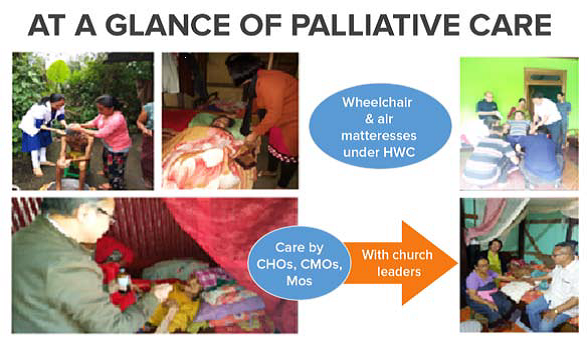 National Programme for Palliative Care was approved for Manipur in 2017-18. In addition, about 58 HWCs are currently operational in the state. In order to introduce palliative care at the primary healthcare level, a multi-stakeholder collaboration and cooperation approach was adopted in the state. In November 2018, a consultative meeting was held between State Palliative Cell (of NHM), Radiotherapy department of Regional Institute of Medical Sciences (RIMS) Imphal, Institute of Palliative Medicine, Calicut and Karunashraya Bangalore. Training of state trainers on palliative care was done at Karunashraya Bangalore (Hospice and Home care) and NIMHANS (Hospital Based Care). Subsequently Foundation Course in Palliative Medicine, Nursing and Care was conducted for MOs (90), Nurses (83), CHO (30), ASHA (243) and NCD (43) staffs between Jan - Feb 2019.
In the second year, palliative services were started in seven District Hospitals by launch of Palliative OPD and wards. In 2019-20, the state introduced home-based service model for palliative care services at 27 Health and Wellness Centres. The Palliative Care Society, Imphal (PCSI) supported organization of awareness camps, mobilization activities and training of service providers (MPW-Female/ANM and ASHAs) in palliative care.
As part of the home-based initiative, ASHAs play a key role in identification and mobilization of families who require palliative care to CHOs. After assessment by CHOs, the patient is referred to Medical Officer for medical examination. Medical Officer sees the patient by conducting home visit (at least once in three months).
Follow up is done by CHO along with ANM and ASHA through weekly home visits. The details of symptoms, pain assessment and other nursing care are recorded and reported. Necessary medicines are provided under free drugs & diagnostics initiative Necessary drugs under Free drug initiative and diagnosis are given. Those patients requiring morphine tablet or Fentanyl patches are examined by the oncologist/ trained physician in District Hospital and are delivered by CHO. There is also linkage with the palliative OPD opened at Department of Radiotherapy, RIMS and those patients attending RIMS are also informed to the concerned CHO of the village where the patient come from linkage has been created with the palliative OPD at Dept of Radiotherapy, RIMS i.e., information about patients attending RIMS is shared with the concerned CHO.
Programme Outcomes
At present, 58 HWCs are providing palliative care services in 9 districts to 188 patients.
Scalability
As this initiative relies on multisecroral partnerships and capacity building of existing resources, it can be scaled up with gradual operationalization of Health and Wellness Centres. The scale would require, skill building Primary health care team and strengthening continuum of care from village level starting with identification to assessment and follow - up of patients.
Implementation Partners
NHM (Manipur), (RIMS, Imphal), Institute of Palliative Medicine (IPC, Calicut) and Karunashraya (Bangalore), NIMHANS and WHO.
Financial Implications
Workshops/TOT on palliative care and Training of human resources (Rs. 17.11 lakhs), expenditure on drugs and consumables (Rs. 10.50 lakhs) and IEC and other logistics (Rs. 28.80 lakhs).
Source : We Care Coffee Table Book - Good, Replicable and Innovative Practices 2019