Problem Statement
Limited availability and use of IT solutions to capture service delivery across levels of care i.e., from community to secondary level facilities act as hurdles in enabling continuum of care. This also leads to gap in recording and reporting of services provided by the public health system, with consequences such as fragmented services and Out of Pocket Expenditure (OOPE).
Programme Description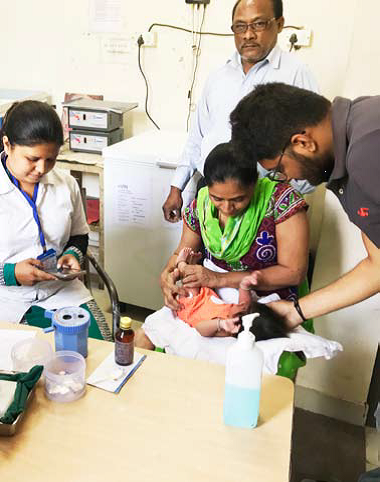 TeCHO+ is a mobile and web based application functioning as a job-aid at various levels from community to the state level administrators for improving coverage and quality of health services i.e, Android based application of ASHAs, MPW, CHOs; Web based portal for service providers at PHC/ block/ district level and for administrators at PHC/block/ district/ state level. After a successful pilot and evaluation of ImTCHO in 3 tribal districts since 2013, the TeCHO+ Project was launched on 8th October, 2017 for scale up in entire state.
At present, the android based application is being used by 10,793 Female Health Workers, 850 CHOs and 2487ASHAs from selected districts of Narmada and Bharuch. The web portal is being used by 2219 users at health facilities and administrators.
Programme Outcomes
Use of TeCHO + has enabled real time data entry of the beneficiaries and service delivery, making the tracking of users and monitoring of service delivery possible.
Scalability
The TeCHO+ has been rolled out in entire state to cover entire state population i.e, 6.55 crore. The IT platform, which initially focused on RCH related services has been expanded to include nutrition, noncommunicable diseases, cerebral palsy and ophthalmology to synergize with the efforts of delivering comprehensive primary health care services. TeCHO+ will also be expanded to capture services related to RBSK, Mental Health and epidemic surveillance in phased manner. Thus, this can potentially serve as model for scaling up to other states.
Implementation Partners
NHM, Gujarat, Argusoft, SEWA rural and GVK EMRI
Source : We Care Coffee Table Book - Good, Replicable and Innovative Practices 2019