Every year, on 31 May, the World Health Organization (WHO) and global partners celebrate World No Tobacco Day (WNTD). The annual campaign is an opportunity to raise awareness on the harmful and deadly effects of tobacco use and second-hand smoke exposure, and to discourage the use of tobacco in any form.
Theme for 2022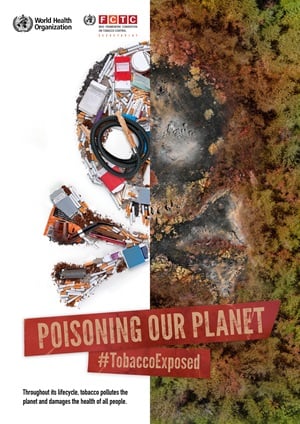 The focus of World No Tobacco Day 2022 is on "Tobacco - threat to our environment."
The harmful impact of the tobacco industry on the environment is vast and growing adding unnecessary pressure to our planet's already scarce resources and fragile ecosystems.
Tobacco kills over 8 million people every year and destroys our environment, further harming human health, through the cultivation, production, distribution, consumption, and post-consumer waste.
Tobacco growing, manufacturing and use poison our water, soil, beaches and city streets with chemicals, toxic waste, cigarette butts, including microplastics, and e-cigarette waste.
Call to action
Give tobacco users an extra reason to quit. Quitting tobacco benefits your health and the environment.
Support policy action around ban on single use plastics which include cigarette butts, smokeless tobacco pouches and electronic waste
Raise awareness of the tobacco industry's greenwashing tactics
Support governments on additional levies/taxes on industry to protect the environment
Source : WHO
Tobacco cessation programme of India
Ministry of Health & Family Welfare has launched a toll-free national tobacco Quitline (1800112356) and mCessation services (give a missed call from your mobile to 011 22901701 to receive text-messages towards successful quitting of tobacco). This initiative aims to support tobacco users of all categories who want to quit tobacco use towards successful quitting through constant text messaging on mobile phones.
Source : National Tobacco Control Programme (NTCP)