World Breastfeeding Week is celebrated every year from 1 to 7 August to encourage breastfeeding and improve the health of babies around the world. It commemorates the Innocenti Declaration signed in August 1990 by government policymakers, WHO, UNICEF and other organizations to protect, promote and support breastfeeding.
Breastfeeding is the best way to provide infants with the nutrients they need. WHO recommends exclusive breastfeeding starting within one hour after birth until a baby is 6 months old. Nutritious complementary foods should then be added while continuing to breastfeed for up to 2 years or beyond.
World Breastfeeding Week 2023 - ENABLING BREASTFEEDING - Making a difference for working parents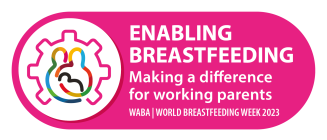 This year, the theme will focus on breastfeeding and employment/work. It will showcase the impact of paid leave, workplace support and emerging parenting norms on breastfeeding through the lens of parents themselves. Target audiences including governments, policymakers, workplaces, communities and parents will be engaged to play their critical roles in empowering families and sustaining breastfeeding-friendly environments in the post-pandemic work life. The theme is aligned with thematic area 4 of the WBW-SDG 2030 campaign.
The COVID-19 pandemic has adversely affected childbearing women by increasing the risk of unemployment and livelihood loss, and by disrupting access to prenatal, postnatal and further breastfeeding support and services in the healthcare system. We need to take into account the lessons learnt during the pandemic and update parental social protection policies that will address the current situation.
Warm chain of support for breastfeeding
The Warm Chain campaign places the mother-baby dyad at the core. It strives to link different actors across the health, community and workplace sectors to provide a continuum of care during the first 1000 days.
WHO and UNICEF Recommendation for Optimal Infant and Young Child Feeding (IYCF) Practices
Early initiation of breastfeeding within one hour of birth
Exclusive breastfeeding for the first six months of life
Continued breastfeeding up to two years of age or beyond, with the introduction of nutritionally adequate and safe complementary (solid) foods at six months
Objectives of WABA World Breastfeeding Week 2023
INFORM - people about working parents' perspectives on breastfeeding and parenting
ANCHOR - optimal paid leave and workplace support as important tools to enable breastfeeding
ENGAGE - ith individuals and organisations to enhance collaboration and support for breastfeeding at work
GALVANISE - action on improving working conditions and relevant support for breastfeeding
Source: WABA World breastfeeding Week website
Related resources