Our country is a land of leaders and ever emerging heroes , social workers , thinkers and activists!! While we are busy striving to make our lives better and only thinking for our closed ones there are many amongst us, playing the role of leaders, heroes and leading to makes the lives easier for the ones who are in most need for the help of those who are self sufficient!! Let's take a glance into them and their contributions in making this country a more better place for the underprivileged ones in terms of Healthcare sphere!
Dr Rani Bang
This amazing woman has been working with one of the most under-developed tribal communities in central India. A gynecologist by profession, she has been serving in the remotest areas for over 20 years. She set up the Society for Education, Acton and Research in Community Health, along with her doctor husband Abhay, and started many such healthcare initiatives across India. She has managed to introduce modern medicine in tribal villages and made the villagers aware of good healthcare facilities. While many doctors are seeking high-paying jobs in the biggest hospitals of the country, this amazing woman and her husband is an inspiration to us all. Kudos to their efforts and passion.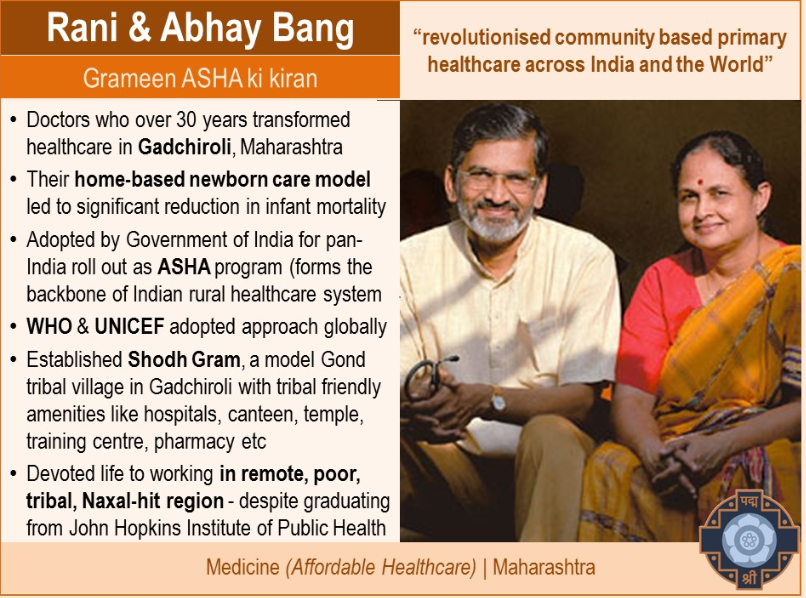 Dr Ritu Biyani
Her own suffering with breast cancer made her take it up as her life's mission to spread awareness among urban, rural and tribal reaches of India. She has been travelling across the country to spread awareness about breast cancer. She hold a record in Limca Book of Records, India as the first woman to do a solo drive to the four tips of India. A breast cancer survivor, she is working on an initiative called Highways Beyond Cancer. She organizes various workshops at offices, schools, colleges, hospitals and army camps to spread awareness about the disease.
Dr Suhaschandra Vithal Mapuskar
This inspiring man has dedicated his entire life to the rural sanitation sector. Working for over 50 years in this field, Dr. Mapuskar has implemented the principles of appropriate technology and community ownership at a time when these were not part of the national consciousness. He has been actively working in the field to promote the use of decentralized, low-cost sanitation options. He started promoting the bio-gas toilets and convinced villagers to use them. The efforts of Dr. Mapuskar are commendable and hope his initiatives reaches out to more and more people.
Shri Vidya Rattan Sharma
He started his career as a cook but soon realized his love for cookstoves and innovations. His DEEP Chulha helps users to improve fuel efficiency by as much as 50%. Apart from creating this amazing stove that is helping the rural community at large, Sharma is also working with the elderly people in his area by running around 34 elders' Self-Help Groups. Having started as a cook at a local NGO, he has been continuously working to improve the condition of the community through his innovations in the field of cooking stoves, traditional medicine, organic farming and animal husbandry. He is an inspiration to all of us and is a perfect example of how charity begins at home.
Smt Meera Mahadevan
She started an initiatives for the children of construction workers, who are mostly ignored. They spend their childhood in mud and dust, playing with dangerous tools, unfed and unclothed. While a child's life should be carefree and happy, these children are living a life far from normal. She decided to help these kids and provide them a safe, healthy and educated childhood. She has been extensively working in this field through Mobile Crèches, and catering to the needs of thousands of such children who are deprived of basic necessities.
Dr Shantuben Patel
She is a lady full of compassion and warmth. While working in UK, an incident changed the way Dr. Patel thought and she decided to dedicate her life to treating those in need for free. She came to India and started working in Kutchh, and began her own school called Dhanvantri School for mentally and physically challenged children. This inspiring woman is helping the less privileged get an equal opportunity to study and succeed. By helping these children experience something which they generally are deprived of, by giving them a chance to grow, Dr. Patel has been enhancing and colouring the lives of all these children.
Shri Atul Bhide
He made sure that every house in a village got a toilet of its own. Sanitation is one of the biggest problems of India and somehow it has always been neglected in rural India. Atul Bhide started by constructing 10 toilets from his own money and then got the project sponsored to construct 200 toilets more. Involved in various community services, Bhide's dream is to change the mindset of the people and see an India where every house has a toilet.
Salute to all these individuals who are the real and indeed heroes.