The Name
Surya (Sun) is the source of energy to all the living being on this planet earth. Surya namaskara is a set of 7 Yogic poses performed in 12 steps in the early morning to refresh and energise the body and mind for the day activity. It is being practiced as part of Yoga sadhana (practice) over the centuries for healthy leaving.
Technique
Starting Position: Stand upright with feet together and arms by the side of the body; balance the body equally on both feet (Samasthiti).
Namaskarasana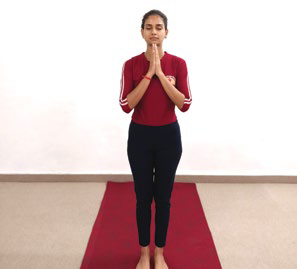 Inhale, bring the palms in front of chest and join them together as in namaskara mudraor prayer position; Exhale.
Breathing out, come to the straight position. Slowly bring the arms down; and join the palms in front of the chest as in Namaskara mudraor prayer position.
Hastottanasana
Inhaling, raise both the arms up keeping the arms close to the ears; stretch the body as much as possible and bend the trunk backward without bending the knees.
Breathing in, raise arms and torso. Take the arms straight above the head and bend the trunk backwards as much as possible.
Padahastana
Breathing out, bend forward from the waist keeping the spine erect. Place hands on the floor by both sides of the feet. Try to touch the knees with the forehead.
Breathing out, bring the right leg forward and place the right foot besides the left foot. Place both palms beside outer sides of the feet on the ground; and head touching the knees.
Ashwasanchalanasana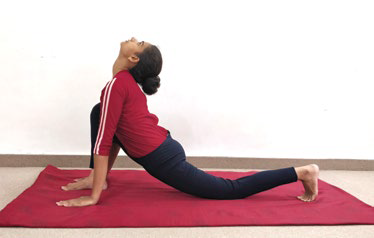 Breathing in, take the right leg backward as far as possible; bring the right knee to the floor. Bend the left leg at the knee; keep the left foot at the floor between the palms making 90-degree angle; arch the spine back and look up.
Breathing in, bend the left leg and bring it forward; and keep the left foot on the ground between the arms. Keep the right leg backward with knee touching the ground. Arch the spine back and look up.
Parvatasana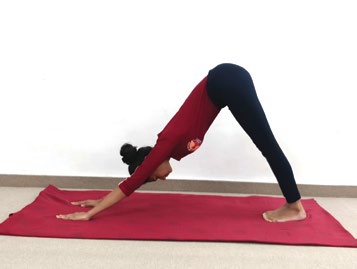 Breathing out, take the left leg back; lift the hip tail bone up and lower the head and chest downwards in an 'inverted V' posture. Keep the head between the arms and soles touching the ground.Breath normally
Breathing out, lift the hips up; and lower the head and chest downwards in an 'inverted V' posture. Keep head between the arms and soles on the ground.
Sa-ashtanga-namaskarasana
Exhaling slowly gently bring eight limbs of the bodytwo toes, two knees, two palms chest and forehead down to the floor. Lift the hips slightly up, arms bending while elbows pointing upwards.
Bhujangasana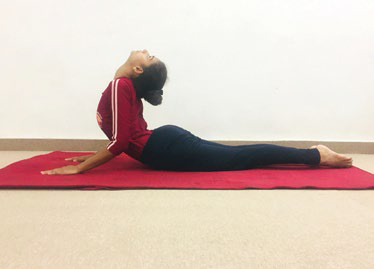 Lower the hips,Inhale; Raise the head up and push the chest up. Raise the trunk up to the naval with spine arched back. Keep palms on the ground and bend backwards.
Benefits
Surya Namaskara is considered as a completeYoga practice; sinceit is thecombination of Yoga practices like asana, pranayama, bandha, mudra, mantra-japa, upasana and dhyana.
It helps to increase the flexibility,lungs capacity,strength, enduranceand develop a healthy spine
Its regular practice improves the concentration and increase the height of the growing children
Source : POSHAN Abhiyaan