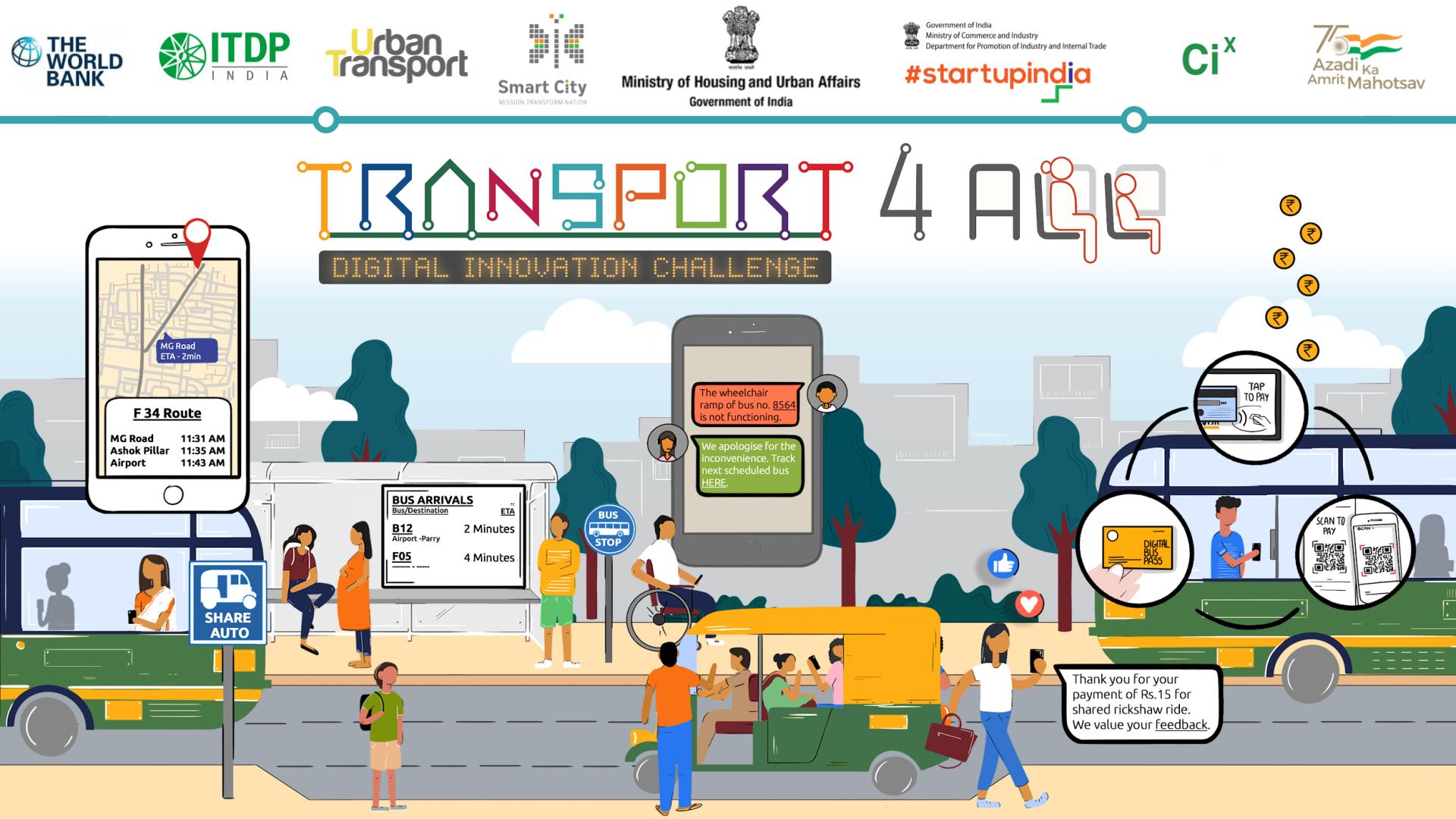 Vision
The Transport4All Challenge, an initiative of the Ministry of Housing and Urban Affairs of the Government of India, aims to bring together cities, citizens and startups to develop solutions that improve public transport to better serve the needs of all citizens.
At the core of the challenge are citizens who will not only define the problems for which solutions shall be created but also help startups and cities to refine the solutions to meet their needs.
The first edition of the challenge focuses on digital innovation. Cities and startups will receive guidance to develop and test various solutions, learn from them and scale them to build people's trust in public transport and enhance their mobility.
The solutions will make public transport-formal as well as informal-safe, convenient and affordable for all.
Background
Public transport in Indian cities has become highly unreliable and undesirable. Further, growing incomes and expectations have led to people shifting to cars, motorcycles and taxis.
In the last decade, bus ridership in metropolitan cities dropped by 20% on average. COVID-19 crippled public transport. But cars and motorcycles continue to grow, unabated. Streets are choked with traffic; the air we breathe is toxic. In 2019, four of the top ten most congested cities in the world were Indian.1
Indian cities often set ambitious visions of achieving 60-80% of motorised trips on public transport. However, only 46% of motorised trips were on public transport in 2011.2 Since then, public transport use has dropped further. Cities should have tripled the trips on public transport (before COVID-19 hit us), but the situation has worsened.
Now, more than ever, the Indian cities must innovate to achieve the vision set-out in the National Urban Transport Policy: to ensure safe, convenient and affordable transport for all.
[1 - TomTom Traffic Index, 2019 | 2- Census of india, 2011]
Develop Solutions For Problems In Key Areas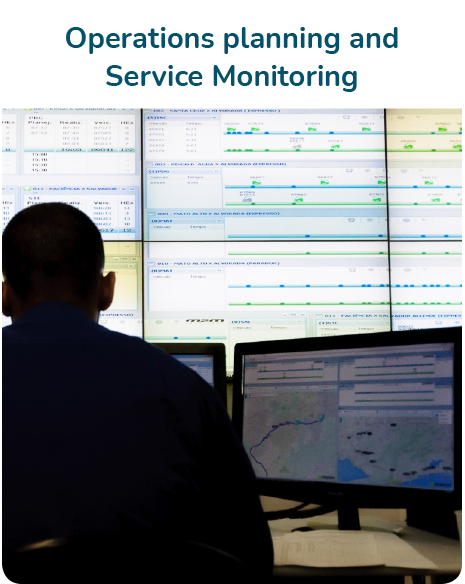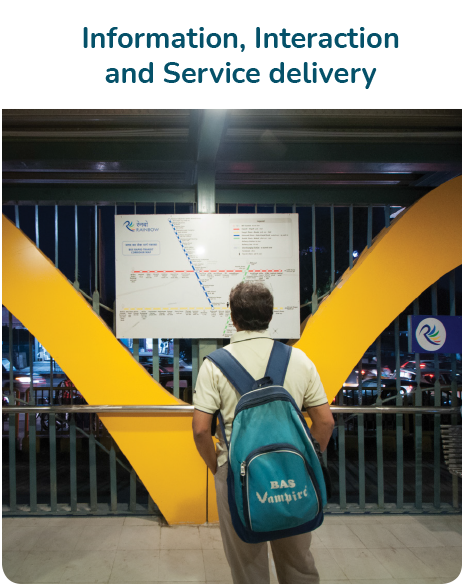 Bringing Together Cities, Citizens and Startups
Cities
Why should cities participate in the challenge?
Cities have an opportunity to work with citizens and startups to resolve the most critical problems that plague public transport through contextual solutions that are easy to implement. They will be able crowdsource solutions and choose the ones that best meet their needs and that of their citizens. They also get a chance to learn from their peers.
How will cities identify problems related to public transport?
The city-level Transport4All Task Force (TTF) shall hold a roundtable discussion with its member agencies to review the surveys conducted by the city and finalize up to 5 key problem areas related to public transport. These problems will then be converted into problem statements. Sample problem statements will be shared with cities at the time of registration.
What is the role of the Transport4All Task Force?
The Transport4All Task Force shall help the cities coordinate on the challenge tasks in a seamless manner. At the same time, the cities can also use the opportunity to coordinate on other mobility projects with the support of the committee.
How many problem statements do cities need to submit?
Cities are required to identify and submit at least 1 or up to 5 problem statements related to public transport in the city.
How can states / cities facilitate pilot implementation by the startups?
The states / cities shall reform their procurement framework to enable startups to pilot their solutions. The challenge team will be guiding the cities in reforming the process through knowledge sharing and workshops.
Non-governmental Organisations (NGOs)
The following organisations / institutes can apply as NGO:
All civil society organisations
Research organisations
Educational institutes
Why should NGOs participate in the challenge?
NGOs get an opportunity to create better public transport for all by bringing the voices of citizens to city managers and guiding startups in contextualising solutions to meet the needs of all citizens.
How can an NGO reach out to their city?
After registering for the challenge, the contact details of the cities will be shared with the registered NGOs. The challenge team will also organize workshops to guide cities and NGOs to engage with each other and the citizens. The cities will decide on whom to collaborate with for the challenge and get in touch with the NGOs.
How can an NGO support the cities with the challenge?
Startups
Why should startups participate in the challenge?
Startups get to work with the cities to test, learn and improve their solutions/products with guidance from experts and based on the feedback of citizens. The best of solutions shall also be endorsed by the Government of India for easy procurement by cities across India.
What will be the role of startups in the challenge?
The startups shall work with the cities and develop contextual digital solutions to address the problem statements identified by the cities. In Stage-3, the selected startups shall work with the cities to pilot the solutions on-ground.
Are startups required to provide solutions for all of the problem statements?
The startups can pitch to resolve one or more problems in one or more than one of the participating cities.
What is the incentive/ reward for startups?
The winners shall be rewarded with a monetary reward of ₹10 lakhs per solution (upto 20 solutions will be rewarded). The startups will also get the opportunity to improve their solutions under the mentorship of a panel of experts during the course of the challenge. Additionally, the winners will be able to pilot their solutions and upon successful completion of their pilots will be empaneled with MoHUA for subsequent projects.
Stages of Challenge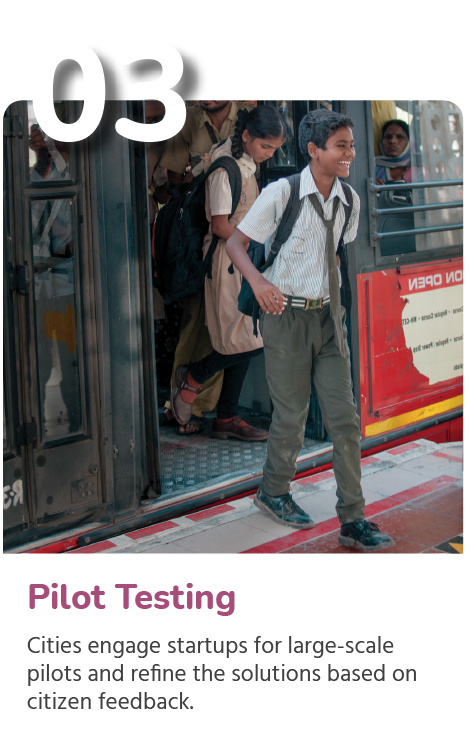 Stage 1: Identify problems citizens face
Stage 2: Develop solutions and prototypes
Stage 3: Large-scale pilots to validate and refine solutions
Timeline of Challenge
Stage 1: Identify problems citizens face
Launch of challenge and registration opens for cities and NGOs: April 15, 2021
Cities register by: May 15, 2021
Cities submit problem statements by: March 2022
Problem statements curated by T4A team: May 2022
Stage 2: Develop solutions and prototypes
Startup registrations open: November 9, 2022
Startups register with a concept note by: November 30, 2022
Announcement of screened startups: December 20, 2022
Startups and cities submit prototype testing results and plan of action by: January 2023
Announcement of winners: February 2023
Stage 3: Large-scale pilots to validate and refine solutions
Cities procure the solutions from winning startups: March 2023
Submission of pilot project result by cities: May 2023
Closing workshop of the challenge: May 2023
Stage 1 Roadmap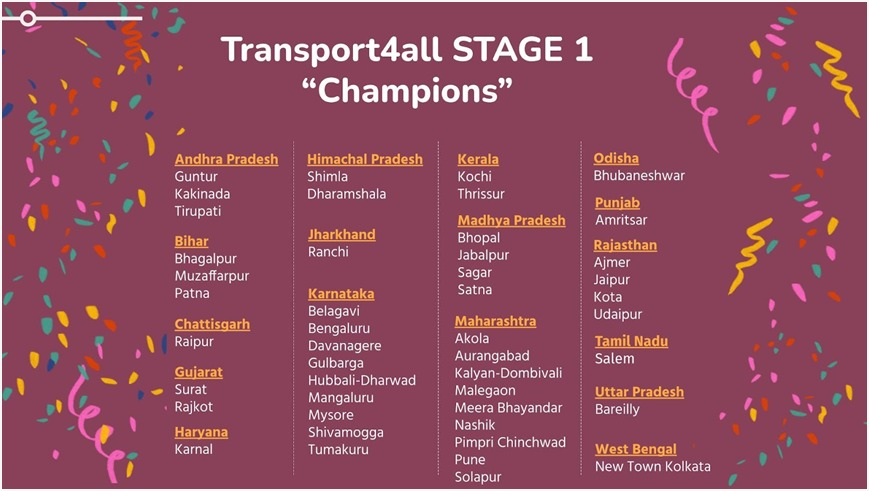 130 cities signed up for Stage 1 of the challenge
100 cities have formed the Transport4all Task Force (TTF) bringing together all public transport stakeholders
46 cities have successfully completed the nation-wide public transport surveys.

Citizen Survey: More than 2 lakh citizen voices captured
Bus Staff Survey: More than 15000 drivers and conductors interviewed
IPT Drivers Survey: More than 22000 IPT drivers interviewed

165+ problem statements across 46 cities

Rationalising of transit routes and frequencies
Network digitization
Bus and staff scheduling
Transit performance monitoring and service optimisation
Passenger information and ticketing
Passenger grievance redressal system
Bus maintenance and scheduling
IPT aggregator and monitoring
Bus fleet augmentation
Public transport prioritization
Public transport supporting infrastructure and regulations
Financial and healthcare support

Final 8 problem statements curated by the T4A team for startups to develop digital solutions in Stage 2

Problem Statement 1: Tool for rationalising of transit routes and frequencies
Problem Statement 2: Spatial tool for digitising and managing transit (including IPT / last-mile modes) networks, timetables, fares, etc., and to compute accessibility index for an area
Problem Statement 3: Tool for scheduling of public transport buses and staff
Problem Statement 4: Transit performance monitoring tool
Problem Statement 5: Reliable passenger information system with integrated multimodal journey planning and ticketing
Problem Statement 6: Passenger grievance redressal system
Problem Statement 7: Monitoring of transit fleet health and managing maintenance schedules
Problem Statement 8: IPT Aggregator and monitoring solution
Key Achievements of Stage 1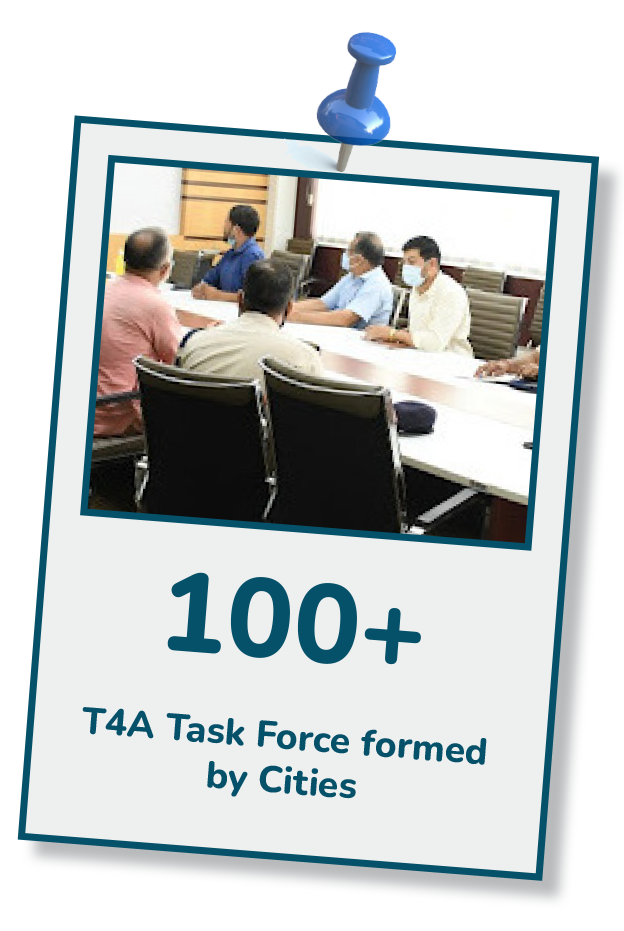 Stage 2 Timeline
Startup registrations for Stage 2 are open now. The last date for startups to register is November 30, 2022. For more details visit Transport4All website.
Application Start Date: November 9, 2022
Application End Date: November 30, 2022
Application Result Date: December 20, 2022
Sources