Meri Maati Mera Desh
Nation -wide "Meri Mati Mera Desh" Campaign, launched on 9th August 2023, is to pay tribute to the 'Veers' who laid down their lives for the country.
Duration
From 9th to 30th August , 2023, the 'Meri Maati Mera Desh' campaign will include programs at the village, and block levels , by local urban bodies, as well as state and national level.
This campaign is the concluding event of the 'Azadi ka Amrit Mahotsav,' which began on 12th March , 2021, and has witnessed widespread public participation(Jan Bhagidari) with over 2 lakh programs organized across India.
Actions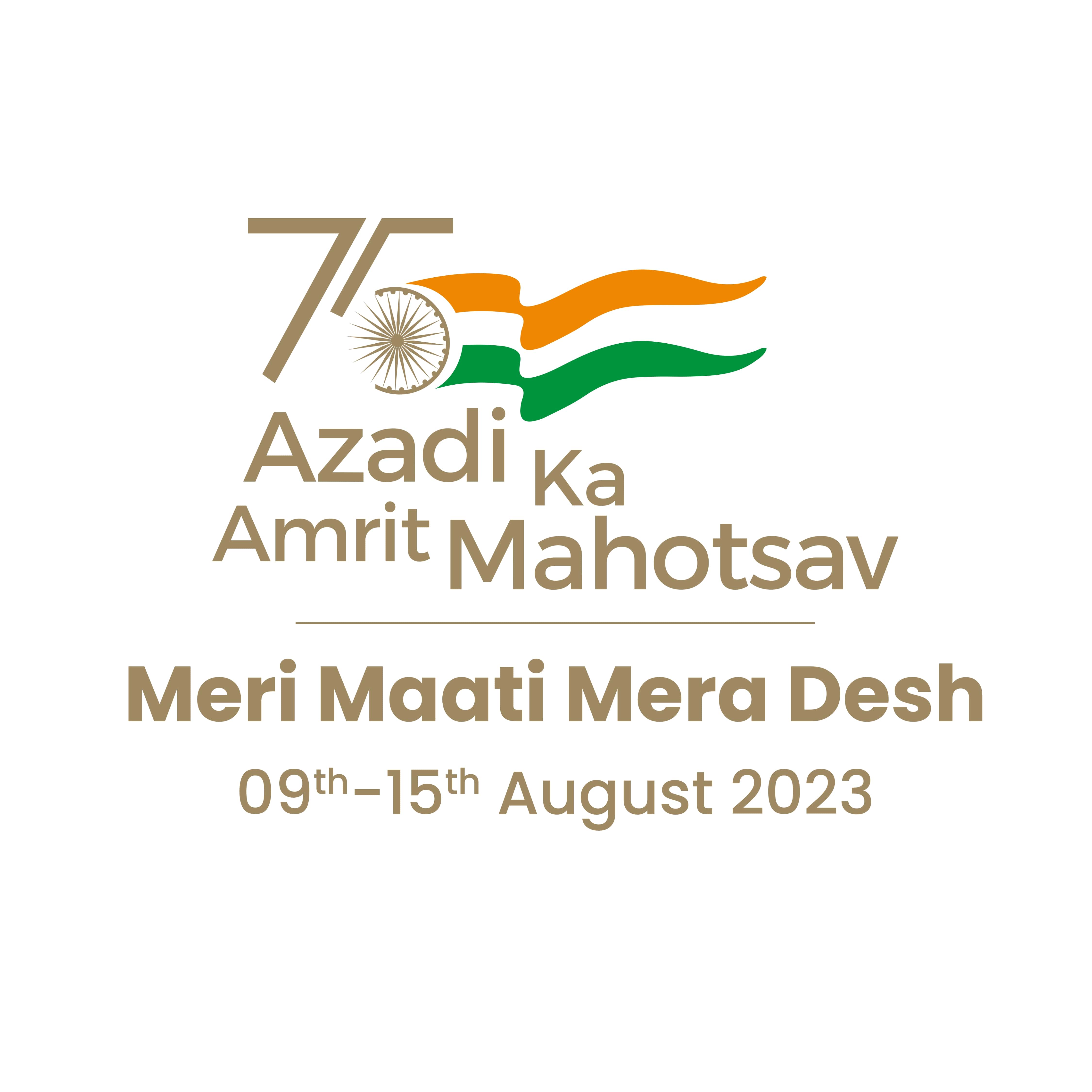 The campaign will include various programs across the country to remember the bravehearts (Veers). Shilaphalakams (memorial plaques) commemorating them will be installed in village panchayats.
Dedication of Shilaphalakam-installation of nameplate of Veers.
Taking the Panch Pran Pledge.
Vasudha Vandan—creation of Amrit Vatika with 75 saplings of indigenous trees.
Veeron Ka Vandan- honoring freedom fighters/braves who protect the nation and families of braves.
Hoisting of National Flag and singing of National Anthem.
The campaign will feature programs like the establishment of Shilaphalakams dedicated to freedom fighters and security forces, as well as initiatives like Panch Pran Pledge, Vasudha Vandan, Veeron ka Vandan which venerates the gallant sacrifices of our bravehearts. Shilaphalakam or Memorial plaques saluting the spirit of sacrifice of local bravehearts from the village, panchayat, block, town, city, municipality etc. are to be erected across urban and rural areas. It will have Prime Minister's message with the names of those who have laid down their lives for the nation belonging to that region.
An 'Amrit Kalash Yatra' will be conducted, carrying soil from all corners of the country in 7500 kalash to create an 'Amrit Vatika' in Delhi. This 'Amrit Vatika' will symbolize the commitment to 'Ek Bharat Shreshtha Bharat.'
To encourage mass participation (Jan-Bhagidari), a website, https://merimaatimeradesh.gov.in, has also been launched where people can upload selfies holding soil or an earthen lamp. By doing so, they take the pledge of Panch Pran, with focus to make India a developed country, eliminate the mentality of slavery, be proud of our rich heritage, uphold unity and solidarity, fulfil duties as citizens, and respect those who protect the nation. Once the pledge is taken, a digital certificate of participation can be downloaded from the website.
The nationwide campaign will start on 9th August, with scheduled programs until Independence Day on 15th August 2023. Subsequent events will take place from 16th August , 2023 onwards at block, municipality/corporation, and state levels. The closing ceremony is scheduled for 30th August , 2023, on the Kartavya Path, New Delhi in the presence of dignitaries.
Meri Mati Mera Desh website https://merimaatimeradesh.gov.in
Portal https:// yuva.gov.in can also be accessed
Har Ghar Tiranga
Last year, "Har Ghar Tiranga" programme, became a grand success owing to participation of one and all. This year too, Har Ghar Tiranga will be celebrated between 13th -15th August, 2023. Indians everywhere can hoist the national flag, click selfie with the Tiranga and upload on Har Ghar Tiranga website.
Har Ghar Tiranga website https://harghartiranga.com