Foldscope For All
The invention of the microscope and its developments helped the researcher community to understand the microscopic world around us and opened up a new dimension of research and study. From primitive microscope with one glass lens to the most advance electron microscope, we have come a long way in exploring the microcosmos and restricting the use of the bulky instrument only to the laboratories. Regular microscope with its cost, heavy weight, fragility and high maintenance, makes the applications of the microscope limited to labs only.
Dr. Manu Prakash, Assistant Professor from Stanford University along with his student, Dr. Jim Cybulski encountered this issue during their field visits to a poorer country, they had found that microscope was limitedly available, fragile and are not being used properly. For overcoming these limitations, Dr. Prakash and team came up with the idea of making affordable and easy to use microscope, by using folded papers, and hence named as "Foldscope".
Foldscope which is an ultra-affordable paper microscope inspired by origami, is a part of the "Frugal Science" movement which aims to make reasonable and easy tools available for scientific use in the developing world. It is a portable, robust and versatile microscope made mostly out of paper (water-proof) that can magnify from 140x and has 1.9 μm resolution without the bulkiness and expense of a conventional research microscope. Foldscope differs from the microscopes typically found in science labs because it's not only portable, but it also has the ability to project an image on any surface, allowing a larger group of people the ability to look at an image simultaneously.
Dr. Prakash is hoping that because the Foldscope is so cheap to manufacture and easy to assemble that everyone will have access to the world of microscopy and one day every kid will have a Foldscope in their backpacks or tucked away in their pocket. Department of Biotechnology is walking hand in hand with Prakash Lab in helping Dr. Prakash achieve his dream "Foldscope For All".
Bringing Foldscopes To India - A DBT Prakash Lab Initiative
The initiative of "microscope for every child" has been taken up by Department of Biotechnology alongside Prakash Lab (Stanford) through Foldscope which is designed to descend science out of laboratories and leads it into our regular lives.
The Foldscope has been brought to India after the signing of a Statement of Intent between the Department of Biotechnology, Government of India and Prakash Lab (Stanford University), USA in the presence of Hon'ble Prime Minister of India, Shri Narendra Modi during his visit to USA for the India-US Startup Konnect event at Silicon Valley on 27th September 2015.
Immediately after the signing of Statement of Intent, a series of Foldscope workshops and talks were conducted in India between 16-21 December 2015. Manu Prakash, his team (Marie Bas, Tom Hata, Jim Cybulski and Lakshminarayan Iyer) from Stanford and volunteers from TIFR-Hyderabad worked together with DBT and local organisers to teach students and enthusiasts the workings of the Foldscope.
Since then, DBT in partnership with Foldscope Instruments Inc. and Prakash Lab (Stanford University) has reached out to school students, teachers, scientists / researchers and masses interested in science exploration across India by training them in use of Foldscope to popularize science and trigger excitement in it. DBT has organized a number of workshops and distributed Foldscopes to the resource constraint schools and colleges across the country including Northeastern region of India.
So far, DBT has supported 409 schools and colleges (92 schools and 317 colleges) across the country by training the teachers / faculty to use Foldscope and provided micro grant (Rs. 4 lakhs to each selected school and Rs. 8 lakhs to each selected colleges) to pursue their research activities using Foldscope. The use of Foldscope among young students has encouraged them towards science exploration and strengthening their scientific temperament. The school and colleges used foldscope for training students to visualize unicellular and multi cellular cells like bacteria, fungus, protozoans, plant cells, animal cells, arthropods and exopolymeric substances.
DBT has also been working to bring Foldscope to the Aspirational Districts identified by the Government of India for immediate improvement.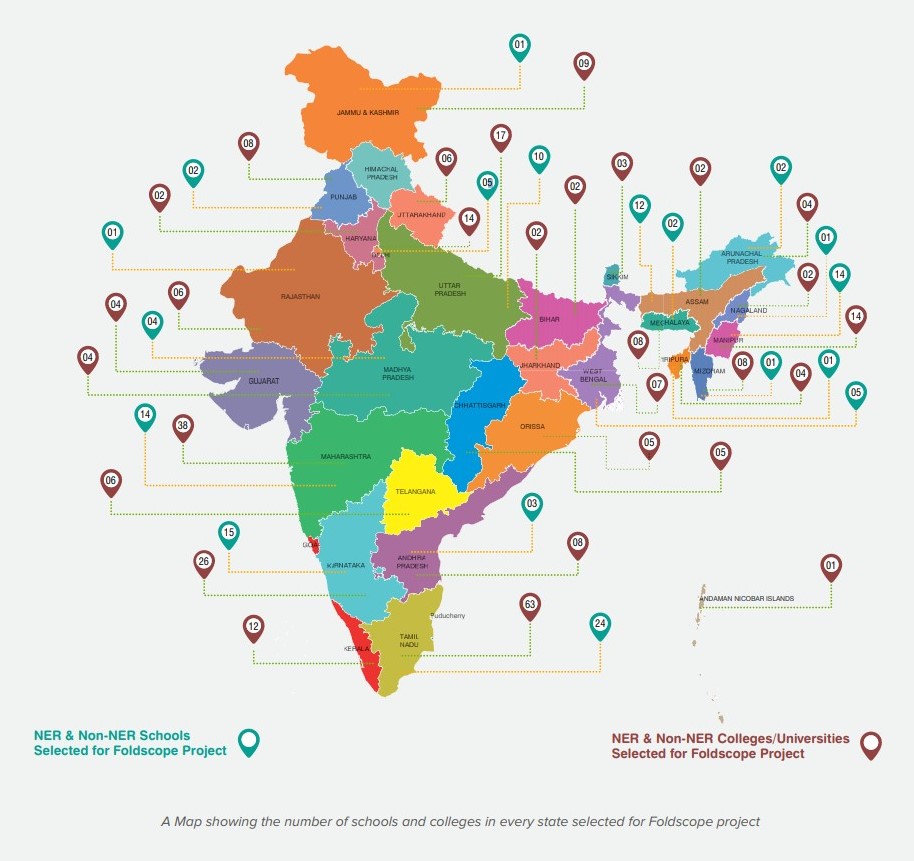 Source: Department of Biotechnology