Baba Banda Singh Bahadur was a great warrior to defend India and defeat the Mughals. His original name was Baba Madhav Das and he was a Bairagi Sadhu. Baba Banda Singh Bahadur aimed at National awakening and Liberation of the country from the oppressive rule of the Mughals. Though Independence came to India much later, yet it was Baba Banda Singh Bahadur who first taught the Indians to fight, conquer and establish their independent rule.
Early days
Baba Banda Singh Bahadur was born in the Rajput family (1670, Rajouri). He was the first Sikh military leader to wage an offensive war against the Mughal rulers of India and extended the Sikh territory.
Banda Singh's March towards Punjab
Guru Gobind Singh Ji sent Banda Singh to Punjab in 1708 to put an end to the cruelty of Punjab rulers, punish the guilty and cruel misrulers and to fight for human rights, empower and strengthen the poor, the low and slave-like people who could not even imagine freedom. He had started with only twenty-five Sikhs; but the whole Panth gathered, young and old, rich and poor, under his banner, come what may. .
Conquered various areas of Punjab
To meet financial requirements, Banda Singh made fervent appeals to big businessmen of that time. After meeting the basic needs, from 1709 he started attacking various towns and conquered various areas of Punjab such as Samaana, Sonepat, Kenthal, Ghurham, Thaskaa, Shahbaad, Kapoori, Sadhoura, and others. After establishing his authority and Khalsa rule in Punjab, he abolished the zamindari system.
Now the major goal for the Sikhs was Sirhind and its Nawab Wazir Khan. This battle took place in May 1710 at the field of Chhappar Chiri which is 15 miles away from Sirhind. Wazir Khan lost his life. Most of the high officials and administrators were killed. The Mughal army ran away from the battleground. Sirhind was conquered by the Sikhs.
Execution
Farakh Seyer ordered all the governors of North India that Banda Singh should be killed or arrested. He taunted the Governer of Lahore, Abdu-Samad for his inability and sent his own forces for his help. After an eight-month siege, the fortress town of Gurdas Nangal fell to the Mughals in 1715. The brave army fought as much as they could, till constant attacks from the enemy. Thus, it was that Banda rose up for a final sally with the determination to die a hero's death.
Banda Singh Bahadur was captured and put in an iron cage. They were brought to Delhi in a procession and were put in the Delhi fort. Baba Banda Singh Bahadur and his son Ajai Singh were martyred on 9 June, 1716 A.D. along with his other 18 companions near a gate en-route the tomb of so-called Sufi saint Qutub-ud-din Bakhtiar kaki at Mehrauli. The butchers first killed his son Ajai Singh in his lap. But Banda Bahadur remained unmoved and sat in a composed state. After that Baba Banda Singh Bahadur's cruelly martyred. His glorious martyrdom validates Bhagat Kabir's rendition in Guru Granth Sahib.
Baba Banda Singh Bahadur War Memorial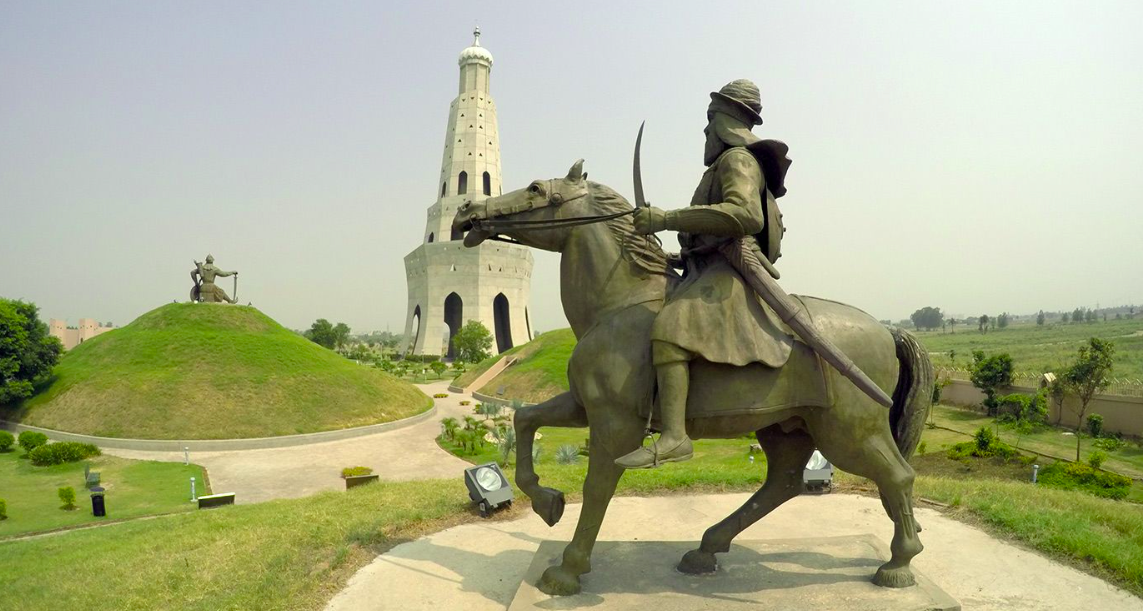 Baba Banda Singh Bahadur War Memorial is at Chappar Chiri, Mohali which is a tribute to the brave Sikh warrior under whose command the Battle of Chappar Chiri was fought between the Sikhs and the forces of the Mughal Empire led by Wazir Khan in May 1710. With a decisive victory in this war, Sikh rule was established from Lahore to Delhi.
Banda Singh Bahadur was an example of self-sacrifice, which none else in history has excelled. The patience with which Banda and his associates bore all the tortures, they were subjected to.