Kiosk Banking-An Introduction
The Reserve Bank of India (RBI) defines financial inclusion as the process of ensuring access to financial services and timely and adequate credit where needed by vulnerable groups such as weaker sections and low income groups at an affordable cost.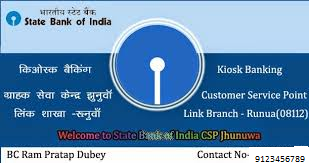 In the essence of financial inclusion, KIOSK banking is an important concept and basically developed for rural areas of country where less number of banks are and people can't reach to the bank to use their services.
It is conceived that the kiosks will functions with the support of leading banks in the private, public and cooperative sectors and using the shops as a touch-point for basic banking services such as cash deposits, withdrawals and remittances apart from micro-credit and insurance. Like the ordinary bank branches, the kiosks will offer all the basic services of banking.
How it functions?
A retailer can open a no-frills bank account for a customer by recording fingerprint details and taking a photograph of the customer. The details along with other documents are forwarded to the affiliated bank branch to carry out the know-your-customer process. Once the account is up, a customer can withdraw, deposit or remit a maximum of Rs 10,000 per day through the internet-enabled kiosk branch.
SBI Kiosk Banking
State Bank of India which has the largest branch network in the country invites eligible individuals/ NGOs/Companies (other than NBFCs)/ other entities to join hands with us to take banking to all.
SBI Kiosk transactions are bio-metrically secured; printed acknowledgment for each transaction is issued to the customer and has End-to-end process of account opening & transactions online. Micro savings and Micro remittance are done through No Frills Savings Bank Account.
SBI Kiosk Banking related FAQs
Q.1 What Services will SBI Kiosk banking provides?
Initially, SBI Kiosk banking will provide the following services:
Deposit of Cash
Withdrawal of Cash
Money transfer to another SBI account holder in other locations
SBI can enhance the product list of BC. However BF work shall start after stabilization of BC work.
Q.2. How to become a Partner for SBI Kiosk Banking?
CSC SPC will enroll SCA as Sub BC and VLE shall be Customer Service Point (CSP) as per agreement with SBI for this facility. This facility and partnership is available for all CSC retail offices with Web connectivity. VLE can enroll for this facility through SCA.
In some state other agencies are also involve for implementing the kiosk banking in authorized areas and my oxygen is one of them which is assigned for Madhya Pradesh state for providing kiosk Banking outlets.
Q.3 What are the benefits to your customers
A 'No Frill SBI Accounts' through KIOSK Banking Model
General purpose Credit Card (GCC)/Kisan Credit Card (KCC)
Term Deposit/Recurring Deposit
Regular SBI Saving Bank Account
Loans against Term Deposit Receipt (TDR) etc
Hassle free opening of savings account.
Less KYC documents.
No Queues.
No Travel expenses
Easy deposits, withdrawals & cash remittances.
Easy opening of R.D. & F.D Account.
Deposits can be made from anywhere.
Transfer Subsidies , Scholarships and other Benefits can be directly credited to the account.
Q.4 What type of transactions the customer will carry on?
This is called a no-frills account where there is no minimum balance or charges levied.
Maximum balance can be Rs 50000. (Balances above this can be held, but then account is converted to a regular bank account and the terms of the bank and documentations will apply to these accounts).
Minimum Balance -Zero Balance.
Maximum limit of transactions is Rs10, 000/- per day. No Cheque book is issued.
Only Cash Transactions can be made & only in person by the account holder.
There is no signature required and only electronic thumb impression is used to access/use the account.
Customer also benefits from long banking hours : As long as the shop is open.
Q.5 Income generation from CSP Kiosk Banking?
Earn on opening New Account, every Cash Deposit/ Cash Withdrawal/ Loans and Money Transfer or any services of the bank.
For More information about kiosk banking please visit at nearest SBI Bank or Contact Service Center Agency (SCA) of your own area.
Related Resources
New portal for Bank Mitr registration launched
Existing as well as new Business Correspondent can be registered through the portal. For any queries regarding registration of Bank Mitr, get in touch with help desk with your OMT ID and CSC location.
New Banking website has been launched (URL is 164.100.115.10/banking). The registration of Bank Mitr has started for CSCs that are already working as BCs and for those who want to become new BC. Kindly register in 164.100.115.10/banking. For any queries regarding registration of Bank Mitr, get in touch with helpdesk with your OMT ID and CSC location.
Features of New Kiosk Website:
New BCA registration is Aadhaar based on this portal by logging in through apna.csc.gov.in and can choose their banking location.
Existing VLE can also register on this portal for seeing their commission.
BCA can also update their information if they have missed out during registration.
VLEs who are existing BCs or who have become new BCs can download Software installation kit and manuals from this portal.
Existing BCA can also download TDS certificate from this website.
Source : APNACSC