Caring for the mentally challenged
District Administration has taken a special initiative for the welfare of mentally challenged persons in the District. The persons are rescued under RESCUE SCHEME and are admitted in the Government Home for Mentally challenged situated in Erwadi.
Rameswaram is one of the holy places in India situated in Ramanathapuram District. People who come for devotional purposes, leave alone the mentally challenged persons around the temple area. The left persons are living in the street side without shelter and food. These persons are found and rescued under the rescue scheme by the district administration and they are accommodated in the Govt. home for Mentally challenged situated in Erwadi for the rehabilitation and vocational training.
Vocational Rehabilitation like paper art, basket making are also provided along with treatment, medicines, food and cloths.
Pension at Door Step
Immediate steps were taken by the District Administration to issue Physically Handicapped Pension (PHP) for 40% and above affected DAPS as per the order issued by the State Government. Door to door survey and collecting the applications through Mahalir thittam & Pudhu Vazhvu Thittam in every village of the district and VAO, RI &Tahsildars verify and scrutinize to identify persons eligible for availing the benefit. Orders were immediately issued to them at their doorstep.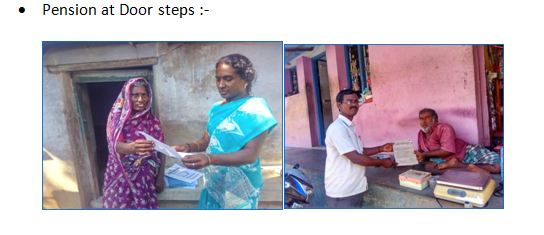 Automation Of DDAWO
A MOBILE APP named DAPWEL has been introduced for the use of Differently Abled Persons to minimize the difficulties of persons to approach offices for getting benefits under various schemes implemented by Central & State Governments.
To access the app, click here.
Mobile Therapy Unit
Providing various services to the Cerebral Palsy with mentally retarded children in the age group of 0 to 6 through Mobile Therapy Unit. The services include Physiotherapy, Speech Therapy and other assistive devices for the children. Services provided at their doorstep is the highlight of this scheme.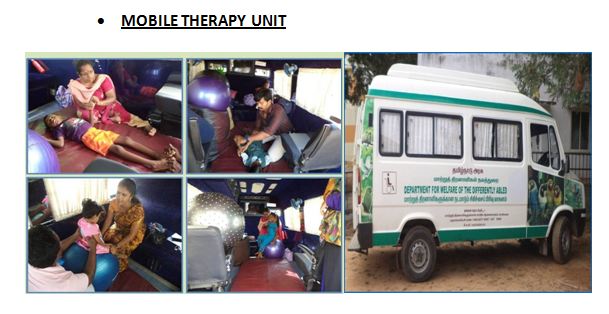 Retrofitted Petrol Scooter
Studying or working or self employed persons who have both legs and hands affected and are good enough to drive the vehicle are eligible and benefitted under this scheme.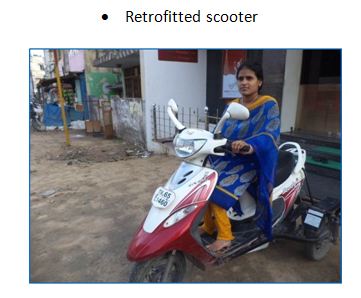 Special Grievance Redressal
A Special Grievance Redressal meeting for Differently Abled persons is being conducted every month.
The applications are sorted out and sent to concerned department and banks. The District Differently Abled Welfare Office follows up so that benefits reach the beneficiaries.
Other Schemes ad Benefits
National Identity Cards for DAPs
Monthly Maintenance Allowance Scheme

Disability of 40% and above persons affected with Mental Retardation, Severely Disabled, Muscular Dystrophy and Leprosy Cured are being benefitted under this scheme as monthly Allowance of Rs.1500/-.
Other types of DAPs are benefitted through Revenue Department as monthly Allowance of Rs.1000/-.

Specially designed wheel chair for Spinal Cord affected persons : Persons with spinal cord affected due to accident or disease become paralysed and they need this specially designed wheel chair for making them ease of shifting from one place to another place and to move around.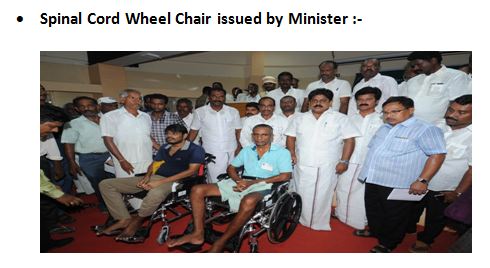 Motorized Sewing Machine : Persons with Locomotor disability and Hearing impaired applying with tailoring certificate are benefitted under this scheme.
Marriage Assistance to DAPs : DAPs marrying DAPs or DAPs marrying normal persons are getting benefits under this scheme. Amount of Rs.25000 to Rs.50000 with 8 gram of Gold are the benefits based on the eligibility criteria.
Modular Artificial Limb : Studying or working or self employed persons those have lost their limbs due to accident or disesase benefitted under this scheme. The modular limb provided are high in strenth for durability and light in weight.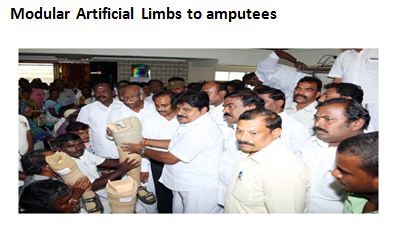 Bank Loan for self employment : To make DAPs earning on their own, bank loans are provided upto Rs.50000/- with the subsidy of Rs.10000/- for running a petti shop or other micro level business.
Scholarship for DAP students : School or College studying students are getting benefis under this scheme. Amount of Rs.1000 to 7000 per annum being paid depending on the standard of study.
Aids and Aplliances : Other aids and appliances like Calipers, Wheel chairs, Tricycles, Hearing Aids, Reflective folding sticks, Goggles are being provided to the needy persons.
Impact
The initiatives of Mobile App and Vocational training for DAPs have made an impressive impact on the benefits of applying online for various schemes and the Mentally Ill persons are also having different kind of abilities and it has made them to do a work and earn on their own.
40 percent disability and above were included in providing PHP as soon as the GO issued by the State Government. DAPs are now able to directly apply for ID card and other scheme benefits through the Mobile app and the aim is to minimize their travel all the way from interior villages to headquarters.
Local Level Committee was not functioning for the past 10 years in the District and by the effort of District Collector, functioning of Local level committee has been initiated and applications are being received for Legal guardianship, etc.
Source : NITI Aayog