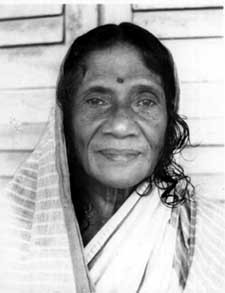 Malati Devi Choudhury (née Sen) was an Indian civil rights and freedom activist. She was deeply influenced by both, Tagore and Mahatma Gandhi. It was the former from who she learnt and acquired the principles of education, development, art and culture, which had been the guiding principles in her life; and it was the latter at whose insistence that she plunged herself into the freedom struggle.
While studying at Shantiniketan, she met her future husband, and they both relocated to present-day Odisha. The Salt Satyagraha started soon after, and Choudhury threw herself into the movement.
She had organized the 'Krusaka Andolana' (Farmers Movement) as part of the freedom struggle against the zamindars and moneylenders, who exploited the poor.
After Independence, Malati Choudhury, as a member of the Constituent Assembly of India, and as the President of the Utkal Pradesh Congress Committee, tried her best to emphasize the role of education, especially adult education in rural reconstruction. She also joined the Bhoodan Movement of Acharya Vinoba Bhave.
Source : Azadi Ka Amrit Mahotsav