Introduction
Smt. Rupali Mali, a Progressive woman farmer belongs to Village Kasba Sangaw (Tal. Kagal) in Kolhapur district, has taken on the occupation of Vermicomposting, rearing of earthworms and producing containing nimboli, karanj (Pongamiapinnata) along with agriculture. She is M.A. in sociology. For the last twelve years, by recognizing skills and customer demands, she has gained stability in shaping the business. The Mali family owns about two and a half acres of farmland. The young woman farmer takes complete responsibility of her farm and manages efficiently.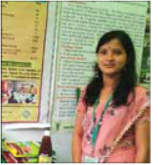 Training
Initially, the business was started by bringing in earthworm culture provided by the Zilla Parishad funded by the Khadi Village Industries Corporation. KVK Kolhapur-II has provided her scientific knowledge and practices for vermi composting.
Achievements
She initially started vermicomposting for supplying to her farm. Though she used it for own cultivation, she started selling excess quantity, slowly the number of customers continued to grow, and then she begun to produce large quantities. At present, vermicopost is produced through eight beds and a commericial company named `Samarth Agro Products Private Ltd` has been established. She is producing 35-40 tonnes of Vermicompost per year and selling it at Rs 12 per kg. She is earning around 5,00,000/year which include Vermicompost (Rs. 3.5 lakhs,) Vermiwash (Rs. 50,000). Sale is done through telephone and physical contact to nearby farmers and newswires.
Impact on other farmers
She receives demand from farmers in Goa, Pune and Karnataka apart from Maharashtra. She is providing employment to six women. She is also in process of establishing a Farmer Producer Company and joining more hands of rural women and farmers for providing more income and making them self-reliant.
Recognition
She is one of the innovative farmers and Scientific Advisory Committee member of KVK Kolhapur-II. She has represented KVK Kolhapur-II in Farmers Science Congress,2020 at University of Agricultural Sciences, Bengaluru. She has been awarded with Mahila Gaurav Purashkar by Rotary club and various other awards.
Source : Ministry of Agriculture & Farmers Welfare