Diseases
Rust
Disease symptoms:
On fruits initially few black pustules appear which later develop in to a ring.
The pustules join together and cover big area of the fruit.
On leaves, pinkish brown pustules develop which may be arranged in group or scattered as infection of fruit does not go on leaves and vice-versa.
Teleospores of Ravenelia emblicae causes the fruit and leaf infection
Favourable condition:
Favourable condition is after monsoon in September
Soft rot
Disease symptoms:
Smoke brown to black round lesions develop on fruits within 2-3 days of infection.
The diseased parts later show olive brown discoloration with water soaked areas extending toward both the ends of fruits forming an eye shaped appearance.
Infected fruits become dark brown, crinkled with softening of underlining tissues and get deformed.
Fungus causes infection both in young and mature fruits, but mature fruits are found to be more susceptible.
Favourable conditions:
Disease is favored by hot and wet weather. The optimum temperature for fungal growth is 29˚C and it grows well up to 32˚C.
Disease cycles: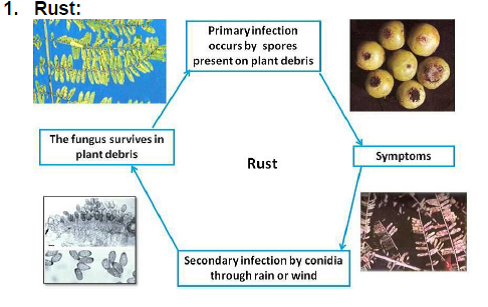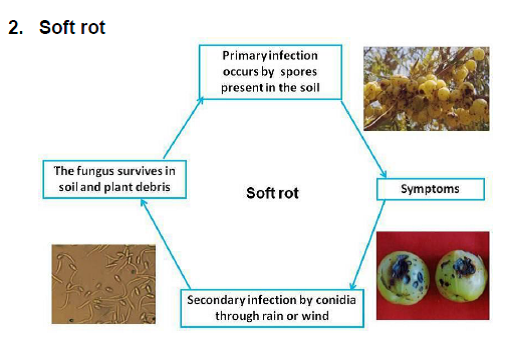 Nutritional Deficiency/ Disorder
Disorder symptoms:
Internal necrosis in amla fruits is caused by Boron deficiency.
The symptoms start with the browning of the innermost part of mesocarpic tissue at the time of endocarp hardening in the 2nd or 3rd week of September which later extends towards the epicarp resulting into brownish black appearance of the flesh.
Control measures: Spray 0.6% borox during September to October thrice at an interval of 10-15 days.
IPM for Amla
To know the IPM practices for Amla, click here.
Source: NIPHM; Directorate of Plant Protection, Quarantine & Storage
Last Modified : 12/29/2022
© C–DAC.All content appearing on the vikaspedia portal is through collaborative effort of vikaspedia and its partners.We encourage you to use and share the content in a respectful and fair manner. Please leave all source links intact and adhere to applicable copyright and intellectual property guidelines and laws.