Athulya (ILM-1990) layer chickens - New Hope for Poultry Farmers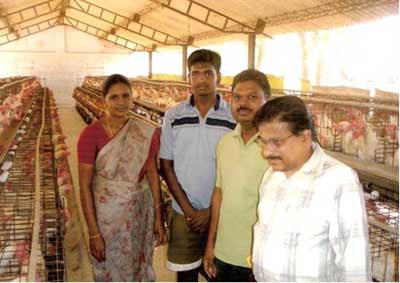 Mrs. Manimaran a marginal poultry farmer in Periyapetty village, Namakkal district, Tamil Nadu, India has a poultry farm with 20,000 layer chickens capacity. Earlier, she was raising layer (egg layers) chickens purchased from the market and had to contend with the poor income realized from the farm. She interacted some time ago with the scientists of All India Coordinated Research Project (AICRP) Unit on Poultry Breeding under Indian Council of Agricultural Research at Mannuthy, Kerala. She came to know about the high producing heat tolerant Athulya strain (ILM-90) cross of IWN and IWP lines of layer chicken developed for high egg production with desirable egg weight at Mannuthy over the last thirty four years.
Mrs. Manimaran purchased 2,800 Athulya day-old chicks from Mannuthy centre. She reared the chicks in deep litter house and experienced lower chick and grower mortality compared to other strains of birds. At 16 weeks of age, pullets were shifted to layer cages. The birds started laying during 16th week of age.  Mrs. Manimaran realized 5%, 50% and 90% production on 130th, 149th and 208th days of age, respectively.  Egg weights were 50.6 g, 53.8 g and 57.5 g, respectively.
Mrs. Manimaran received premium price (Rs. 4-5 more per 100 eggs) for the larger eggs laid by the hens even from the early laying period itself.  The mortality was also low during the laying period. In one full production cycle (up to 72 weeks of age) she obtained about 303 eggs per bird. Higher body weight also fetched her higher price for culled birds. She also noticed that the chickens were heat tolerant during the summer months.
Mrs. Manimaran has earned a profit of approximately Rs.2,92,100 from 2,800 of Athulya chickens. She spent Rs. 18,24,800 on feed, Rs 56,000 for purchase of chicks, Rs. 54,000 for labour and Rs. 18,200 as miscellaneous expenses. She realized a revenue of Rs. 20,77,920 from sale of eggs, Rs. 1,48,200 from sale of spent hens, Rs. 2,600 from manure and Rs. 16,380 from sale of empty feed gunny bags.  Now she is planning to increase the stock of Athulya chickens in her farm. She is also encouraging other farmers to rear Athulya layer chickens.
For more details contact: College of Veterinary & Animal Sciences, Mannuthy P.O, Thrissur, Kerala, India. Contact No: 0487-2370451, 2370344
Source: Animal Science Division, ICAR
Indigenous Technologies in Livestock Production
Feeding of bamboo leaves and Gur, after calving of cows/ buffaloes for quick removal of placenta is followed district Behraich, Basti, Varanasi and Siddharthnagar
Calves are given 20-25 ml Neem Oil for removal of internal parasites in district Sultanpur.
Radish leaves (0.5 Kg) are given to animals for deworming purpose in Etah district.
Oral feeding of chalk powder (50 gm) + boiled rice water (250 ml.), 4-5 times control the dysentery problems in animals (Pilibhit district).
Fermented whey (250 ml) + common salt (50 gm) is used for deworming in calves (district Pilibhit)
In case of FMD, mashed leaves of Nehsut is filled in hoof wound to kill maggots in Basti
Crushed seed of Palas is used for deworming in animals in Mirzapur district.
Mastitis in lactating dairy animals is treated by dipping the teats after each milking in 250 ml neem leaf extract, obtained by boiling of 250 gm neem leaves in 1 litre water added with one tea spoonful common salt and mustard oil (Lucknow district)
Feeding of 500 ml mustard oil before natural service to buffaloes to increase conception rate is followed in district Saharanpur.
Farmers are using the mixture of soda-bicarb 20 gm, Ajwain 30 gm, Heeng 2 gm, Kala Namak 30 gm in powder form orally to control Tympany successfully (district Bareilly)
In case of Afara, farmers give a mixture of 100 gm Kala namak + 30 gm heeng + 100 ml Tarpin Oil + 500 ml linseed oil once a day in farm animals in district Rampur.
Oral feeding of separated milk (500 ml), common salt (50 gm) after fermenting 3 days and mixing with 100 gm mustard oil to control the intestinal worm in dairy animals is practiced by the farmers of Bareilly.
A solution of bel pulp (stone fruit) with water control the diarrohea in animals.  It is given thrice a day for 3-4 days (Bareilly district)
To introduce oestrus, pigeon waste is given orally to heifers for showing heat symptoms clearly in district Bareilly, Siddharthnagar.
Sesame leaves are fed to animals in case of dysentery in livestock in district Allahabad.