Modus Operandi and Precautions to be taken against Fraudulent Transactions - NBFCs
Fake advertisements for extending loans by fraudsters
Modus Operandi
Fraudsters issue fake advertisements offering personal loans at very attractive and low rates of interest or easy repayment options or without any requirement of collateral/ security, etc.
Fraudsters send emails with such offers and ask the borrowers to contact them. To gain credibility with the gullible borrowers and to induce confidence, these email-ids are made to look-like the emails IDs of senior officials of well-known / genuine Non Banking Financial Companies (NBFCs).
When borrowers approach the fraudsters for loans, the fraudsters take money from the borrowers in the name of various upfront charges like processing fees, Goods and Services Tax (GST), intercity charge, advance Equated Monthly Instalment (EMI), etc., and abscond without disbursing the loans.
Fraudsters also create fake website links to show up on search engines, when people search for information on loans.
Precautions
Loan processing fee charged by NBFCs / banks is deducted from the sanctioned loan amount and not demanded upfront in cash from the borrower.
Never pay any processing fee in advance as NBFCs / banks will never ask for an advance fee before the processing of loan application.
Do not make payments or enter secure credentials against online offer of loans at low interest rates, etc., without checking / verifying the particulars through genuine sources.
SMS / Email / Instant Messaging / Call scams
Modus Operandi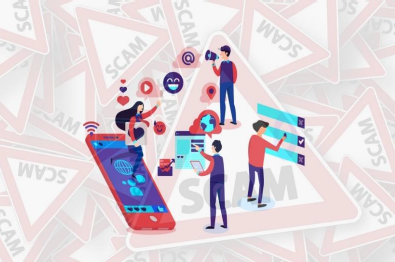 Fraudsters circulate fake messages in instant messaging apps / SMS / social media platforms on attractive loans and use the logo of any known NBFC as profile picture in the mobile number shared by them to induce credibility.
The fraudsters may even share their Aadhaar card / Pan Card and fake NBFC ID card.
After sending such bulk messages / SMS / emails, the fraudsters call random people and share fake sanction letters, copies of fake cheques, etc., and demand various charges. Once the borrowers pay these charges, the fraudsters abscond with the money.
Precautions
Never believe loan offers made by people on their own through telephones / emails, etc.
Never make any payment against such offers or share any personal / financial credentials against such offers without cross-checking that it is genuine through other sources.
Never click on links sent through SMS / emails or reply to promotional SMS / emails.
Never open / respond to emails from unknown sources containing suspicious attachment or phishing links.
OTP based Frauds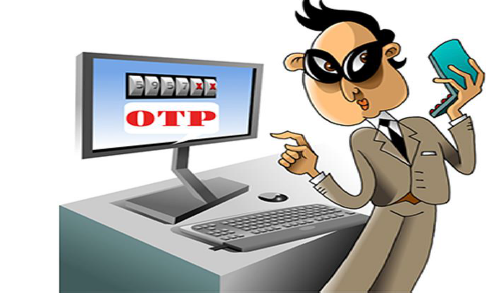 Modus Operandi
Fraudsters impersonating as NBFCs, send SMS / messages offering loans or enhancement of credit limit on NBFC/bank customers' loan accounts, and ask the customers to contact them on a mobile number.
When the customers call such numbers, fraudsters ask them to fill forms to collect their financial credentials. Fraudsters then induce / convince the customers to share the OTP or PIN details and carry out unauthorised transfers from the customers' accounts.
Precautions
Never share OTP / PIN / personal details, etc., in any form with anyone, including your own friends and family members.
Regularly check SMS / emails to ensure that no OTP is generated without your prior knowledge.
Always access the official website of bank / NBFC / e-wallet provider or contact the branch to avail their services and / or seek product and services related information and clarifications.
Fake loan websites / App frauds
Modus Operandi
Fraudsters create unscrupulous loan apps which offer instant and short-term loans. These apps dupe the borrowers and may also charge significantly higher interest rates.
To attract gullible borrowers, the fraudsters advertise "limited period offers" and ask borrowers to make urgent decisions using pressure tactics.
Precautions
Verify if the lender is registered with the Government / Regulator /authorised agencies
Check whether the lender has provided a physical address or contact information to ensure it is not difficult to contact them later.
Beware if the lender appears more interested in obtaining personal details rather than in checking credit scores.
Remember that any reputed NBFC / bank will never ask for payment before processing the loan application.
Genuine loan providers never offer money without verifying documents and other credentials of the borrowers.
Verify if these NBFC-backed loan apps are genuine.
Money circulation / Ponzi / Multi-Level Marketing (MLM) schemes fraud
Modus Operandi
Fraudsters use MLM / Chain Marketing / Pyramid Structure schemes to promise easy or quick money upon enrolment / adding of members.
The schemes not only assure high returns but also pay the first few instalments (EMIs) to gain confidence of gullible persons and attract more investors through word of mouth publicity.
The schemes encourage addition of more people to the chain / group. Commission is paid to the enroller for the number of people joining the scheme, rather than for the sale of products.
This model becomes unsustainable after some time when number of persons joining the scheme starts declining. Thereafter, the fraudsters close the scheme and disappear with the money invested by the people till then.
Precautions
Returns are proportional to risks. Higher the return, higher is the risk.
Any scheme offering abnormally high returns (40-50% p a) consistently, could be the first sign of a potential fraud and caution needs to be exercised.
Always notice that any payment / commission / bonus / percentage of profit without the actual sale of goods / service is suspicious and may lead to a fraud.
Do not be tempted by promises of high returns offered by entities running Multi-Level Marketing /Chain Marketing / Pyramid Structure schemes.
Acceptance of money under Money Circulation / Multi-level Marketing / Pyramid structures is a cognizable offence under the Prize Chits and Money Circulation Schemes (Banning) Act, 1978.
In case of such offers or information of such schemes, a complaint must be immediately lodged with the State Police.
Fraudulent loans with forged documents
Modus Operandi
Fraudsters use forged documents to avail services from financial institutions.
Fraudsters commit identity thefts, steal personal information of customers such as identity cards, bank account details etc., and use this information or credentials to avail benefits from a financial institution.
Fraudsters pose as NBFC employees and collect KYC related documents from customers.
Precautions
Exercise due care and vigilance while providing KYC and other personal documents, including the National Automated Clearing House (NACH) form for loan sanction / availing of credit facility from any entity, especially individuals posing to be representatives of these entities.
Such documents should be shared only with the entity's authorised personnel or on authorised email IDs of the entities.
Follow up with the concerned entities to ensure that the documents shared by you are purged immediately by them in case of non-sanction of loan and/ or post closure of the loan account.
Source : Reserve Bank of India
Last Modified : 3/20/2023
© C–DAC.All content appearing on the vikaspedia portal is through collaborative effort of vikaspedia and its partners.We encourage you to use and share the content in a respectful and fair manner. Please leave all source links intact and adhere to applicable copyright and intellectual property guidelines and laws.