With the aim of reforming Government delivery system by re-engineering the existing process in welfare schemes for simpler and faster flow of information/funds and to ensure accurate targeting of the beneficiaries, de-duplication and reduction of fraud Direct Benefit Transfer (DBT) was started on 1st January, 2013.
With the rapid rollout of Aadhaar in the country, it was felt possible to move to a system of transferring cash benefits directly to the poor.
Rollout of DBT
DBT Mission was created in the Planning Commission to act as the nodal point for the implementation of the DBT programmes. The Mission was transferred to the Department of Expenditure in July, 2013 and continued to function till 14.9.2015. To give more impetus, DBT Mission and matters related thereto has been placed in Cabinet Secretariat under Secretary (Co-ordination & PG) w.e.f. 14.9.2015.
First phase of DBT was initiated in 43 districts and later on 78 more districts were added in 27 schemes pertaining to scholarships, women, child and labour welfare. DBT was further expanded across the country on 12.12.2014.
7 new scholarship schemes and Mahatma Gandhi National Rural Employment Guarantee Act (MGNREGA) was brought under DBT in 300 identified districts with higher Aadhaar enrolment.
Electronic Payment Framework was laid down vide O.M. dated 13.2.2015 and 19.2.2015. This Framework is to be followed by all Ministries/ Departments and their attached Institutions/PSUs and is applicable on all Central Sector (CS)/ Centrally Sponsored Schemes (CSS) and for all schemes where components of cash is transferred to individual beneficiaries.
Aadhaar is not mandatory in DBT schemes. Since Aadhaar provides unique identity and is useful in targeting the intended beneficiaries, Aadhaar is preferred and beneficiaries are encouraged to have Aadhaar.
JAM i.e. Jan Dhan, Aadhaar and Mobile are DBT enablers. These provide a unique opportunity to implement DBT in all welfare schemes across country including States & UTs.
Present Status of DBT
DBT has shown promising results in pilot schemes being run in different parts of the country. These include PAHAL (modified DBTL for LPG subsidy), Public Distribution System (PDS) in Puducherry, Chandigarh and Mahatma Gandhi National Rural Employment Guarantee Act (MGNREGA) payments in Jharkhand, Bihar, etc. The programme has already been universalised since February 2015.
As on April, 2017, DBT onboarded schemes are 135 from 25 Ministries/Departments. To get the utility statistics, click here.
Categories of schemes covered under DBT
The scope of DBT include all welfare/subsidy schemes operated by all the Ministries/ Departments of Government of India directly or through implementing agencies, which involve cash / kind benefits' transfers to individuals. Accordingly, the scope of DBT covers the following categories of schemes.
Cash Transfer

Cash Transfer to Individual Beneficiary - This category includes schemes or components of schemes wherein cash benefits are transferred by Government to individual beneficiaries. Example PAHAL, MGNREGA, NSAP etc. This transfer of cash benefits from Ministry/Department to beneficiaries happens through different routes, as given below:
Directly to beneficiaries
Through State Treasury Account to beneficiaries
Through any Implementing Agency as appointed
Centre/State Governments to beneficiaries
In-kind
In-kind Transfer from Government to Individual Beneficiary -
This category includes schemes or components of schemes wherein kind benefits are given by the Government to individuals through an intermediate agency. Typically, Government or its agent incurs expenditure internally to procure goods for public distribution and make services available for targeted beneficiaries. Individual beneficiaries receive these goods or services for free or at subsidised rates.
To cite an example, in Public Distribution System (PDS), Food Corporation of India (FCI) is the Government agent responsible for procurement, movement, storage and distribution of food grains to Fair Price Shops. FCI issues the food grains at subsidised rates, as fixed by the Government. The rates so fixed do not cover the full economic cost incurred by the Corporation. The difference represents the consumer subsidy for the PDS, and is paid to the Corporation by the Government of India. Similarly, Government incurs internal expenditures for provision of subsidies in kind on other products like kerosene, fertilisers, books, medicines, vaccines, etc. The matrix below through examples depicts different categories of schemes which can be grouped on the basis of the type of benefits and the type of beneficiaries.
Type of Benefit

Individual Beneficiary

Cash

MGNREGA, PAHAL, NSAP, Scholarships

Kind

SSA, Mid Day Meals, PDS,

Assistance to State for Control of Animal Disease
Other Transfers
Apart from these two categories of schemes, there is another category of transfers from the government to different non-government functionaries who help in facilitation of various government schemes till the last mile. This category includes transfers made to the various enablers of government schemes like community workers, NGOs, in the form of honorarium, incentives, etc. for successful implementation of the schemes. Example - ASHA workers under NHM, Aanganwadi workers under ICDS, teachers in aided schools, sanitation staff in ULBs, etc. are not beneficiaries themselves but they are given wages, training, and incentives for their service to the beneficiaries/community.
Pre-requisites for DBT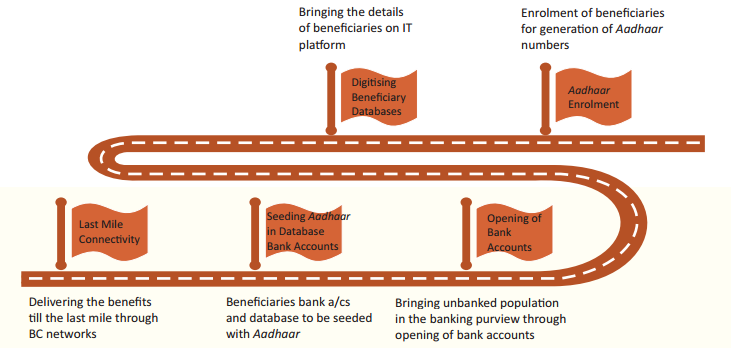 Identification of beneficiaries and digitisation of beneficiary database
Opening of bank accounts
Aadhaar enrolment
Seeding of Aadhaar in beneficiary database and bank accounts
Last mile connectivity/service delivery
Key Enablers for DBT
The success of an ambitious and a highly desirable initiative like DBT depends on a set of a few critical factors. For a heterogeneous and a large country like India, it becomes imperative that these critical success factors are ensured to achieve smooth rollout of a programme like DBT. The key success factors or enablers for an efficacious Implementation of DBT would include:
JAM Trinity
DBT by leveraging the JAM (Jan Dhan, Aadhaar and Mobiles) trinity and the technological prowess offers to drastically improve the benefit delivery system in the country. The JAM Trinity will enable this novel system to transfer benefits in a leakage-proof, well targeted, cashless and timely manner.
Business Correspondents (BC) Infrastructure
Reserve Bank of India introduced Business Correspondents / Banking Correspondents (BC) as an alternative to brick and mortar banks for infrastructure. BC is presently authorised to offer services such as cash transactions where the bank does not have a branch. As per census 2011, there are 23,333 villages with population above 5,000 and 1,19,761 villages above 2,000 populations. However, there are only 11,224 villages in the country with population above 5,000 which have a bank branch. Business Correspondents/ Bank Mitras will have a vital role in operationalising the programme and ensuring the last mile connectivity. The strong presence of BCs will ensure that payments are disbursed to the beneficiaries on time, at their doorstep and of full value.
Payments Bank
A payments bank is like any other bank, but operating on a smaller scale, without involving any credit risk. It can carry out most banking operations and enable transfers and remittances through a mobile phone but cannot advance loans or issue credit cards. The main objective of payments bank is to widen the spread of payment and financial services to small business, low-income households, migrant labour workforce, etc. in secured technology-driven environment across the country. On 19 August 2015, the Reserve Bank of India gave in-principle licences to eleven entities to launch payments banks. With payments banks, RBI seeks to increase the penetration level of financial services in the remote areas of the country.
Mobile money
Mobile money is a fast moving way of payment in the country and could be helpful in providing solution to last mile issue for better accessibility of DBT. There is a need to develop a comprehensive eco-system for carrying out cashless transactions over mobile platform using Aadhaar as identifiers. This will revolutionise the drive for financial inclusion.
For more Information on Direct Transfer Mission, Click here
Source: Direct Benefit Transfer Mission, Government of India.