"Taare Zameen Par" A Night Vigil
Introduction
The moto of Pulse Polio Campagin - "Ek Bhi Bachha Choota Toh Surksha Chakar Toota" is being implemented in letter and spirit. Chandigarh is a city of opportunity and with the increase in mobility, the migration is high. Booth activities as well as house to house visits are undertaken during the day time. It was observed by the Health Department that the health functionaries are not able to cater to the nomads/ rag pickers/ beggars who are not static and cannot be included in the micro plans. To enhance the coverage of immunization and to provide the immunization services at doorsteps of Nomads of UT, Chandigarh, the innovative practice was followed.
Implementation
An out of box idea emerged, given the name as "TAARE ZAMEEN PAR"- A NIGHT VIGIL which is first of its kind of activity only implemented in UT, Chandigarh.
To execute this activity, six teams were constituted, a team comprising of male Medical officer, male health functionaries and police personnel who are engaged in coordination with the Police department. They were equipped with vaccine carrier, marker and torches to implement the activity.
Teams were sent to the areas where nomads along with their children settle at night and vaccination of their eligible children have been undertaken.
The activity was carried out at night hours from 8 pm to 11 pm, which was perceived as a great challenge initially but was super headed by the Mission Director (NHM) and taken ahead by the Health department.
Since the activity was to be carried out at night, security arrangements for the night staff was also the area of the concern, which was dealt by making the plan in coordination with Police Department.
Financial Implications
No additional finance/stock is required.
Benefits of the Programme
The innovation has widened the horizon of 'Reaching the Unreached' and by capturing the potential beneficiaries which if not covered could act as carriers. The commitment of the department and officials has given a good coverage by almost capturing more than 300 left outs/ uncovered during each round of Pulse Polio Immunization round.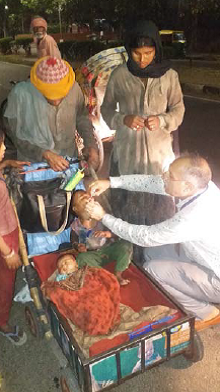 Source : We Care Coffee Table Book - Good, Replicable and Innovative Practices 2019
Last Modified : 6/12/2021
© C–DAC.All content appearing on the vikaspedia portal is through collaborative effort of vikaspedia and its partners.We encourage you to use and share the content in a respectful and fair manner. Please leave all source links intact and adhere to applicable copyright and intellectual property guidelines and laws.