Hi-Tech Laboratory Under NUHM in Bengaluru
Problem Statement
Reduce out of pocket expenditure as per NSSO-2016 where in an estimated 10% of total household out of pocket expenditure accounts for diagnostics.
The limited array of diagnostics available at UPHCs under NUHM leads to additional burden on tertiary care centres and patients.
Programme Description
6 Hi-Tech Laboratories have been established in Government Hospitals (UCHC) of ULBs under NUHM in Bruhat Bengaluru Mahanagara Palike (BBMP) On April 2018.
Hi-Tech Laboratories are designed to operate as hubs under "Hub and Spike Model" design, the Special Outreach Camps and UPHCs serving as spokes.
Laboratory, Radiology, Mammography and Ultrasonography services are provided free of cost for urban poor.
83 types of laboratory investigations at the hub and 19 types at the spokes (UPHCs).
Basic lab services are provided in UPHCs and advanced diagnostics are referred/ transported to Hi-Tech Laboratory.
Samples of active screening and referrals from Health Kiosk and SORC are being transported to Hi-Tech Laboratories.
Hi-Tech Lab services are being utilised in mass screening camps of NCD, Active Case Finding campaigns for X-ray, LCDC etc in urban areas.
Dedicated software for enrolment and reporting the results to the patient through message and to UPHC/UCHC.
Five specialist doctors are supported by 30 paramedical staff in these laboratories through NUHM.
An incentive of Rs. 200 is paid to the lab technician/ Group-D for the transport of samples from spokes to hub initially. State shall propose for courier system in FY 2020-21 PIP.
Programme Outcomes
On an average of 100-120 patients seek services at the Hi-Tech laboratories. The rise in total tested samples has risen by 200 times in 2018-19 compared to previous year.
Financial Implications
One-time investment of 4.3 crores.
Annual Recurring cost of 17 lakhs (Excluding courier charges).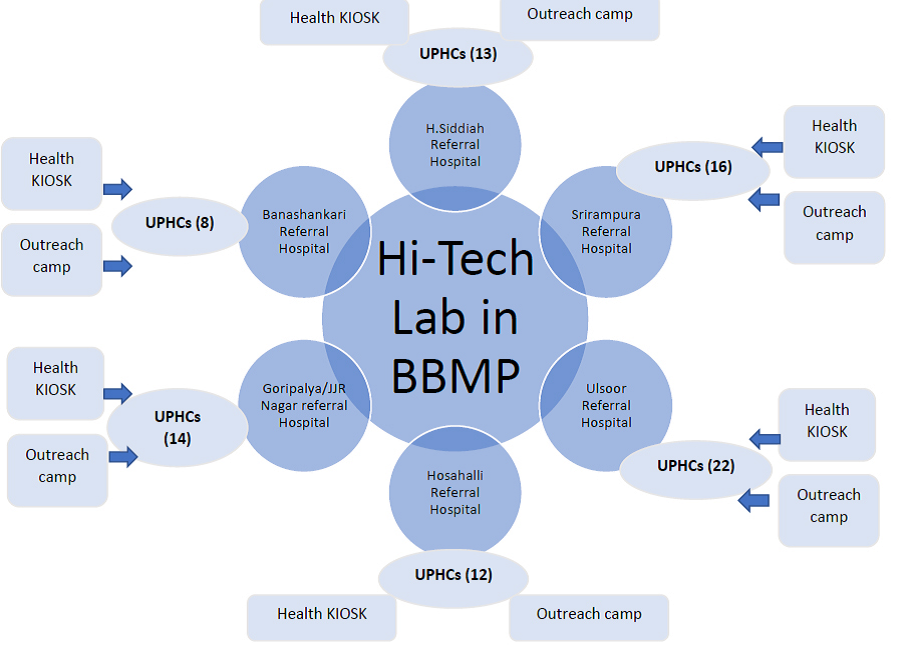 Source : We Care Coffee Table Book - Good, Replicable and Innovative Practices 2019
Last Modified : 6/12/2021
© C–DAC.All content appearing on the vikaspedia portal is through collaborative effort of vikaspedia and its partners.We encourage you to use and share the content in a respectful and fair manner. Please leave all source links intact and adhere to applicable copyright and intellectual property guidelines and laws.