On 20 December 2018 the United Nations General Assembly adopted resolution 73/250 proclaiming a World Food Safety Day. Starting in 2019, every 7 June will be a time to celebrate the myriad benefits of safe food.
What is Food Safety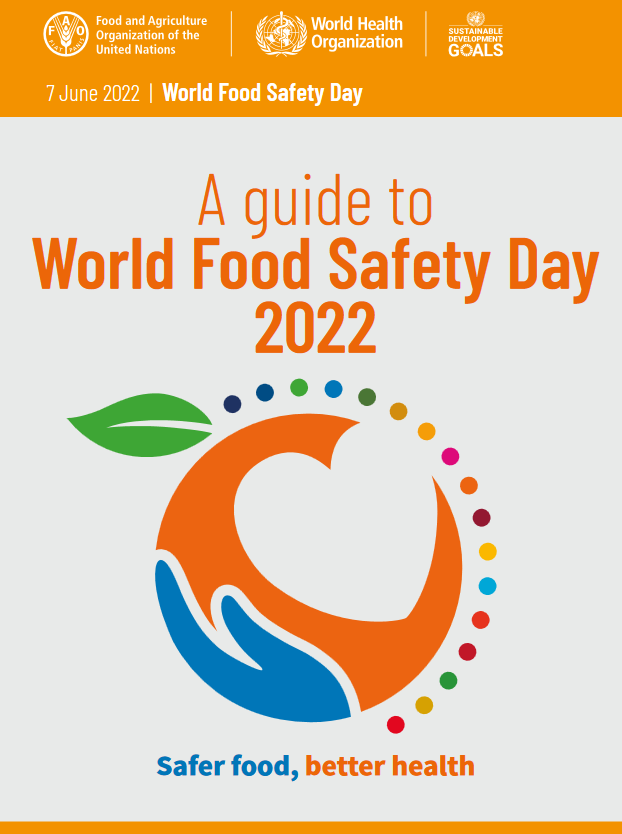 Food safety is the absence -- or safe, acceptable levels -- of hazards in food that may harm the health of consumers. Food-borne hazards can be microbiological, chemical or physical in nature and are often invisible to the plain eye: bacteria, viruses or pesticide residues are some examples.
Food safety has a critical role in assuring that food stays safe at every stage of the food chain - from production to harvest, processing, storage, distribution, all the way to preparation and consumption.
With an estimated 600 million cases of foodborne illnesses annually, unsafe food is a threat to human health and economies, disproportionally affecting vulnerable and marginalized people, especially women and children, populations affected by conflict, and migrants. An estimated 420 000 people around the world die every year after eating contaminated food and children under 5 years of age carry 40% of the foodborne disease burden, with 125000 deaths every year.
Key facts
One in ten people worldwide fall ill from contaminated food each year.
The magnitude of the public health burden due to foodborne diseases is comparable to that of malaria or HIV AIDS
Over 200 diseases are caused by eating food contaminated with bacteria, viruses, parasites or chemical substances such as heavy metals
Antimicrobial resistant microbes can be transmitted through the food chain, via direct contact between animals and humans or through the environment.
Each year, an estimated 700 000 people die around the globe because of antimicrobial resistant infections.
Children under 5 years of age carry 40% of the foodborne disease burden, with 125 000 deaths every year.
Foodborne parasitic diseases can cause both acute and chronic health problems. The estimated number of illnesses from 11 main parasitic diseases
is 48.4 million per year, 48 percent of which are transmitted through food.
Children under the age of five are at a higher risk of malnutrition and mortality due to unsafe food and carry 40 percent of the foodborne disease
burden. Unsafe food caused one in six deaths from diarrhoea, a major killer in this age group.
Safe and nutritious foods benefit child growth and development by improving intellectual and physical potential, as well as increasing school performance and work productivity in adult life.
If there are no contraindications, exclusive breastfeeding is the safest way to feed infants during the first six months of life.
The production of safe food reduces food loss and waste and benefits the planet.
Safe food benefits the economy by increasing productivity, allowing prosperous national food markets and stable food exports and trade. It reduces the
strain on health care systems.
The safety of food is affected by the health of animals, plants and the environment within which it is produced. Adopting a holistic One Health approach to food safety will deliver a better food safety system.
188 countries and one member organization (the European Union) have negotiated science-based recommendations in all areas related to food safety and quality, Codex Alimentarius standards, which ensure that food is safe and can be traded.
Food safety contributes to the achievement of the SDGs and is a truly cross-cutting area.
Call for action
If it is not safe, it is not food : There is no food security without food safety. Only when food is safe will it meet nutritional needs and help adults to live an active and healthy life and children to grow and develop.
Food safety has a direct impact on health : Safe food allows for the uptake of nutrients, promotes long-term human development and achievement of SDGs. Most foodborne disease is preventable with proper food handling and education
Everyone is a risk manager : Everyone evaluates food safety risks as part of their daily choices. These choices are made by individuals and collectively
by families, communities, businesses and governments
Food safety is based on science : Consumers usually cannot tell from sight or smell whether their food is safe, but scientists have developed tests and tools to detect unsafe food. Food scientists, microbiologists, veterinarians, medical doctors and toxicologists, to name a few, advise what food production, processing, handling and preparation practices are needed to make food safe. When safe practices are employed across the food chain, food becomes safe.
Strengthening collaboration improves food safety : Shared responsibility for food safety requires working together on issues that affect us all – globally, regionally, nationally and locally. Collaboration is essential across sectors within communities, businesses, governments and across borders, to ensure the availability of safe food around the world in a sustainable manner now and in the future.
Investing in food safety today will reap future rewards : Safe food production improves economic opportunities by enabling market access and
productivity. However, unsafe or contaminated food leads to trade rejections, economic losses and food loss and waste. Therefore, good practices
along the supply chain can improve sustainability by minimizing environmental damage and helping to retain more agricultural product.
2022 Theme: Safer Food better health
Safe food is essential to human health and well-being. Only when food is safe can we fully benefit from its nutritional value and from the mental and social benefits of sharing a safe meal. Safe food is one of the most critical guarantors for good health.
Unsafe foods are the cause of many diseases and contribute to other poor health conditions, such as impaired growth and development, micronutrient deficiencies, noncommunicable or communicable diseases and mental illness. Globally, 1 in 10 people are affected by foodborne diseases annually. The good news is that most foodborne diseases are preventable.
Our behaviour, the way we build food systems and how we organize food supply chains can prevent infectious and toxic hazards, microbial pathogens (bacteria, viruses and parasites), chemical residues, biotoxins and other noxious or dangerous substances from getting onto our plates.
We need to transform food systems to deliver better health, and we need to do so in a sustainable manner. Food systems policy-makers, practitioners and investors should reorient their activities to increase the sustainable production and consumption of safe foods in order to improve health outcomes. To make safe and healthy diets accessible for all, applicable agricultural, food, trade and industry development policies need to promote food safety. Systemic changes for better health will bring safer food, which is a critical enabler of long-term human development and a prerequisite for the achievement of the Sustainable Development Goals (SDGs).
Food safety in the time of COVID-19
While COVID-19 has not been transmitted by food, the pandemic has sharpened the focus on food safety-related issues, such as hygiene, antimicrobial resistance, zoonotic diseases, climate change, food fraud and the potential benefits of digitalizing food systems. It has also identified weaknesses or vulnerabilities in food production and control systems. For the immediate future, minimizing disruptions in the food supply chains remains one of the highest priorities of all governments, as consumers must have reliable access to food.
A risk-based approach to food safety and to meeting food safety requirements can help keep global food supplies open and enable consumer access to food. Concerted efforts on food safety will help countries mitigate the socio-economic impacts of the pandemic and boost their resilience for the long term by facilitating and accelerating food and agricultural trade, helping to prevent the next zoonotic pandemic and transforming food systems.
Food Safety and Sustainable Development Goals
Food safety is key to achieving several of the Sustainable Development Goals and World Food Safety Day brings it into the spotlight, to help prevent, detect and manage foodborne risks. Safe food contributes to economic prosperity, boosting agriculture, market access, tourism and sustainable development.
Goal 2 — There is no food security without food safety. Ending hunger is about all people having access to safe, nutritious and sufficient food all year round.
Goal 3 — Food safety has a direct impact on people's health and nutritional intake. Foodborne diseases are preventable.
Goal 12 — When countries strengthen their regulatory, scientific and technological capacities to ensure that food is safe and of the expected quality throughout the food chain, they move towards more sustainable patterns of food production and consumption.
Goal 17 — A globalized world with annual food exports currently in excess of USD 1.6 trillion and complex food systems demands international cooperation across sectors to ensure food is safe. Food safety is a shared responsibility among governments, food industries, producers and consumers.
Source : UN
Related resources