Iron deficiency anaemia is the most prevalent and the most neglected nutrient deficiency in the world, particularly among pregnant women. During pregnancy, increased maternal iron is needed as a result of the demands of the growing foetus, placenta and expanded maternal blood volume. The developing foetus is entirely dependent on mother for nutritional requirements. All iron delivered to the baby comes from either maternal iron stores or absorption of iron from the maternal diet.
Impact of Anaemia on Health Outcomes in pregnancy
Increased risk of developing perinatal infection
Pre-eclampsia
Post-partum Haemorrhage (PPH)
Puerperal sepsis
Poor lactation
Maternal deaths
Intrauterine growth retardation
Preterm Birth
Low birth weight babies
Stillbirth and Neonatal Death
Major Causes of Anaemia in Pregnancy
Insufficient quantity of iron-rich foods and "iron enhancers" in the diet.
Low bioavailability of dietary iron due to gastrointestinal issues affecting absorption.
Increased demand of iron during pregnancy
How to know?
Pregnant women with hemoglobin (Hb) concentration less than 11g/dL.
Symptoms like fatigue, general weakness, Headaches, loss of appetite, loss of hair, Breathlessness, Pedal Edema, Numbness or a cold feeling in hands and feet, Pale Skin/Lips/Nails etc.
Management
Iron Deficiency Anaemia (IDA) is managed with the supplementation of external iron containing one or the other types of iron salts. However, it has been reported that the long-term treatment of IDA with these drugs is mostly associated with constipation, heart burn, nausea, gastric discomfort etc. Therefore, mild to moderate cases can be prevented and effectively managed with dietary modifications and Ayush medicines, as it is a common nutritional disorder.
Mild Anaemia (Hb of 10–10.9 g/dl) (Definition by WHO)
Iron supplements are a part of routine antenatal care and management of mild anaemia includes ensuring the delivery of supplements in the advised dosage and correction of dietary factors. As dietary habits play a critical role in the development of iron deficiency and subsequent development of iron deficiency anaemia. Food based approaches to increase iron intake through dietary modification/ fortification / diversification and provision of hygienic environment are important sustainable strategies for preventing IDA in the general population. Management of anaemia should be based on the gestational age of woman and nutritional status.
High dietary diversity can lead to adequate nutrient intake and thus help in prevention of nutritional deficiency anaemia. Evidences also suggests that intake of diversified diets is a reliable measure to assess the microand macronutrient adequacy of intakes of women of reproductive ages.
Dietary Modification
Follow 5 'Rights' of AYURPOSHAN i.e. the right Time, the right Quantity, the right Quality, the right Methods and the right Place.
Food Fortification
Include spices in small quantity like Jeera (Cumin seed), Shunthi/aadrak (Dry/Wet ginger), Lashuna (Garlic), Elaichi (Cardamom), Ajwain (Carom seeds), Haldi (Turmeric), Dalchini, (Cinnamon) Marich (Black pepper) etc. while preparing food.
Drink milk processed with Shatawari (Asparagus racemosus Willd.), Bala Beeja (Sida cordifolia L.), Vidari (Pueraria tuberosa (Willd.) DC.) and Munakka (Raisins) .
Use Sahijan/ Shigru (Drumstick) Leaves, Fruits, Pods (Vegetable/Sambar/ Powder with milk) in diet.
Sahijan/Shigru (Drumstick) leaves contain fiber, fat, proteins and minerals like Ca, Mg, P, K, Cu, Fe, and S. Vitamins like Vitamin-A (Betacarotene), vitamin B-choline, vitamin B1-thiamine, riboflavin, nicotinic acid and ascorbic acid are also present.
Dietary Diversification
Avoid eating the same dishes several times a week and experiment with new foods and flavours in limited quantity.
Use of Gud (Jaggery)/ Palm Sugar/Gud Khanda (brown sugar)/Desi Khanda in place of sugar. Jaggery is generally called as "medicinal sugar" because of its use in Ayurveda as well as its comparison with honey. It is rich source of minerals like iron, calcium, phosphorous, Sodium; and it also contains all the vitamins.
Prepare vegetables, grains, or food recipe of individual choice distinctly. Bajra (Pearl millet), Mudga (Mung bean/green gram), Mashur(Lens culinarisMedik.) can be included.
Use Chutney made up of Dhaniya (Coriander leaves)/Karhi patta (Murraya koenigii (L.) Spreng.)/ Narikel (Coconut) /Imli (Tamarind)/Mirch (Green chilli)/ Lahsun (Garlic) in daily diet.
Use Traditional recipes intermittently- Guda (Jaggery) with Chana (Roasted chickpeas) /Moongphali (Peanut), powder of Saunf (Fennel) mixed with Mishri (Rock sugar) and water, Sattu (Flour of roasted chickpeas), Beetroot Halva, Dhan ki Kheer, Green Gram and Methi(Fenugreek Leaf )Chilla, Mixed Millet and Drum-stick Leaves Dosa, Ambadi (Sorrel leaves), Ragi (millet), Hurihittu, Enduripitha, Bathua Parantha, Mulai Keerai masail etc.
Include variety of articles from maximum food groups (Cereals, Pulses, Fruits, Vegetables, Milk andMilk Products, Meat and Meat products) in the diet.
Avoid Food Articles/ items Inhibiting Iron Absorption i.e. Tea and Coffee
Avoid excessive intake of food having Amla (Sour), Lavana (Salt), Katu (Pungent) dominant taste.
Food Articles/substances increasing Iron Absorption: Vitamin C rich fruits/vegetables/food article like- Nimboo (lemon), Mosambi (Sweet lemon), Santara (Oranges), Sahijan (Drumstick/Moringa), Takra (Buttermilk), Amla (Gooseberry)etc.
Instead of using routine 3-4 types of vegetables, try variety of vegetables in diet
Phala–Shaka Varga: Lauki(Bittlegourd) , Kaddu (Pumkin), Karela (Bitter gourd,) Chichinda (Snake gourd), Tinda (Indian squash), Bhindi (Ladyfinger), Patola (Pointed gourd), Torai (Ridge gourd), Lal kaddu (Red pumpkin), Pakva kushmanda (Petha/ Pumpkin Gourd), Sahijan (Drumstick), Tamatar (Tomato), Jeevanti (Leptadenia reticulata (Retz.) Wight & Arn.), Baigan/Vartak (Brinjal) etc.
Mool - Kanda Varga: Dry mulaka (Radish) and Sneh siddha mulak (Radish processsed), Gajar (Carrot), Lashun (Garlic), Aadrak (Ginger), Rataloo (Yam), beet root etc.
Green Leafy vegetables: Palak (Spinach), Bathua (Chenopodium), Methi (Fenugreek), Chaulai (Amaranth), Sahjan (Drumstick), Arbi ka Patta ((Taro leaves), Sunsuniya saag or sushni saag (Water clover), kulfa, ghol or luni saag (Purslane), Ambadi (Sorrel Leaves), Punarnava (Pigweed) Tanduliyaka (amaranth) etc.
Aangoor (Grapes), Anaar (Pomegranate), Kela (Banana), Nimbu (Lime), Santara (Orange), Mosambi (Sweet lemon), Aam (Mango), Jamun (Indian blackberry) , Amarood (Guava), Badara (Berries), Sitaphala (Custard apple), Kishmis (Raisins), Khazoor (Dates), Chuhara (Dried dates), Amla (Gooseberries fresh and Dried) etc. ** Use only seasonal fruits
Meat (Liver), Chicken, fish (Salmon) & Crabs. (for non-vegetarians) * (Dry salted fish causes digestion problems hence better to avoid. Pork in excess should be avoided.)
Moderate anaemia (Hb of 7–9.9 g/dl)
Dietary management as mentioned above
Ayush supplementation under supervision of AMO:
If patient is already on iron supplements and has moderate anemia then dose, dosage form, duration, anupana etc. of the medicine should be assessed by Ayush Medical Officer for further management plan. If the patient is not taking any supplementation, then the following Ayush supplementation can be taken under the supervision of Ayush Medical Officer with suitable dose regimen.
Agnidipan Medicines: Trikatu Churna/ Guduchi Churna/ Dhanyaka Churna/Shunthi Churna/ Jeerak Churna
Raktawardhak Ayush Medicines: Dhatri lauha/ Punarnavadi Mandura/Dadimadi Ghrita / AnnabhediChenduram/ Saptamrit lauha / Mandoor Vataka /Navayas lauha / Drakshavleh / Dadimavleha / Dhātrī avaleha
Assessment of Hb (Haemoglobin) during pregnancy
Reassessment of Hb- level: Hb levels should preferably be reassessed after 7 days, 15 days and 1 Month (based on stage of pregnancy).
After following Ayush dietary advisory, if Hb has come up to normal level; continue the dietary regimen & routine pregnancy care.
If it does not rise in spite of the dietary modification, then start supplementation under supervision of AYUSH Medical Officer.
If Hb does not rise in spite of the administration of Ayush medicine and dietary supplementation, refer the woman to the next higher health facility for further management.
Referral Criterion Flow chart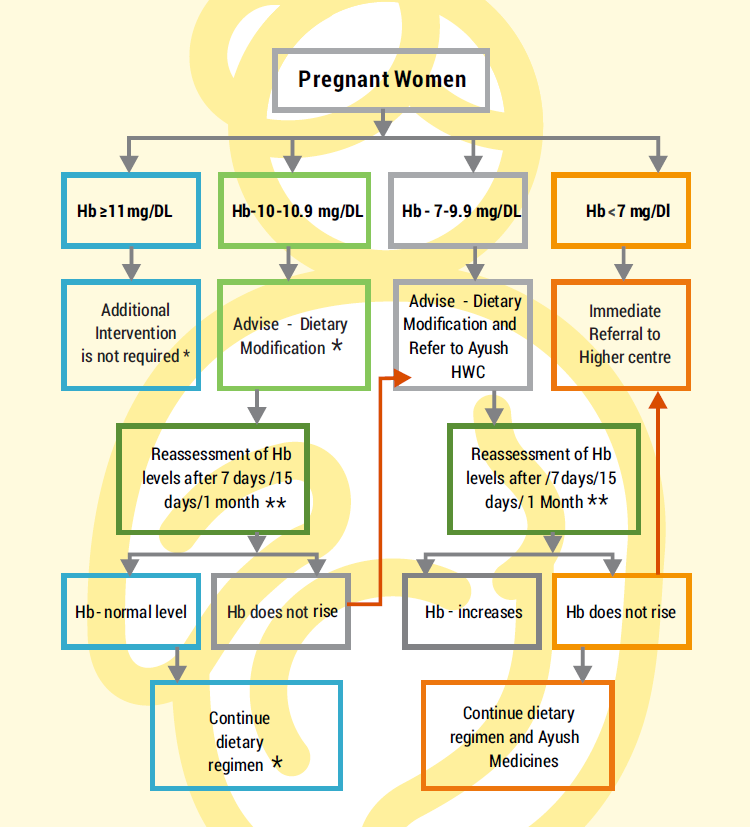 Source : Ministry of AYUSH