The village Hamirpur in block Datia of Datia district, Madhya Pradesh with a population of 641, majority of whom belong to scheduled castes and scheduled tribes, falls in Bundelkhand region and faces acute shortage of water and regular drought like situation due to erratic rainfall pattern. Overall rainy days have gone down, from 100 days (740 mm average) two decades ago to an average (340 mm) of 40 rain days today.
Local Initiative
The Village Water and Sanitation Committee (VWSC), also known as PayJal Samiti was, constituted for taking up water supply scheme for the village under Swajaldhara programme and also collected Rs. 40,000 as community contribution but could not get necessary approvals. It was, realized that unless there is an organized water supply system in the village, attaining economic growth might not be possible as most of the time was spent in fetching drinking water from distant sources.
New Concept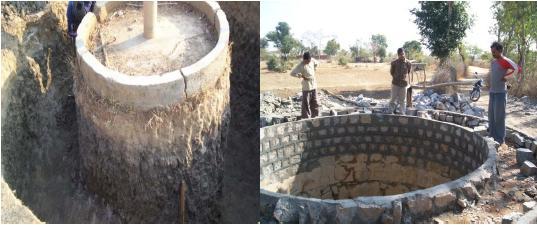 The villagers after a series of meetings decided to take their own initiative and adopted 'Integrated Water Resource Management' for improving the groundwater level of the village and for successful implementation of water supply scheme in the near future. For recharging and conservation of rainwater, a plan was made to construct rainwater-harvesting structures in all houses; well deepening and recharging trench on abandoned community open wells and tubewells and construction of check dams.
Recharging of defunct handpump and dugwell
Checkdam constructed by PHED and Rooftop rainwater harvesting
They also identified a place outside the village from where soil for construction of houses and roads was to be dugout and taken away so as to create a huge pond for recharging the handpumps and the groundwater aquifer. The Public Health Engineering Department (PHED) constructed a dyke-cum-boulder dam in the village and checkdams across the nalas in other villages that resulted in recharging a large number of handpumps installed upstream of the checkdam. The VWSC also initiated construction of rooftop rainwater-harvesting structures comprising plastic drain -pipes from roof inserted into a pit comprising sand and gravel in all the 75 households, school and anganwadi in the village. Parhit, a local NGO, gave Rs 500 to each household and the balance amount of Rs 1000 to 1200 was contributed by the beneficiaries.
For the village of Hamirpur, the journey began with an endeavor to cover all the households with minimum safe drinking water, which led to provision of adequate drinking water supply following the adoption of 'Integrated Water Resource Management' and large-scale construction of rainwater recharging structures. It is a unique experiment that has yielded significant dividends.
Source:
PIB,GoI