The Challenge
Government of India has prepared a plan to scale- up development of Grid- Connected Solar Power. Under the National Solar Mission, the Government of India has made a plan to scale up 20,000 MW of grid-connected solar to 1,00,000 MW by 2022. To achieve a capacity of this magnitude, the total surface area required would be almost 2 lakh hectare. Getting relatively flat terrain land of such magnitude is a major hurdle for National Solar Mission for India where land is a very scarce resource, and most of the population in the rural area is engaged in agriculture activity.
The solution
Under the aegis of Gujarat Industries Power Company Limited, the state innovated an agro-electric model of a sustainable solar plant with dual use of land and water for energy and food security.
Objectives
To generate solar power along with full-fledged agriculture activities
To produce green energy with dual use of precious resources like land and reuse of water for irrigation Minimise energy losses in transmission.
Research and experiments of various crops in consultation with Agriculture Universities to study crop yield within solar project compared to crop yield in normal agriculture field with same soil /climatic conditions
To generate an alternative source of income for farmers/ village local body.
To act as a Risk mitigation tool- against crop failure because of drought, flood, etc.
Implementation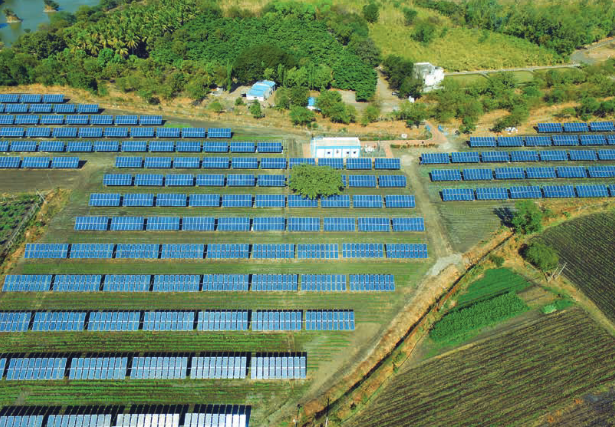 Soon after the design of Prototype Module Mounting Structure for the solar panels, a shadow analysis was carried out by using computer software to see the effect of sunlight under the Panel and between two rows of arrays. This was done primarily to select cash crops, which can grow under the available sunlight under the solar panels. The construction of a specially designed drip irrigation network resulted in a reduction of the project cost.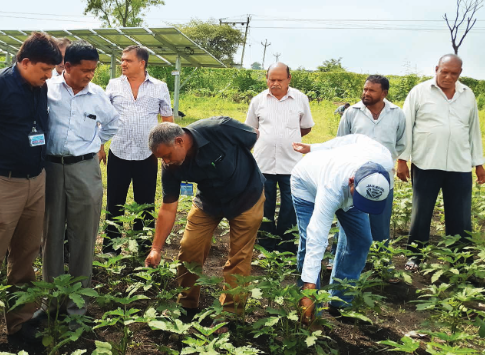 By December 2016, the pilot projects and experiments on various Kharif crops had been completed successfully, and the next set of experiments on Rabi crops were under observation with agriculture universities. Initial results in the growth of agriculture produce are entirely satisfactory and similar projects can be replicated on a larger scale. Almost 90% to 95% of the land can be used for agriculture. For 1 MW Solar power, about 2.1 Ha to 2.5 Hectare of land is required. About 25%-30% of the shaded area can also be utilised for agriculture because of the gap between two solar panels.
Outcome
This solar power project has proved to be one of the best drought mitigation tools for farmers, as farmers would get a fixed amount of revenue from the solar developer as lease rent or as revenue-share. Free electricity, during the daytime, for irrigation by solar pump throughout the year is an added benefit. This will also make sowing possible for more than one season. The shade-loving crops under the solar panels present new market opportunities.
This electro-agro project of Gujarat indeed heralds a novel experiment in combining green energy and agriculture that could well become the trend of India's agro future.