Ashokan Rock Edicts
The 3rd Century B.C. saw extension of the Mauryan Emperor Ashoka'srule over Saurashtra as attested to by his famous fourteen rock edicts at Girnar, Junagadh. Ashoka, the great (273-232 B.C.), chose slopes of the Girnar hill, and got his fourteen rock edicts engraved on the North-East face of a granite boulder at the foot of the hill.
Besides these rock edicts the same boulder also contains two more inscriptions of two other illustrious rulers of Ancient Indian history, namely Mahakshatrappa Rudradaman (130-150A.D.), and Skandgupta (455-467 A.D.)
Champaner - Pavagadh Archaeological Park
A concentration of largely unexcavated archaeological, historic and
living cultural heritage properties cradled in an impressive landscape which includes prehistoric (chalcolithic) sites, a hill fortress of an early Hindu capital, and remains of the 16th-century capital of the state of Gujarat. The site also includes, among other vestiges, fortifications, palaces, religious buildings, residential precincts, agricultural structures and water installations, from the 8th to 14th centuries. The Kalikamata Temple on top of Pavagadh Hill is considered to be an important shrine, attracting large numbers of pilgrims throughout the year. The site is the only complete and unchanged Islamic pre-Mughal city.
Rani - ki - Vav
Rani-ki-Vav, on the banks of the Saraswati River, was initially built as a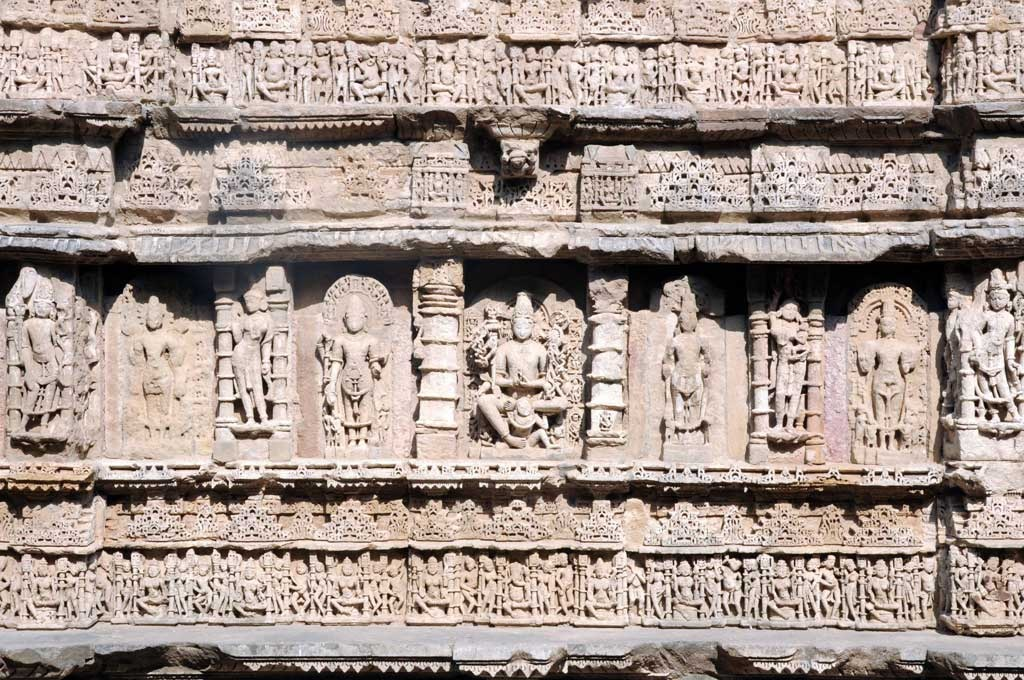 memorial to a king in the 11th century AD. Stepwells are a distinctive form of subterranean water resource and storage systems on the Indian subcontinent, and have been constructed since the 3rd millennium BC. They evolved over time from what was basically a pit in sandy soil towards elaborate multi-storey works of art and architecture. Rani-ki-Vav was built at the height of craftsmens' ability in stepwell construction and the Maru-Gurjara architectural style, reflecting mastery of this complex technique and great beauty of detail and proportions.
Designed as an inverted temple highlighting the sanctity of water, it is divided into seven levels of stairs with sculptural panels of high artistic quality; more than 500 principle sculptures and over a thousand minor ones combine religious, mythological and secular imagery, often referencing literary works. The fourth level is the deepest and leads into a rectangular tank 9.5 m by 9.4 m, at a depth of 23 m. The well is located at the westernmost end of the property and consists of a shaft 10 m in diameter and 30 m deep.
Sun Temple at Modhera
The Sun Temple was built by Raja Bhimdev I of Solanki lineage (who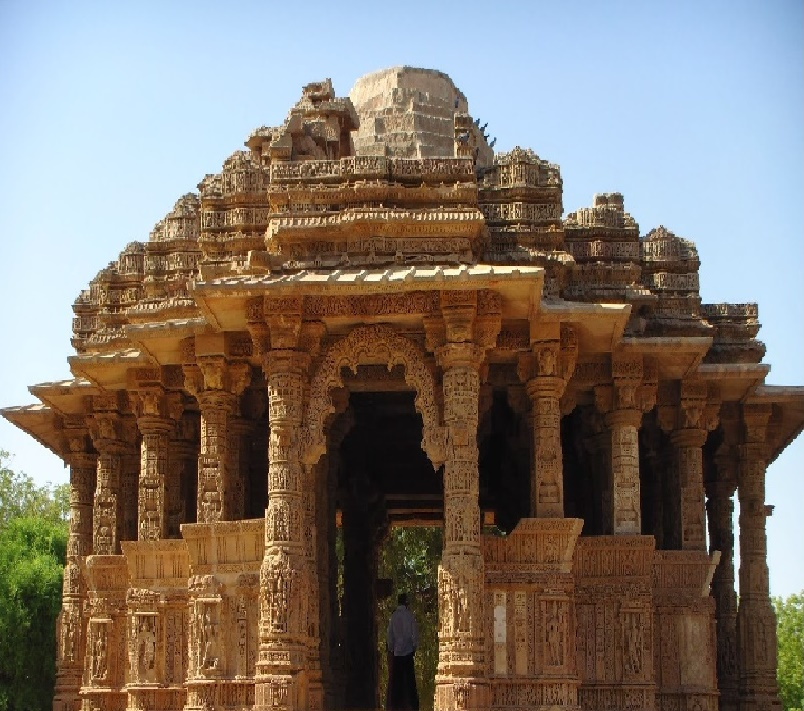 were believed to be Suryavanshis) in AD 1026. The temple bears some resemblance to the more renowned Sun Temple of Konark, which it predates by some 200 years. Like the Sun Temple at Konark, it was so designed that the first ray of the sun fell on the image of Surya, the Sun God, at the time equinox.
Source: Must See Indian Heritage