National Scholarships Portal is one-stop solution through which various services starting from student application, application receipt, processing, sanction and disbursal of various scholarships to Students are enabled. National Scholarships Portal is taken as Mission Mode Project under National e-Governance Plan (NeGP). Currently, the NSP has 9 participating ministry/departments and 21 registered schemes.
Vision
The initiative aims at providing a Simplified, Mission-oriented, Accountable, Responsive & Transparent 'SMART' System for faster & effective disposal of Scholarships applications and delivery of funds directly into beneficiaries account without any leakages.
Mission
The Mission Mode Project (MMP) of National Scholarships Portal under the National e-Governance Plan aims at providing common electronic portal for implementing various Scholarships schemes launched by Union Government, State Government and Union Territories across the country.
Objectives
Ensure timely disbursement of Scholarships to students
Provide a common portal for various Scholarships schemes of Central and State Governments
Create a transparent database of scholars
Avoid duplication in processing
Harmonisation of different Scholarships schemes & norms
Application of Direct Benefit Transfer
Benefits
Simplified process for the students

Common application form for all scholarships
Onetime registration of students
Based on eligibility criteria, system itself suggests the schemes for which a student is eligible

Improved Transparency

Elimination of duplicate applications
Release of scholarship amount directly to bank accounts of students through DBT

SMS and E-Mail alerts at every step of scholarship process
Serve as a Decision Support System (DSS) as up-to date information is available on demand
Scalable and Configurable platform
Services offered to various stakeholders
Students
Online Submission of Application
Institutions
Course Registration
Application Verification
Forward Applications
State Government Departments
Schemes and Workflow Configuration
Data Verification
Application Processing
Release of Funds
Central Ministries /Departments
Schemes and Workflow Configuration
Fund Release
Expenditure Monitoring
Common MIS
Online Application procedure for scholarships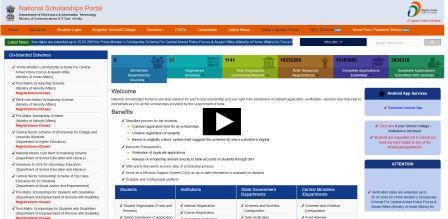 ×
This Video Explains About Registration and Apply Scholarship form in National Scholarship Portal
Fresh application :
1st step - Student have to go register using the "Student Registration page" on the National Scholarships Portal.
Fill up the application as per the instructions given by the system then click on save button. Preliminary details such as Student Name, Domicile State, Fresh/renewal, Father/Mothers/Guardian name, Date of Birth, Caste, Community, Aadhaar Number (If available), Email, Phone Number number/Student ID are required for filling the application.
After saving, student will get a "Temporary ID". The system will instruct the applicant to submit his/her Temporary ID and date of birth to fill subsequent details.
Once registration is complete on click of submit button, a Permanent Registration ID is generated which can be used for Renewal and tracking the status of application. Once the student submits the Online application form and the student gets the Permanent Registration ID , he/she will will not be able to edit the details until the Scholarship application Processing is completed.
Renewal:
Renewal Students have to apply with their Bank Account No and Date of Birth which they registered previous year. Student can also use Forgot Registration ID to retrieve their ID.
To access the complete user manual for registration, click here.
To know the scheme-wise and state-wise process flow for processing the submitted application, click here.

Procedure to register school/college/institution
Before Registering, check if it is already Registered with the Portal by using the "Find School/College". The institution can be searched by location / institute code.
If it is not found in the list, contact District / State Nodal Officers for Login Credentials.  To know the details of state nodal officers to the National Scholarships Portal, click here.
Source : National Scholarship Portal
Related resources