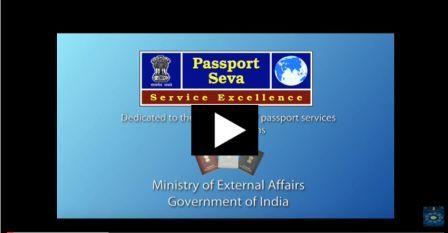 ×
Watch Video on Passport Seva.
Passport Seva (PS) was launched by the Ministry of External Affairs as a Mission Mode Project in May 2010 to augment and improve the delivery of passport services to Indian citizens.
Vision
To deliver passport services to citizens in a timely, transparent, more accessible, reliable manner and in a comfortable environment through streamlined processes and committed, trained and motivated workforce.
Key aspects of service transformation achieved by PS
The Passport Seva is transforming passport and related services in India to provide a best-in-class experience to Indian citizens. PSP is enabling MEA to deliver passport services in a reliable, convenient and transparent manner, within defined service levels. Key aspects of the service transformation achieved by PSP are as follows:
Anywhere Anytime Access : Citizens can submit their passport applications and seek an appointment on payment of passport fees online through the PSP portal (www.passportindia.gov.in) at their convenience. The portal provides comprehensive and latest information on all passport related services. Citizens visit the nearest PSK with prior appointment date/time, thus avoiding long queues and inconvenience.
Increased Network : As extended arms of 37 Regional Passport Offices, 93 Passport Seva Kendras (PSKs) have been made operational across the country and 412 Post Office Passport Seva Kendras (POPSKs) are being established as part of Passport Seva.
Improved Amenities :The PSK provides a world class ambience. Amenities in every PSK include helpful guides, Self-Service Kiosks, photocopying, food and beverage facilities, public phone booth, baby care, newspapers and journals and television in a comfortable air-conditioned waiting lounge. The Electronic Queue Management System ensures the 'first-in-first-out' principle in application processing.
State of the Art Technology Infrastructure : Passport Seva is supported by state-of-the-art technology infrastructure which enables end-to-end passport services to be delivered with enhanced security comparable to the best in the world. The photograph and biometrics of the applicants are captured when they visit the PSK. Their applications and supporting documents are digitized and stored in the system for further processing.
Integration with Police and India Post : The PSP network connects with the State Police across all the states and union territories. The applicant's data is sent electronically for police verification. PSP also provides an interface to India Post for tracking delivery of passport to citizens.
Call Centre & Helpdesk : A multi-lingual National call centre 1800-258-1800 (Tollfree) enables citizens to obtain passport service related information and receive updates about their passport applications, round the clock, seven days a week. An e-mail based helpdesk besides a mobile based application 'mPassport Seva' provides information on passport services.
Services offered
Information corner : Provides information related to the Passport Act and Rules, FAQs, Locate Passport Seva Kendra and Laghu Kendra, Locate Common Service Centers, Fee Calculator, Appointment Availability Status, Know your Police Station, Quick Guides, Tatkaal Appointment Opening Time, Instructions Booklet, All India Network of Passport Services.
Forms and Affidavits : Download e-Form, Annexures/Affidavits, Print Application Form, Undertaking as per GSR 570 (E)
Feedback and Grievance :  How to access Information and log Grievance, Grievance/Feedback Track, Grievance Status Information
Value Added Services - Premium SMS Services, mPassport Seva App.
Source : Passport Seva
Last Modified : 9/14/2023
© C–DAC.All content appearing on the vikaspedia portal is through collaborative effort of vikaspedia and its partners.We encourage you to use and share the content in a respectful and fair manner. Please leave all source links intact and adhere to applicable copyright and intellectual property guidelines and laws.