Background
Chandauli is an aspirational district, also known as the rice bowl of Uttar Pradesh, where two-thirds of the population is engaged in agricultural work, providing ideal conditions for the production of all types of paddy.
District Administration and Agriculture Department Chandauli tried to innovate in the sustainable agriculture sector to increase the income of the farmers of aspirational district. Black rice farming was selected for innovation in cultivation.
Black rice has High Dietary fiber, Rich in Nutrients (Iron Vitamin E Minerals), Antioxidants, Protein and is known to boost heart health, prevent cancer, is anti-inflammatory and good for people with diabetes. The cultivation of black rice is chemical free and farmers get better prices compared to other rice.
Intervention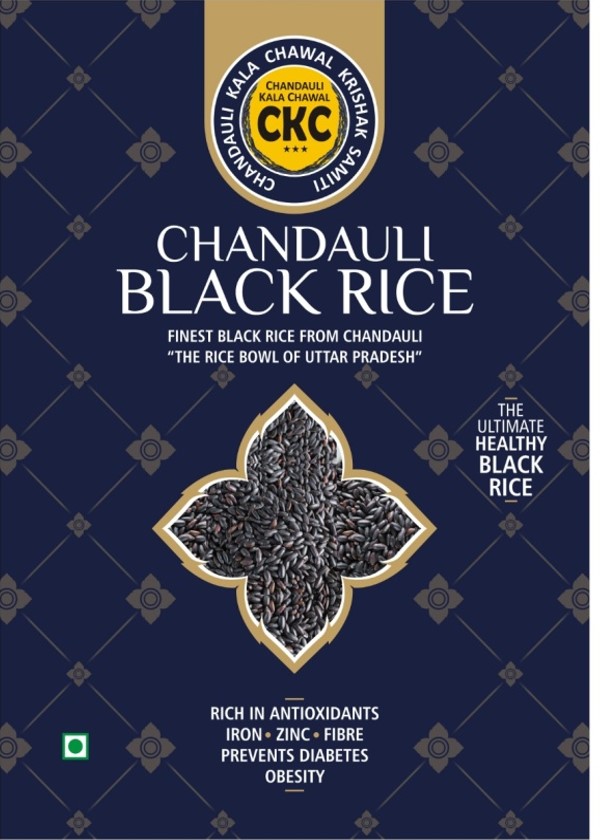 Black rice as such is not native to the area and is actually produced in high quantities in Manipur. However, given the increasing demand for the product in the global markets, the district administration promoted the product among a small group of 300 farmers. Black rice farming does not require any type of chemical fertilizer and is cultivated in all blocks of the district.
Black rice produced in 2018 with the help of Agriculture Department Chandauli, was publicized among farmers of the district through Kisan Pathshala, Farmers Seminar and district level farmers fair exhibition organized at block level. In addition, it was also published through print and mass media.
The marketing interventions include
Formation of Chandauli Kala Chawal Krishak Samiti in 2019 comprising of black rice farmers. In 2020, Conversion of Chandauli Kala Chawal Krishak Samiti to an FPO (Farmers Producers Organization) capable of exporting Black rice on their own
Registration of farmers in PGS-India to obtain organic farming certification
Application for Collective Mark, FSSAI number
Designing logo, premium packaging
Participation in National Exhibitions
Display at Premium Malls/Hotels
Exploring export markets to increase product reach and enhance income opportunities - Collaborated with APEDA; organised Buyer-Seller meet with top Rice exporters
Utilizing potential of ecommerce platforms
Impact
Black rice has medicinal properties such as anti-oxidants, vitamins, fibers and anti- inflammation properties. Black rice has high zinc and iron percentages. These properties of black rice reduce the risk to the human body. Another impact this innovative farming is that the average farmer can harvest 4 to 5 times more yield than other variety of rice.
Profitability Comparison
| | | |
| --- | --- | --- |
| Parameters (per ha) | Black rice | Common paddy |
| Seeds | 15 kg | 30 kg |
| Productivity | 35 q | 62 q |
| Cost | Rs 42000 | Rs 58000 |
| Revenue | Rs 2,97,500 (@8500/qtl) | Rs 1,12,530 (@1815/qtl) |
| Profit | Rs 2,55,500 | Rs 54,530 |
Key Outcome
The result of black rice cultivation is that farmers had to reduce the use of chemical fertilizers and got better price than paddy crop of other species. The farmers are happy by cultivating black rice and every year area of black rice farming is increasing. Black rice farming is proving to be helpful in increasing the income of the farmers.
Scale up
Initiative replicated in more than 15 districts across States
Seeds procured by various districts from KVK Chandauli, Agriculture department Chandauli and Chandauli Kala Chawal Krishak Samiti
14 districts of U.P. and 2 districts of Bihar (Buxar and Aurangabad) started cultivation of Black Rice
Source : Best Practices-2020 - Uttar Pradesh; Regional Conference On Replication Of Good Governance Practices , July, 2021