Problem
The prevalence of Anaemia in the Gadchiroli district is 53%. Poor nutrition among the tribals with limited food choices and economic capabilities were reasons behind the prevalence of anaemia.
Weekly Iron and Folic Acid Supplementation (WIFS) programme implemented as part of the National Health Mission faces issues of intake and local opposition from Pujaris - behaviour change becomes an issue.
Solution
To tackle this problem, an ambitious project - distribution of fortified rice through public distribution system (PDS) - was implemented in two blocks of Kurkheda and Bhamragadh of Gadchiroli district from June 2018 to June 2019. It was a collaborative initiative of the state/district administration and the Tata Trusts. The pilot project showed positive results.
Fortified rice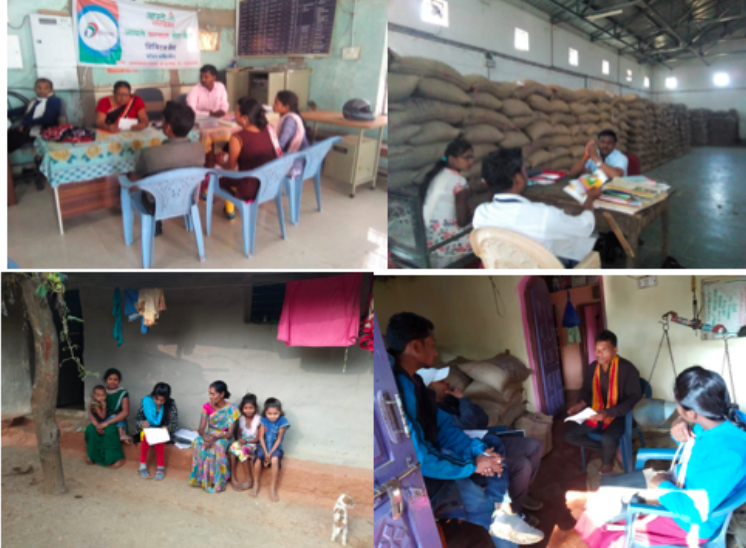 Rice fortified with the fortificant mix through extruded fortified kernels mixed with non-fortified rice in a ratio varying from 0.5% to 2% is called Fortified Rice.
Extrusion is the preferred technology for rice fortification because of the stability of micronutrients in the rice kernels across processing, storage, washing, cooking, and in view of cost considerations. Fortified Rice Kernels (FRK) produced using extrusion technology are made with rice flour and micronutrients
such as iron, folic acid, Vitamin B12 as mandatory and zinc, vitamin A, thiamine (vitamin B1 ), riboflavin (vitamin B2 ), niacin (vitamin B3 ), and pyridoxine (vitamin B6) as optional micronutrients.
Rice flour is pulverized and mixed with a premix containing vitamins and minerals. Fortified Rice Kernels are produced from this mixture using an extruder machine. Fortified Rice Kernels resemble milled rice in size, shape, and colour but contain additional vitamins and minerals that retain their micronutrient content when washed and boiled in water. When these kernels are blended with non- fortified rice, typically at a ratio of 1:100, the result is Fortified Rice that is nearly identical to non- fortified rice in aroma, taste, and texture. It is then distributed for regular consumption.
Process followed
A baseline study was conducted in March 2018 in three blocks of Gadchiroli—Bhamragad, Etapalli and Kurkheda- to asess the status of anaemia among women (15-45 years) and children under five years, and understand the level of interest among fair-price shop owners in fortified rice, since they would be responsible for the distribution. A cost effective model of local rice blending was identified. Sensitisation workshops for stakeholders - Fair Price Shops, Gram Panchayat, SHGs, block supervisors, etc were held. After initial reluctance, the local people accepted the step, considering its importance for improvement of their health.
The initiative is now being expanded to cover all the blocks of the district as part of the central scheme Pilot Scheme Fortification of Rice and its Distribution
under Public Distribution System and with support of CSR funds.
References