Rania block of Khunti district in Jharkhand, includes 7 Gram Panchayats and 66 villages, where a total no. of six women are working as Setu Didis who have been identified and deployed by 3 Cluster Level Federations (CLF), that were formed of 51 Village Organizations (VO), 578 SHGs. Setu didis were promoting Covid19 appropriate behaviors, Covid Symptoms, importance, and need of Testing & vaccination, tracking migrant laborers, Nutritional food diet in the community through CLF/SHG/VO meeting in the community and ensuring to follow up the eligible cases through meetings and different other events.
Setu Didis with support from the concerned SHG groups have played a significant role in the 1st phase of vaccination aged from 45yrs and above. During the 1st phase of vaccination, due to the common adverse effects like high fever, body ache weakness, etc many people at communities developed confusion about the efficacy of the vaccine itself. It was also associated with social stigma, rumors, misconceptions, and misinformation among people, that vaccination itself is leading to severe illness. These factors led vaccine resistance within community set up and they started refusing to get vaccinated and tested for Covid-19.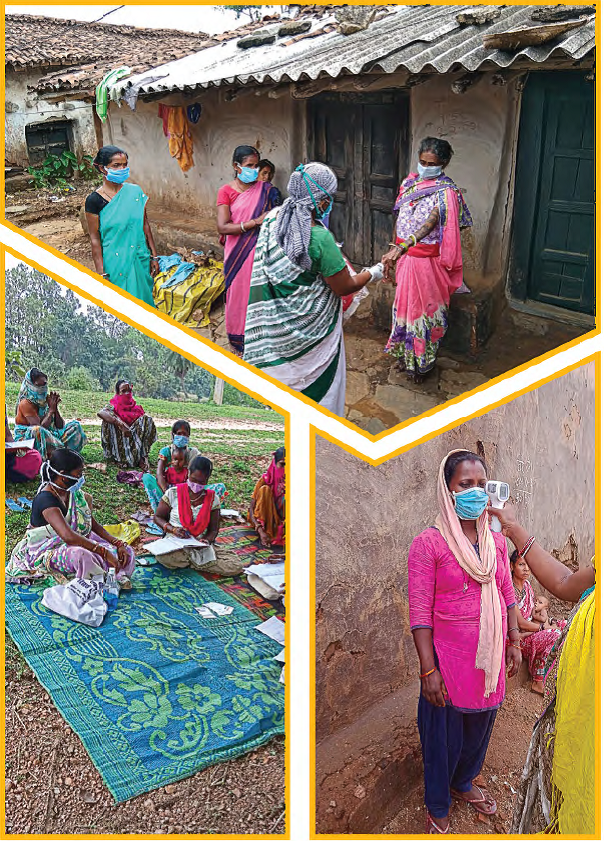 To break these misconceptions and misinformation among people in the community Setu didis with technical support by TRIF, acquired technical knowledge and skills to respond to Covidcrisis, and started engaging themselves with Mukhiya and Ward member of the Panchayat, CLF leaders, VO members etc, to promote community ownership and participation by spreading true and necessary information. Displaying IEC during CLF/VO/SHG meetings, conducting rallies and spreading positive messages on WhatsApp etc were some of their strategies to address misconceptions and taboo related to vaccination. Through these strategies they could work with women collectives to ensure 10716 no of people to be vaccinated and 18000 people to be mobilized and undertook Covid testing in that block (as of 31st May, 2021). Similar experiences are being observed from the engagement of TRIF in 38 blocks from 5 selected districts in Jharkhand where around 38000 SHGs are being coordinated by the respective CLFs through the identified Setu didis. The process has led to ensuring more than 1 Lakh people to get vaccinated till 31st May 2021 in these five districts. For doing these Setu didis are following localised strategies with differential approaches to convince people in accessing to Covid services like Vaccination.
Source : Deendayal Antyodaya Yojana - National Rural Livelihoods Mission (DAY-NRLM)