Jamui, in South Bihar, is one of the most backward and Left-Wing-Extremism-affected districts of the country.
To make matters worse, it is annually hit by drought. Employment opportunities in the organized sector of the district is minimal. Most of the workforce is employed on contract or given daily wages. Due to limited prospects, workers migrate to different states.
With Covid-19, as people started coming back, the Jamui administration undertook various initiatives to cater to the migrant population. MGNREGA's 'Aavedan Patra' was coloured in two shades—white for the general population and yellow for migrants. This helped in distinguishing those who had returned and were being engaged in MGNREGA activities.
To develop more employment opportunities within the district, three clusters—tailoring, carpentry and slipper-making—were identified after skill mapping. Keeping in mind the PM's vision of an Aatmanirbhar Bharat, the setting up of innovative start-ups, small- and medium-sector businesses supported through credit linkages were encouraged. Special focus was laid on training women for starting business ventures. The district administration, through awareness camps, invited applications for innovative start-ups, with priority given to ideas that could generate employment opportunities for returned migrants and use local resources to boost the economy.
To protect the most vulnerable sections-tribal communities living on fringes of forested areas-of Jamui, the manufacturing of non-timber forest produce, such as pattal-making units, was encouraged. Opportunities in agri-business and allied sectors were explored with BRLPS, Jamui. Opportunities of convergence and collaboration between different departments, such as agriculture, horticulture, dairying, were explored and how the local market could be tapped into to sell the produce.
For the revival of traditional crops, the cultivation of finger millets (maduwa) and kodo was taken up in the most backward and tribal belts of Jamui. Around 180 farmers have been identified for the project. Priority for plantation projects-including the development of mango, teak, wood, etc., on individual or a group's land-of the Forest Division and MGNREGA is being given to people belonging to ST/SC communities, from the most backward and affected blocks of Jamui.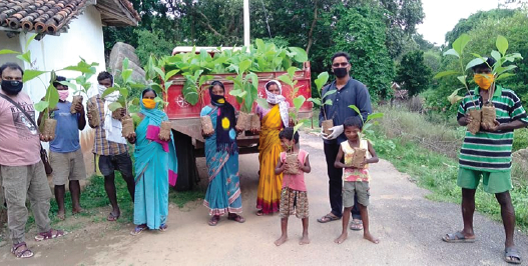 In order to develop and make a district self-reliant, it is important to work towards creating sustainable opportunities, to focus on its overall economic, social, and environmental well-being. The Jamui administration is working very hard towards generating enough livelihood opportunities for its people so the need for migration is reduced.
Source : Empowering Migrant Workers through Skill Development and Livelihood Generation