Sri Gurajada Apparao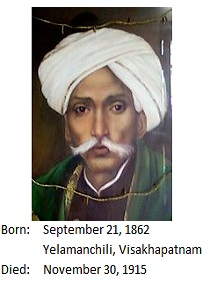 Sri Gurajada Apparao an eminent writer and founder of colloquial literature in Telugu. He wrote a famous drama "Kanya Sulkam" which is a remarkable play on evil traditions in child marriages. He was born on 21.09.1862 . He stated that "Desam mante matti kadoi Desam mante manushuloi". He wrote "Mutyala Saramulu" a new poetic stanza. He worked as Lecturer in M.R. College, Vizianagaram. KanyaSulkam is one of the most popular play among his literature. He died on 30.11.1915.
Sri Dwaram Venkataswamy Naidu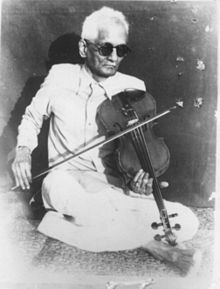 Music College was started in the year 1919 in Vizianagaram by the Vizianagaram Maharaja Sri Dwaram Venkata Swami Naidu an eminent violinist born on 08.11.1893. He worked as a Principal in Music College at Vizianagaram. He was famous in violin concert. He was awarded "Padmasri" by the President of India and awarded KalaPrapurna" by the Andhra University for his excellence in violin. He died in the year 1964.
Sri Adibhatla Narayana Das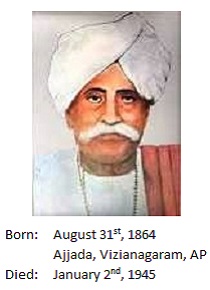 Sri Adibhatla Narayana Das an eminent "Hari Kadha Gaana" born in Ajjada village of Vizianagaram dist. He was the first "Pradhama Acharulu" of Music College, Vizianagaram. He was famous for his Hari Kadha Gaanam even from his education (Matriculation) and acquired profound knowledge Parish Sanskrit, Arabi and English. He sang "Sri Krishna Janma" HariKadha in Sanskrit and explained in Hindi to the audience at Calcutta. He was appreciated by Rabindra Nadha Tagore for his excellency in Hari Kadha.
Sri Kodi Ramurthy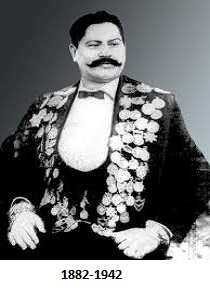 Sri Kodi Ramurthy an excellent wrestler was born in 1885. He worked as Physical Education Teacher in Branch College in Vizianagaram. He got profound knowledge in "Vayu Stambhana", "Jala Stambhana". He was awarded with title Kaliyuga Bhima. In 1911 he went to Madras and showed his skills in breaking steel chain to stop the motor cars and allowed elephant to pass through his chest before 5th King George. He was awarded him with "Indian Sando" for his excellence.
Dr. Dasari Yatiraja Sampath Kumar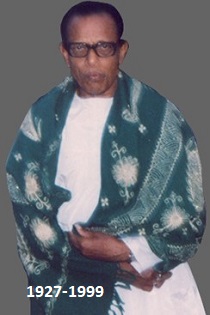 Sri Dasari Yatiraja Sampath Kumar popularly referred to as "Andhra Jalari" or Fisherman of Andhra Pradesh, was an Indian classical and folk dancer and choreographer. Shri Dasari Yatirajah Sampath Kumar was born on November 20, 1927 in Vizianagaram distirct. He was the 7th child to Sri Ramanujulu and Smt Ranganayakamma. In the festivities of Sri Paidathilli Amman in Vizianagaram in the 1940s, he was inspired by the dance performance of Sri B.R.Mohan and joined under Sri Duvuri Jagannath Sharma at the Maharaja Music & Dancing College, Vizianagaram. Also learnt veena from Sri Peri Narasimha Sastri. Being a student he also gave performances with B.R.Mohan group.
Sri Vijay Anand Gajapathi Raju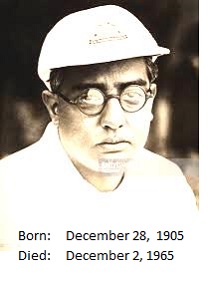 His name is Maharajkumar Vijayanand, the younger brother of the ruler of Vizianagaram. Vizzy, as the Maharajkumar was popularly known, was educated at Heylebury Public School in England, was a Knight of the British Empire, a councillor to the Viceroy and a Cricket Captain who led the MCC team. It is to his credit that Vizianagaram is linked to the world of cricket. Vizzi was one of the rare Presidents of BCCI who was elected unanimously. During his tenure, the Indian team had an eventful tour of Pakistan, which is still recalled with nostalgia amongst the cricket fans of the country.
Smt P. Susheela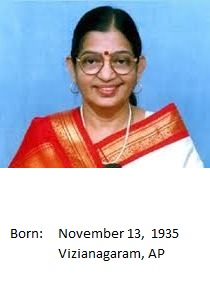 P.Susheela hails from a music family but she was the first to sing in her family. Born in Vizianagaram in Andhra Pradesh, Susheela is the daughter of Sheshavatataram and Mukund Rao, a leading criminal lawyer of his time. She studied classical music in Maharaja`s Music College, Vizianagaram under the tutelage, of the famous violinist Dwaram Venkatasamy Naidu. She got Padma Bhushan Award in 2008 by the Govt. of India. She may be better known through her official website www.psusheela.org.