About the initiative
Labourers and daily wage workers coming to file their grievances and attend proceedings of the grievance cell every Monday, from places as far as 100 kms. in Vizianagram District, will henceforth not have to return empty stomach.
Seeing their hardships, the officers in the District Administration decided to contribute to the genuine cause, for providing meals to the petitioners at a subsidised rate. This initiative is known as the Meekosam Meals Scheme.
More than Rs 7 Lakh has been collected by way of donations from the district officers. For a meal worth Rs 28/-, Rs 10/- is collected from the petitioner and balance Rs 18 is directly paid to the owner of the canteen.
This initiative has resulted in sharp rise in the number of petitioners attending the grievance cell meetings.
Awards received
The initiative has received the Skoch Crucible Award 2020.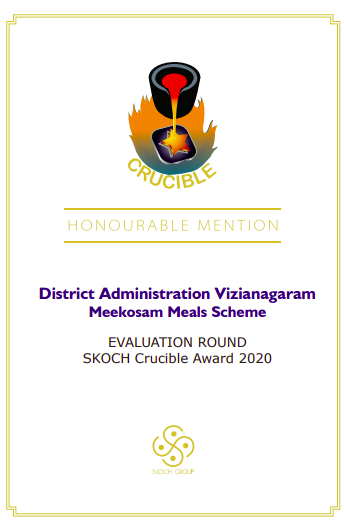 Public grievance management initiative
Spandana is a public grievance redressal platform, an initiative of Government of Andhra Pradesh. Grievances raised through Spandana will be redressed in a specific time frame.
The district administration has taken the following efforts in ensuring an effective grievance redressal mechanism for the citizens.
Sensitize government officials through workshops to reinforce the need for effective grievance redressal.</li.
Demand accountability from officials, in case a satisfactory action has not been taken on a grievance submitted by a citizen.
Establishment of a Spandana Help desk at the district collectorate to receive and address grievances of the citizens.
An exclusive Spandana Help desk established at the Integrated Tribal Development Agency (ITDA), Parvatipuram to help tribal population of the surrounding areas to register their grievances without having to come to the district headquarters.