Diamondback moth
It is distributed worldwide infesting cruciferous plants of Brassica spp. such as cauliflower, Brassica oleracea var. capitata, Turnip Brassica rapa etc.
Egg: Each female lays 50-60 small whitish eggs singly along the veins on underside of leaves at night times. Egg hatches in about 7 days.
Larva: Larva is greenish with short thin hairs on the body. Full grown caterpillar measures 1-1.5 cm and its body tapers towards both ends. Larval period is 14 days.
Pupa: Pupation takes place inside a thin loose mesh of silken cocoon. Pupal period is about 7 days.
Adult: The moth is greyish brown with narrow wings having pale white triangular markings on inner margin of each forewing which form three diamond shaped white patches dorsally when wings are folded over back at rest. Hence the name, diamondback moth. The pest is active throughout the year.
Life cycle:
Damage symptoms:
Caterpillars feed on under surface of leaves and bite holes in leaves and cause serious damage
Withered appearance of affected leaves.
Skeletonized leaves.
Egg parasitoids - Trichogramma spp.

Larval parasitoids
Brachymeria spp. Eriborus spp.

Brachymeria excarinata Cotesia plutellae
Cabbage head borer
It infests cabbage, cauliflower, knolkhol and beetroot.
Egg: Female moth lays yellowish shiny eggs on leaves. Eggs hatch in about 4 days.
Larva: The caterpillar becomes full grown in about 9 days. Full grown caterpillar is 12-15 mm, greyish yellow with seven purplish brown longitudinal stripes on the body
Pupa: Full grown larva pupates in the larval burrow itself or in the soil. Pupal period is about 6 days.
Adult: Adult is pale yellowish-brown moth having grey wavy lines on the forewing.
Life cycle: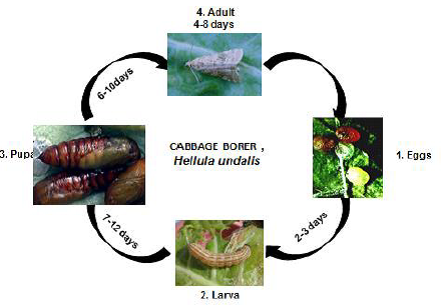 Damage symptoms:
Caterpillars web the leaves and bore into stem, stalk or leaf veins.
They bore into the cabbage head also making it unfit for consumption. The damage results in Webbed leaves
Holes in cabbage head with fecal matter
Egg parasitoids: Trichogramma spp.

Larval Parasitoids:
Brachymeriaspp, Eriborusspp Apanteles ruficrus
Cabbage leaf webber
It infests cabbage, radish, mustard and other cruciferous plants.
Eggs: Female moth lays eggs in masses of 40 -100 on underside of leaves. They hatch in 5 -15 days
Larva: Caterpillar webs together the foliage and feeds on leaves. It also feeds on flowers and pods in the case of mustard and flower heads in cabbage and cauliflower. Caterpillar bears red head with brown longitudinal stripes and rows of tubercles on the body. Larval period is 24-27 days.
Pupa: Pupation takes place in a cocoon within the webbed leaves. Pupal period is 14-40 days.
Adult: Adult is small with light brownish forewings.
Life cycle: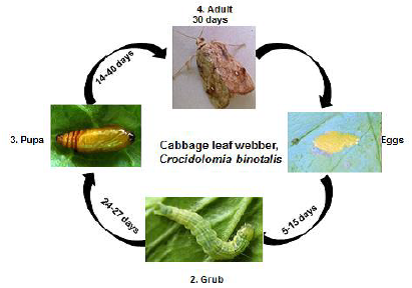 Damage symptoms:
Webbed leaves with fecal matter
Skeletonized leaves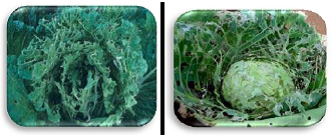 Egg parasitoid: Trichogramma

Larval parasitoids:
Brachymeria spp Eriborus spp Apanteles ruficrus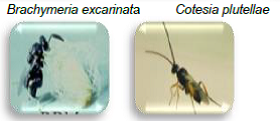 Cabbage aphids
The aphids are yellowish green (B. brassicae) and multiply parthenogenetically.
Damage symptoms:
This pest infests crucifers in cold season. Both the nymphs and adults suck sap from plant causing loss of vigour. Sooty mould develops on excreted honeydew reducing the photosynthesis.

Parasitoid:
Predators:

Painted bug
Nymphs are reddish in colour. Adult is yellow with black markings
Symptoms of damage:
It is a serious pest of cruciferous crops and widely distributed. Both nymphs and adults suck sap from leaves, shoots and pods resulting in wilting and loss of vigour of the plant.
It feeds on cabbage, caluliflower, radish etc.
Tobacco caterpillar
It is found throughout the tropical and sub tropical parts of the world, wide spread in India. Besides tobacco, it feeds on cotton, castor, groundnut, tomato, cabbage and various other cruciferous crops.
Eggs: Female lays about 300 eggs in clusters. The eggs are covered over by brown hairs and they hatch in about 3-5 days.
Larva: Caterpillar measures 35-40 mm in length, when full grown. It is velvety, black with yellowish – green dorsal stripes and lateral white bands with incomplete ring – like dark band on anterior and posterior end of the body. It passes through 6 instars. Larval stage lasts 15-30 days
Pupa: Pupation takes place inside the soil. Pupal stage lasts 7-15 days.
Adult: Moth is medium sized and stout bodied with forewings pale grey to dark brown in colour having wavy white crisscross markings. Hind wings are whitish with brown patches along the margin of wing. Pest breeds throughout the year. Moths are active at night. Adults live for 7-10 days. Total life cycle takes 32-60 days. There are eight generations in a year.
Life cycle: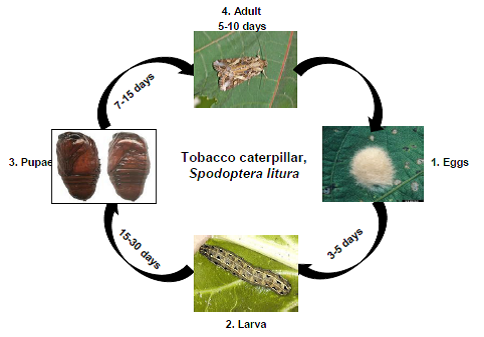 Damage symptoms:
In early stages, the caterpillars are gregarious and scrape the chlorophyll content of leaf lamina giving it a papery white appearance. Later they become voracious feeders making irregular holes on the leaves.
Irregular holes on leaves initially and later skeletonization leaving only veins and petioles
Heavy defoliation.
Bored fruits with irregular holes
Parasitoid:
Predators:
Cabbage butterfly
Larva: The caterpillar is velvety green and measures about 4.2 cm in length. The caterpillars are gregarious initially but disperse as they grow.
Pupa: Pupation is in damaged leaves.
Adult: Adult is a butterfly with its fore wings snow white having black distal margins. Hind wings pure white with black apical spots.
Symptoms of damage:
They skeletonise leaves and bore into heads of cabbage and cauliflower

IPM for Cabbage and Cauliflower
To know the IPM practices for Cabbage & Cauliflower, click here.
Source: NIPHM, Directorate of Plant Protection, Quarantine & Storage