Brown headed leaf roller
Biology
Eggs: Females lay eggs in smooth masses composed of up to 150 individual eggs. egg development period is about 9 days.
Larva: Early instar larvae web together shoot tips or roll leaves. Later instars feed on leaves, buds, and fruit of the host plant. Larval period is about male 32 and female 36 days. Larvae exhibited 5 or 6 instars.
Pupa: Pupation occurs in the larval nest. prepupal period is about male 3 and female 3.5 days; pupal period is about male 16.4 and female 13.8 days. Late instar larvae are approximately 20 mm in length with conspicuous pinacula. The head is dark brown to reddish brown and may be marked with faint red mottling. The prothoracic shield has dark shading on the lateral and posterior margins. Earlier instars have a black head and prothoracic shield.
Adults: Adults are brown to brownish gray with a variable wing pattern. Most individuals have several dark markings along the costa, including a remnant of the median fascia. Hind wings are mottled in both males and females. It completes 4-6 overlapping generations per year.
Life cycle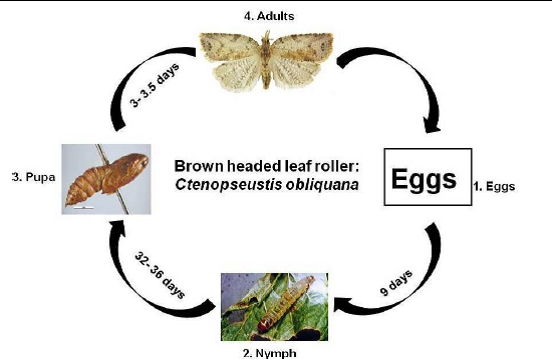 Damage symptoms
They web together leaf edges or leaves and fruit to form a shelter to live in often rolling the leaves into a tube. The caterpillars eat leaves and fruit
Natural enemies of brown headed leaf roller
Predators: Predatory mite, Predatory Wasp
Larval parasitoids: Trigonospila brevifacies, Braconid wasp, Dolichogenidea tasmanica, Goniozus jacintae
Green headed leaf roller
Biology
Eggs: Females lay eggs in masses that contain an average of 54 individual eggs. Egg masses of P. excessana have an opaque coating Egg development, 11 days;
Larva: Last instar larvae are approximately 25 mm long and entirely green. The head is transparent light brown to green and may have faint brown mottling. The prothoracic shield is pale green with no lateral shading. Ananal comb is present with 10-12 teeth. Larval period for male. 4 and female 54 days;
Pupa: Pupation takes place within the webbed foliage Pupal period for male and female 18 days;
Adults: Forewings are pale orange brown to dark reddish brown. Males are generally darker than females. Most individuals lack prominent wing markings except for a dark spot in the distal one-third of the forewing. Some individuals have a series of faint dark spots covering the wing and/or a white or pale spot in the basal one-third of the wing. Males have a forewing costal fold. Adult life span, .male. 20, .female. 18 days; 90% eggs laid in 10 days.
Life cycle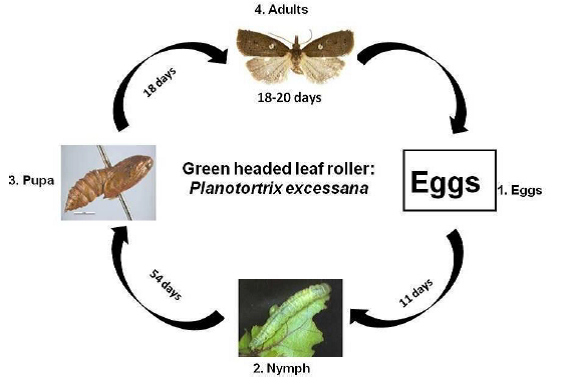 Damage symptoms:
They web together leaf edges or leaves and fruit to form a shelter to live in often rolling the leaves into a tube. The caterpillars eat leaves and fruit
Natural enemies of green headed leaf roller:
Predators: Predatory mite, Predatory Wasp
Larval parasitoids: Trigonospila brevifacies, Braconid wasp, Dolichogenidea tasmanica, Goniozus jacintae
Greedy scale
Biology
Eggs: Eggs are laid under the armor of the female where they develop and hatch.
Crawlers: The crawler stage is short, and crawlers do not feed. Crawlers may stay under the maternal armor several hours until outside conditions, especially temperature and humidity, are good. After they leave the cover, they wander for a period ranging from minutes to days, but usually a few hours.
Nymphs: Newly settled nymphs insert their piercing, sucking mouthparts into plant tissue and start feeding on plant juices. Female nymphs shed their skin twice as they grow and develop. Males have a 5 stage development and do not feed during the last two stages. The cast skins, called exuviae, are incorporated into the armor forming a dot near the center. The armor is nonliving and is made of cast skins, threads, and liquid, all produced by the insect.

Adults: Female greedy scales appear larvae-like. They remain under armor in one place throughout their lives to feed and reproduce. Males are tiny, winged creatures with eyes and legs. When mature they emerge from the armor in the late afternoon. They do not feed, living only a few hours to mate. Mate-finding is probably aided by pheromones secreted by females. Because of the late emergence and short life of males, they are rarely found in the vineyard.
Damage symptoms
Infestations are spread by the mobile, young scale nymphs or 'crawlers' older nymphs and adults are sedentary. Scale insects attack the bark and fruit of kiwi.
Heavy infestations affect the vigor of the plant and result in the presence of scales on fruit, causing it to be off grade
Natural enemies of Greedy scale
Parasitoids: Aphytis wasps, Encarsia sp.
Predators: Green lacewings, Minute pirate bugs, and Ladybird beetle, Chilocorus bipustulatus, Chilocorus infernalis, Chilocorus cacti
Passion vine Hopper
Biology
Eggs: The Passion Vine Hopper population grows at the rate of one generation a year. They overwinter as an egg, with this stage lasting about six months. The eggs are inserted in plant stems, with relatively soft, dead or dying stems seem to be preferred.
Nymph: The nymph stage lasts about three months. They are greenish with a fluffy tail - visible around October.
Adult: The adult stage lasts about 3-5 months look for light brown small moths 8-10 mm around December.
Life cycle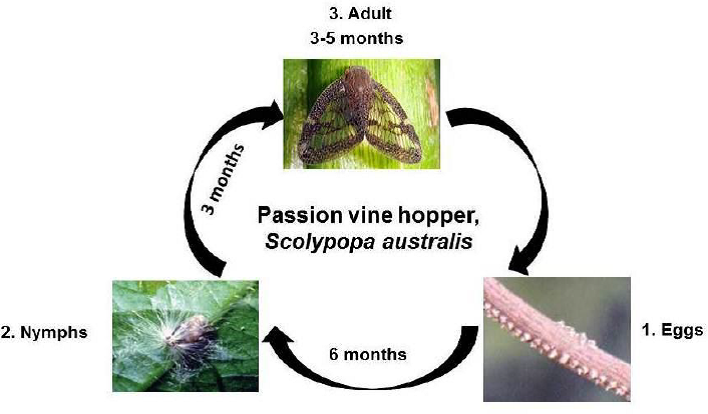 Damage symptoms
They suck sap from succulent shoots and the result is distortion of fruit and leaves. Plants will get stunted, wilted and dieback overall. Because of the copious production of honeydew the likelihood of sooty mould is very high.
Natural enemies of Passion vine Hopper
Parastioids: Egg parasitoids: Scolypopa australis
Predators : Spider, birds
Two spotted spider mite
Biology
Each female T. urticae mite lays 10-20 eggs per day, 80-120 altogether during its lifetime of up to 4 weeks. They are mostly attached to the silk webbing. The six-legged larvae hatch after 3-15 days. They molt three times within 4-5 days, towards protonymph, then deutonymph and at last adult. These instars all have eight legs. Before each molt there is a short quiescent stage. At favorable conditions the life cycle can be completed in about 1-2 weeks, including a pre oviposition period of 1-2 days. Often a change towards hot and dry weather leads to a very rapid increase of population density.
Life cycle
Damage symptoms
It penetrates plant cells, preferably on the undersides of leaves, and ingests their contents. Each minute 1-2 dozen cell can be destroyed this way. The first visible symptoms are small whitish speckles, mainly around the midrib and larger veins. When these spots merge, the empty cells give areas of the leaf a whitish or silvery-transparent appearance.
Natural enemies of two spotted spider mite
Predators of two spotted spider mite: Scolothrips sexmaculatus, Phytoseiulus persimilis, Stethorus punctillum
Thrips
Biology
Eggs: White, elongate and banana-shaped. Females insert eggs inside plant tissues above the soil surface. The eggs are microscopic.
Larva: Two larval instars, pre-pupa (3rd instar), and pupa (4th instar). Mature larvae approximately 1 mm (0.04 in.) in length. Whitish larval stage with red eyes; turn yellowish in color with maturity but retain red eyes. Pre-pupa and pupa are whitish to slightly yellow. Larvae resemble adults, but wingless. The larval abdomen is up-turned and has a dot of excrement on it. The excrement can cause spotting on the leaves.
Adults: 1.3 - 1.7 mm in length. Blackish-brown body with lighter posterior abdominal segments and white legs. Abdomen golden in newly emerged adults. Four translucent wings with numerous fringes surrounding each wing, folded back over the thorax and abdomen when at rest. Antennae have eight segments.
Life cycle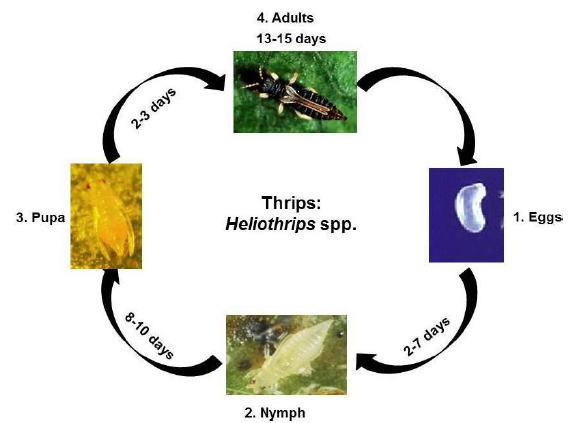 Damage symptoms
Thrips uses its mouth-parts to rasp the leaf surface, rupture the epidermal cells, and feed on exuding cell contents. Feeding spots turn yellow then brown, and the surrounds become silvery where air enters the emptied cells
Natural enemies of thrips
Larval parasitoids: Thripobius semiluteus
Predators: Predatory mite, predatory thrips, hover fly, mirid bug etc.
Root knot Nematode
Biology
Most species of plant parasitic nematodes have a relatively simple life cycle consisting of the egg, four larval stages and the adult male and female.
Development of the first stage larvae occurs within the egg where the first molt occurs. Second stage larvae hatch from eggs to find and infect plant roots or in some cases foliar tissues.
Under suitable environmental conditions, the eggs hatch and new larvae emerge to complete the life cycle within 4 to 8 weeks depending on temperature.
Nematode development is generally most rapid within an optimal soil temperature range of 70 to 80°F.
Life cycle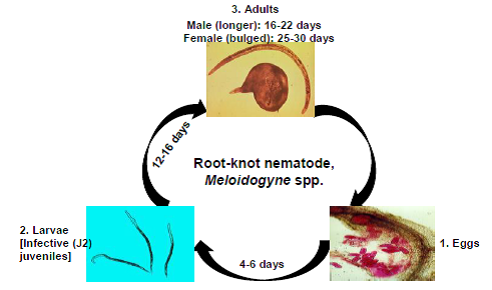 Damage symptoms
Formation of galls on host root system is the primary symptom
Roots branch profusely starting from the gall tissue causing a 'beard root' symptom
Infected roots become knobby and knotty
In severely infected plants the root system is reduced and the rootlets are almost completely absent. The roots are seriously hampered in their function of uptake and transport of water and nutrients
Plants wilt during the hot part of day, especially under dry conditions and are often stunted
Nematode infection predisposes plants to fungal and bacterial root pathogens
Survival and spread
Primary: Egg masses in infected plant debris and soil or collateral and other hosts like Solonaceous, Malvaceous and Leguminaceous plants act as sources of inoculums.
Secondary: Autonomous second stage juveniles that may also be water dispersed.
Favourable conditions: Loamy light soils.
IPM for Kiwi
To know the IPM practices for Kiwi, click here.
Source: NIPHM; Directorate of Plant Protection, Quarantine & Storage